Dr Les Haley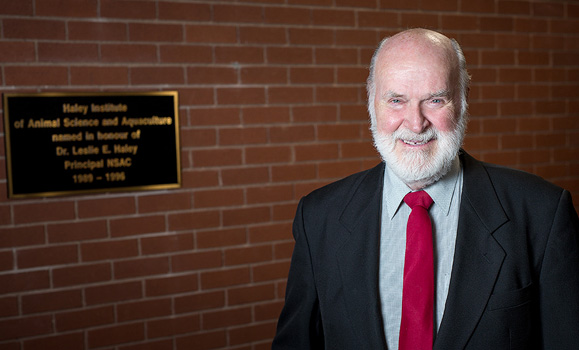 Distinguished Alumnus Award 2017
Dr. Leslie Haley (Class of '58)
The Distinguished Alumni Award is the Faculty of Agriculture's most prestigious award, recognizing truly outstanding service and commitment to the Faculty of Agriculture, industry and the Alumni Association. Our 2017 recipient has done just that.
You could easily say Dr. Les Haley's career has gone full circle.
Dr. Haley began his post-secondary education at the Nova Scotia Agricultural College. As a student, Dr. Haley had a great passion for being involved and advancing the campus. During his second year of studies, Dr. Haley was involved with the Students' Council, serving as secretary-treasurer. In 1958, he graduated with a Degree Course Diploma.
Dr. Haley went on to continue his studies, majoring in Poultry Science, at the Ontario Agricultural College and received a Bachelor of Science in Agriculture from the University of Toronto.
After a brief appointment with the Nova Scotia Department of Agriculture and Marketing, Dr. Haley began graduate studies at the Ontario Agricultural College specializing in Genetics and Animal Breeding. Dr. Haley completed the requirements for the M.S.A. and enrolled in a doctoral program at the University of California in Davis, California, continuing to specialize in Genetics.
Once receiving his Ph.D, Dr. Haley returned to Canada and began teaching at the University of Saskatchewan. However, it wasn't long before Dr. Haley headed back east, becoming assistant professor with the Department of Biology at Dalhousie University in 1970.Dr. Haley was particularly interested in the way science was taught to undergraduates and participated with other faculty members in the Audio Tutorial Approach to teaching Introductory Biology.
Dr. Haley's research activities included investigations on the genetic variations of oysters, lobsters and mussels. He served as a student advisor, supervised graduate students and had a key role in developing the Honours Program in Marine Biology.
During his eighteen years at Dalhousie, Dr. Haley had a variety of responsibilities associated with the Department of Biology, university administration and the School of Education. program.
In the fall of 1989, Dr. Haley returned to his roots. During Autumn Assembly, Dr. Haley commenced responsibilities as the ninth principal of the Nova Scotia Agricultural College.
One of his first concerns was to increase student numbers and a task force from the faculty was appointed and given this challenge. The group was successful and under Dr. Haley's leadership, enrollment reached nearly 1000 students, a trend that still holds today. Dr. Haley encouraged the development of an aquaculture option in the science degree program and the addition of new space for aquaculture instruction and research. Today, the program is the only one is Canada offering a B.Sc. Agr. with a major in aquaculture. It is well recognized across the country by industry. The program has grown internationally, attracting students from Bolivia, Norway, China and beyond.
He was one of the collaborators who developed the co-operative Masters program in Agriculture with Dalhousie. Dr. Haley promoted expansions in research activity and graduate enrollment. Related to this was the encouragement and development of several industry Chairs of Research.

As principal, Dr. Haley represented the campus in several roles including the Confederation of Faculties of Agriculture and Veterinary Medicine, the Canadian Agricultural Research Council, and the Senate of Dalhousie University.
The magnitude of Dr. Haley's contributions to NSAC can be easily observed today by a stroll across campus. It would be hard to miss the name of our Animal Science building – the Haley Institute of Animal Science and Aquaculture. More commonly known as, "Haley". In recognition of Dr. Haley's service to NSAC, the building was named at a ceremony held February 14, 2002.
After leaving such a significant mark on campus and significantly advancing the institution, Dr. Haley was appointed deputy minister of the Department of Agriculture and Marketing. Dr. Haley held this position for two years, during a period of reduced funding for provincial departments. Dr. Haley was instrumental in consolidating the department and regrouping the delivery of several services. In 1998, Dr. Haley retired from Province of Nova Scotia.
Dr. Les Haley has clearly distinguished himself in his area of expertise, bringing honour to the university. He is undoubtedly a positive role model for the Faculty of Agriculture and agriculture, making him a very deserving recipient of the Faculty of Agriculture's Distinguished Alumnus Award for 2017.