Chris Oram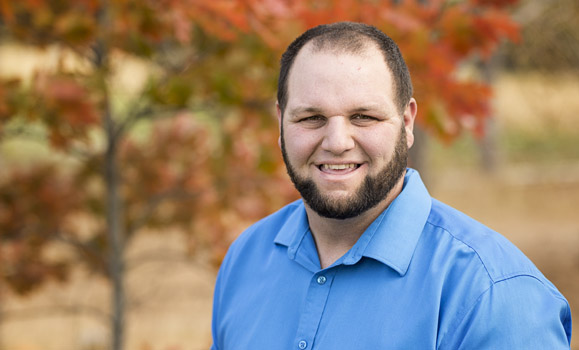 Passionate about farming, after all  
Chris Oram (Class of '11)
By Emma Geldart

Despite growing up on his family's vegetable farm, as a teenager Chris Oram (Class of '11) didn't particularly enjoy farming. Yet he is currently in the process of gaining ownership of the family farm from his father, Richard Oram (Class of '78). And, contrary to what his younger self may have thought, he loves every minute of it.
For Chris, taking over the farm is his proudest moment and he couldn't have done it without the help, support and a little extra encouragement, from his family.
Now, as a successful farmer and community volunteer, Chris has been selected to receive Dalhousie University Faculty of Agriculture's Young Alumni of the Year award. The Young Alumni of the Year award recognizes the outstanding achievements of Faculty of Agriculture alumni aged 40 and younger. Alumni are recognized for outstanding achievement that may have earned them regional, national or international prominence through service to humanity in their profession or volunteer organizations, through community service or the advancement of knowledge and service to the Faculty of Agriculture. Chris was presented the award at Dal AC's 2018 Blue and Gold Awards, which honours alumni who have distinguished themselves through outstanding service to Dal AC, their communities, Atlantic Canada and beyond.
"It was a huge surprise, but I am very grateful and honoured to receive this award," Chris says. "It feels so great to be recognized by the AC for doing something that I love."
Located in Wooddale, Newfoundland, the Oram's farm is not a typical farm for the rocky province. In Newfoundland, or "the Rock" for which it is often known, rich soil for growing luscious vegetables is a rare find. That doesn't stop the Oram family. They own and operate a 56 acre vegetable farm called Mark's Market.
Mark's Market produces a wide variety of vegetables that are not typically grown in Newfoundland. From the typical carrots and potatoes, to not-so-typical watermelon, cantaloupe and broccoli, Mark's Market has something for everyone. Their ability to adapt to what their customers want is what sets them apart from other vegetable farms in the province.
"We are very adaptable," Chris says. "For example, kale is becoming very popular because of its health benefits. So a few years ago we began growing kale."
Ironically, Chris grew up with a love for basketball and a bit of a dislike for farming. As a teenager, he often argued with his father when asked to work on the family farm. He admits that as a child he wanted nothing to do with it but over time, the family farm began to grow on him. It was the Dalhousie Agricultural Campus that really changed his mind once and for all.
"I chose the AC partly because I was thinking about taking over the farm and partly because of basketball," Chris explains. "Once I got there I realized how important farming really is. Being at the AC really made me proud to be a farmer. That's when I knew I wanted to follow in my father's footsteps."
The family farm was initially purchased by Richard in 1987. He began growing and selling vegetables as a side job with the intention of helping his children get through university. It has since grown and is now a full time operation. Mark's Market sells their vegetables right off their property to people in their community and beyond. Open seven days a week from mid-July to the end of October, they operate an onsite farm market which only sells products that are grown on the farm.  
For the Oram family, having a positive impact on all of central Newfoundland is their ultimate goal. Community support is very important to the Oram family. They educate the community through school presentations as well as activities on their farm.
"We want to show people where their food comes from," Chris says. "It doesn't just come from the grocery store. We want to educate the public and our community on exactly how their food is grown."
Chris is an active volunteer in various community organizations in his hometown. He is a committee member for Newfoundland Young Farmers, Director at Large for the Federation of Agriculture, Director at Large for the Horticulture Producers of Newfoundland and Labrador, and in the past served as vice Chair of Newfoundland Young farmers Forum (2015-2017).
Chris's wife, Kayla (Arsenault) Oram (also Class of '11), whom he met while attending classes at NSAC, is also proud to contribute to the success of Mark's Market. On a daily basis, Kayla works alongside Chris, his father and mother, Arlene, helping to grow the business.   
Chris takes pride in the operation that his father started all those years ago. More than deserving of the Young Alumni of the Year award, Chris can certainly contribute some of his success to his family. And as a young farmer, Chris has lots of time to continue to develop what his father started. It may have taken Chris some time to realize just how important farming is to him, but it is truly his passion and he hasn't once looked back.