Transformative Infrastructure: A Local and Regional Perspective

Panel discussion
November 15, 2016
Description
Infrastructure spending—on transportation, energy, telecommunications, for example—is not always the sexiest topic, noted John Ivison, but historically, these investments have changed our society.  The TransCanada Highway and national rail connects Canadians from coast to coast; airports and seaports have made it possible to connect with people, goods and services around the world.  New technologies offer similar promise. Infrastructure investments in wireless technologies, high speed commuter trains and driverless cars, for example, will not just accommodate the recreational and professional needs of future communities, they will shape them. The federal government plans to more than double its infrastructure spending over the next ten years. The government's first round of funding targeted the aging systems; the next round will target transformative infrastructure.
Watch the discussion
Opening remarks:
Mayor Mike Savage
Panelists:
Sylvain Charlebois – Dean, Faculty of Management and Professor, Faculty of Management and Faculty of Agriculture, Dalhousie University
Brendan Haley – Banting Post-Doctoral Fellow, School for Resource and Environmental Studies, Dalhousie University
George Kaulbeck – Global Director – Transportation, CPCS
Paul MacIsaac – Senior Vice-President, Halifax Port Authority
James McLean – Policy Lead, Public Policy Forum
Mary Brooks (Moderator) – Professor Emerita, Rowe School of Business, Dalhousie University
Presented by the MacEachen Institute for Public Policy and Governance and the School of Public Administration made possible in part by the support of the Nova Scotia Department of Transportation and Infrastructure Renewal and the Atlantic Canada Opportunities Agency.
The panel discussion was followed by a reception and poster presentation from researchers at the Dalhousie Transportation Collaboratory (DalTRAC).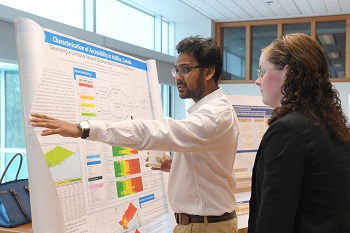 Photo credit: Daniel Abriel
View discussion questions.