Darrell Dexter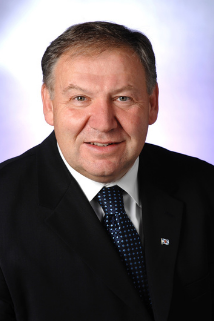 Darrell Dexter, former Premier of Nova Scotia, is an Honorary Distinguished Fellow with the MacEachen Institute at Dalhousie University and Vice Chair with Global Public Affairs, which he joined in 2015. Darrell is a senior member of the Global team, working with the firm's public affairs experts across the country.

Darrell assumed the leadership of the Nova Scotia New Democratic Party (NDP) in 2001 and led it to form the first-ever provincial NDP government in Atlantic Canada, becoming the 27th Premier of Nova Scotia. As Premier, he earned praise for launching a renewable energy strategy, advancing a progressive social policy, controlling spending and reducing small business taxes. Darrell oversaw ambitious new environmental policies and was presented with a Climate Leadership in Canada award at the 2009 UN Climate Change Conference in Copenhagen. As Chair of the Council of the Federation from 2012-13, Darrell worked on key initiatives such as leading an economic trade mission to China, establishing the Pan-Canadian Pharmaceutical Alliance and improving the flow of inter-provincial trade.
A lawyer by training, Darrell also worked as a journalist and served in the Canadian Armed Forces before launching his career in public service, spending 15 years in the Nova Scotia Legislature as an MLA. In the course of his work as an elected official, party leader, Leader of Nova Scotia's Official Opposition, and Premier, Darrell was engaged in critical issues and discussions related to energy and resource development, transportation, healthcare, the environment, infrastructure and the economy.
Since leaving public life, Darrell has been active with various organizations on democracy-building and governance projects. He led two international election observer missions to Tunisia in 2014.
Darrell holds a Bachelor of Education from Dalhousie University, a Bachelor of Arts and Bachelor of Journalism from the University of King's College and subsequently earned his law degree from Dalhousie University in 1987.