News
»
Go to news main
Sustainable Oceans 2019 ‑ One Ocean, Infinite Connections
Posted by
Breanna Bishop
on September 17, 2019 in
News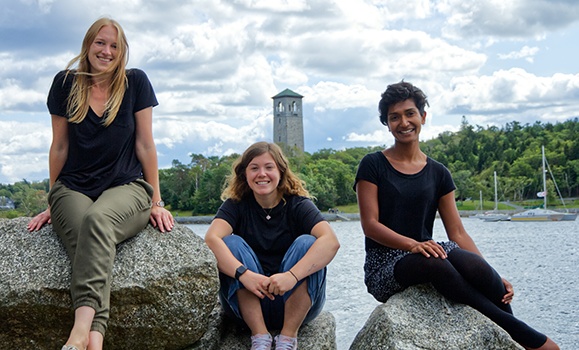 Sustainable Oceans is the annual conference organized by Master of Marine Management students of the Marine Affairs Program at Dalhousie University and supported by the Sobey Fund for Oceans. This year, the eighth annual conference is taking place in the McInnes Room located in the Student Union Building of Dalhousie University on Friday, September 27th and Saturday the 28th. The conference will be exploring the theme One Ocean, Infinite Connections.
This student-led conference aims to bring together diverse knowledge groups in order to showcase the abundance of ways that people are connected to the ocean. The goal is to support building bridges between diverse knowledge groups while encouraging conference attendees to consider new perspectives towards the ocean. The conference organizers will encourage participants to challenge conventional approaches to environmental problem-solving that can result in conflict and division among stakeholders, disciplines, and communities.
Friday evening kicks off the conference with a panel discussion featuring Rachel Bailey (Mayor, Town of Lunenburg), Colin Sproul (President, Fundy Inshore Fishermen's Association), Fred Metallic (Director of Natural Resources, Listuguj Mi'gmaq Government), and Sigrid Kuehnemund (VP of Ocean Conservation, WWF Canada). Panelists will discuss the topic of Reconciling different interests in Atlantic Canada's marine and coastal resources. This topic is of particular importance given the growing number of anthropogenic and environmental pressures facing Atlantic Canada, and reconciling diverse interests in order to forge a sustainable path forward is essential.
Saturday will feature a full day of student oral and poster presentations, followed by a keynote speech by Dr. Emma McKinley, Research Fellow at Cardiff University and Chair of the Marine Social Sciences Network. Dr. McKinley's talk, "One Ocean, Infinite Connections: Connecting People and the Sea," will discuss how human connections play a significant and impactful role in the future of our oceans.
Supported by the Sobey Fund for Oceans, this free, public event brings together students, faculty, members of the marine community, and the public.  Regardless of your background, discipline, interests or affiliation, we look forward to having you join us on September 27th and 28th at Dalhousie University, located in Mi'kma'ki, the ancestral and unceded territory of the Mi'kmaq.