Reproductive Tissues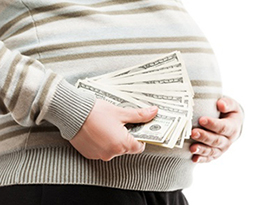 The 2004 Assisted Human Reproduction Act (AHR Act) prohibits payment for surrogacy, payment to intermediaries to arrange for the services of a surrogate, and the purchase of human reproductive material.
On December 13, 2013, when Leia Picard, a Canadian fertility agency owner, became the first person to be prosecuted under the AHR Act. Picard pleaded guilty to a $60,000 fine for paying gestational carriers, taking money to arrange surrogacies, and purchasing eggs (R v. Picard and Canadian Fertility Consulting Ltd).
Confusingly, the Agreed Statement of Facts [PDF - 3.2 MB] references "Health Canada policy" regarding the permissible reimbursement of expenditures to surrogates and donors, even though the regulations about permissible reimbursements do not exist. When Jocelyn Downie and Françoise Baylis sent a letter [PDF - 104 KB] asking about this so-called "policy," Health Canada's response referenced two pages [PDF - 76 KB] on its website that offer vague examples of permissible reimbursements.
In 1993, the Royal Commission on New Reproductive Technologies strongly condemned the commercialization of human reproductive material. It stated that "No profit should be made from the selling of any reproductive material … because of its ultimately dehumanizing effects," and recommended a criminal ban on payment (or advertising payment) for human sperm, eggs, and embryos, as well as payment for contract pregnancy (surrogacy).
The 2004 Assisted Human Reproduction Act (AHR Act) contains criminal prohibitions for these activities, making it illegal to pay "consideration" to a "surrogate mother," or to an "intermediary" in a surrogacy arrangement, and to purchase sperm/eggs from a "donor" (sections 6 and 7 of the AHR Act). The legislation also includes provisions in section 12 to allow – in accordance with regulations – reimbursements for reasonable receipted "expenditures" to cover out-of-pocket costs to donors and gestational carriers.
However, ten years after the AHR Act was passed, Health Canada has yet to create regulations regarding what constitutes a "reasonable" expenditures. Gestational carriers, donors, lawyers, and health practitioners do not know when or how compensation can occur, or for how much.
This lack of clarity, coupled with the relatively meager penalty for Picard, raises concerns about why Health Canada has refused to follow established democratic law-making procedures for creating regulations. What is clear is that without regulations, it will be much easier for Canadians to pursue practices that promote commercialization, commodification, and exploitation – outcomes the Royal Commission and Parliament originally sought to avoid.
More information on the sale of human reproductive material:
We Are Egg Donors
Claire Burns, Raquel Cool and Sierra Falter, Impact Ethics, July 11, 2013 
First Prosecution Under Assisted Human Reproduction Act Ends in Conviction
Alison Motluk, CMAJ News, December 18, 2013
Wishing Doesn't Make It So
Françoise Baylis & Jocelyn Downie, Impact Ethics, December 17, 2013
Transnational trade in human eggs: Law, policy and (in)action in Canada [PDF - 313 KB]
Jocelyn Downie & Françoise Baylis (2013), The Journal of Law, Medicine & Ethics, 41(1): 224-239
Legal Schmegal: Who Cares What the AHR Law Says? [PDF - 1.8 MB]
Françoise Baylis, ARTs and Canadian Public Policy Today: A Feminist Conversation, Toronto, Canada. April 26, 2013.
'Business Has Boomed': Canadian Surrogacy Agent Facing 27 Charges Continues her Controversial Work
Tom Blackwell, National Post, March 13, 2013
Illegal Purchase of Sperm, Eggs and Surrogacy Services Leads to 27 Charges Against Canadian Fertility Company and CEO
Tom Blackwell, National Post, February 15, 2013
The Human Egg Trade
Alison Motluk, The Walrus, April 2010.