Kidneys for Sale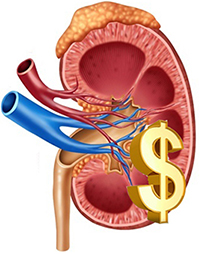 While Quebec is the only province to prohibit payment for blood and blood constituents (Article 25 of the Civil Code), every province prohibits the sale of all other human tissues (see for example Ontario's Trillium Gift of Life Network Act and British Columbia's Human Tissue Gift Act). However, in recent years, the discussion of payment for kidneys has ramped up. In 2011 and 2013, Lianne Barnieh and her colleagues published two studies regarding kidney donation in Canada. In the first article, they surveyed attitudes among Canadian health practitioners and the public at large regarding a market in human kidneys; in the second article, they advocated paying donors $10,000 per kidney as a "cost-effective" way of increasing the number of organs available for transplant.
Provincial governments have not given any indication that they are open to a market in human kidneys. And, given the recent response of the Ontario government to the proposal to pay for plasma, it is unlikely that this government would consider payment for organs as reasonable public policy. However, given recent discussion regarding organ donation in Canada, it is important that viable non-payment systems that avoid the potential for commodification and exploitation of vulnerable persons be strengthened.
More information on the sale of kidneys:
A Nudge Too Far 
Dave Snow, Impact Ethics, May 23, 2014
No Ethical Free Lunch in Organ Donation Policy 
Jennifer Chandler, Impact Ethics, November 29, 2013
Should Five More Kidneys Go to Market
Barry Hoffmaster, Impact Ethics, November 27, 2013
You Can't Unring a Bell
Aviva Goldberg, Impact Ethics, November 25, 2013
Page last updated Fall 2014.