Events, By Category and Date:
»
Go to news main
Concussion ‑ Brain Awareness Week
Posted by
nte
on March 16, 2016 in
Films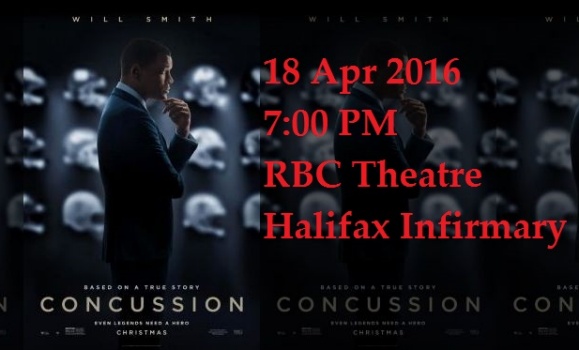 Free public screening with expert-led panel discussion afterwards.
Monday, April 18, 2016 (7:00PM)
QEII Royal Bank Theatre, Halifax Infirmary, Ground Floor, 1796 Summer St. entrance
Join the Facebook Page for this event
Moderator: Tim Krahn
Facilitators:
Frédéric Gilbert (Ethics, Policy & Public Engagement program, Australian Centre of Excellence for Electromaterials Science, University of Tasmania).Research topics:
        • Neuroethics
        • Mild traumatic brain injury in sport
        • Ethics of novel invasive biomedical technologies, especially in the brain.
        • Neuroimaging and neuropathologies
Kevin Gordon (Department of Pediatrics, Dalhousie University).Research topics:
        • Pediatric neurology
        • Concussion minor traumatic brain injury
        • Clinical epidemiology
        • Analysis of national databases
L Syd M Johnson (Department of Philosophy, Humanities & Kinesiology and Integrative Physiology, Michigan Technological University).Research topics:
        • Neuroethics
        • Concussion in athletics
        • Disorders of consciousness
        • Brain death
VIEW PANELISTS' SELECT PUBLICATIONS
Gilbert, F., & Johnson, L.S.M. 2011. The impact of American tackle football-related concussion in youth athletes. AJOB Neuroscience, 2(4), 48-59. ABSTRACT: Postmortem research on the brains of American tackle football players has revealed the presence of chronic traumatic encephalopathy (CTE), a degenerative brain disease caused by repeated head trauma. Repeated concussion is a risk factor for CTE, raising ethical concerns about the long-term effects of concussion on athletes at risk for football-related concussion. Of equal concern is that youth athletes are at increased risk for lasting neurocognitive and developmental deficits that can result in behavioral disturbances and diminished academic performance. In this article, we consider evidence of the effects of concussion in youth athletes, and discuss ethical duties to youth athletes and how these duties might be satisfied, given the intrinsic risks of football. Finally, we evaluate potential strategies for reducing concussions in junior football, and recommend the optimal strategy for reducing brain injury to an acceptable level while still making available the benefits of football participation for youth athletes.


Johnson, L.S.M., Partridge, B., & Gilbert, F. (2015). Framing the debate: Concussion and mild traumatic brain injury. Neuroethics, 8(1), 1-4. ABSTRACT: Concussion and Mild Traumatic Brain Injury affect millions of people worldwide. mTBI has been called the "signature injury" of the recent conflicts in Iraq and Afghanistan, affecting thousands of active duty service men and women, and veterans. Sport-related concussion represents a significant public health problem, with elite and professional athletes, and millions of youth and amateur athletes worldwide suffering concussions annually. These brain injuries have received scant attention from neuroethicists, and the focus of this special issue is on defining the ethical considerations and developing and elucidating the neuroethical contributions to the discussion about concussion and mTBI.


Gilbert, F. (2015). State of the concussion debate: From sceptical to alarmist claims. Neuroethics, 8(1), 47-53. ABSTRACT: Current discussions about concussion in sport are based on a crucial epistemological question: whether or not we should believe that repetitive mild Traumatic Brain Injury (mTBI) causes Chronic Traumatic Encephalopathy (CTE). This epistemological question is essential to understanding the ethics at stake in treating these cases: indeed, certain moral obligations turn on whether or not we believe that mTBI causes CTE. After discussing the main schools of thought, namely the CTE-sceptic position (which does not admit a causal relation between mTBI and CTE) and the CTE-orthodox position (as defended by those who see a causal association between mTBI and CTE), this article examines the concussion debate in sport and asks if its current articulation helps to answer whether or not we should call for responsive, ethical action(s).

Johnson, L.S.M. (2015). Sport-related neurotrauma and neuroprotection: Are Return-to-play protocols justified by paternalism? Neuroethics, 8(1), 15-26. ABSTRACT: Sport-related neurotrauma annually affects millions of athletes worldwide. The return-to-play protocol (RTP) is the dominant strategy adopted by sports leagues and organizations to manage one type of sport-related neurotrauma: concussions. RTPs establish guidelines for when athletes with concussions are to be removed from competition or practice, and when they can return. RTPs are intended to be neuroprotective, and to protect athletes from some of the harms of sport-related concussions, but there is athlete resistance to and noncompliance with RTPs. This prompts consideration of whether RTPs, as employed in adult, professional sports, are paternalistic, and if they are, whether they are objectionably so. If RTPs are uniquely effective at protecting current or future athlete autonomy, they might be justified by paternalism. I conclude that RTPs are paternalistic in their effects, but are not adequately justified, and thus they are objectionable.


Gordon, K.E., Do, M.T., Thompson, W., McFaull, S., & Canadian Paediatric Surveillance Program Participants. (2014). Concussion management by paediatricians: A national survey of Canadian paediatricians. Brain Injury, 28(3), 311-317. ABSTRACT: Objective:To assess the use of concussion/mild traumatic brain injury (mTBI) guidelines, criteria used in the initiation of return-to-play (RTP) and management of RTP for brain injured children and youth by Canadian paediatricians. Methods: A cross-sectional survey was mailed through the Canadian Paediatric Surveillance Program to ∼2600 paediatric specialists and sub-specialists. Results: Of 809 respondents (31%), 503 encountered newly diagnosed paediatric concussion/mTBI within the past 12 months, reporting ∼6900 cases. Of the respondents, 96.7% (95% CI = 94.7-98.6%) reported using one or more of the presented concussion/mTBI guidelines in the management of their patients. The most frequently reported criteria (>50%) used to determine asymptomatic status were: free from all concussion symptoms, by patient report (92%), by proxy report (76%), normal physical examination (65%), in school full-time, with usual school performance (53%). Most respondents (84.9%) did not initiate RTP immediately after their patients became asymptomatic. The median time waiting before initiating RTP was 7 days. The median duration of the RTP sequence was 7 days, with considerable variation reported. Conclusions: Canadian paediatricians frequently encounter patients with concussion/mTBI. Their concussion/mTBI care appears to be consistent with current guidelines, but also shows practice variation, particularly when current guidelines become less proscriptive.

Gilbert, F., & Partridge, B. (2012). The need to tackle concussion in Australian football codes. Medical Journal of Australia, 196(9), 561-563. ABSTRACT: A call for systematic and comprehensive investigation into the long-term effects of football-related head trauma.
Johnson, L.S.M. (2012). Return to play guidelines cannot solve the football-related concussion problem. Journal of School Health, 82(4), 180-185. ABSTRACT: Background: High school football players are the single largest cohort of athletes playing tackle football, and account for the majority of sport-related concussions. Return to play guidelines (RTPs) have emerged as the preferred approach for addressing the problem of sport-related concussion in youth athletes. Methods: This article reviews evidence of the risks and effects of football-related concussion and subconcussive brain trauma, as well as the effectiveness of RTPs as a preventative measure. Literature review utilized PubMed and Google Scholar, using combinations of the search terms "football,""sports,""concussion,""Chronic Traumatic Encephalopathy,""athlete,""youth," and "pediatric." Literature review emphasized medical journals and primary neuroscientific research on sport-related concussion and concussion recovery, particularly in youth athletes. Results: Sport-related concussion is a significant problem among student athletes. Student athletes are more vulnerable to concussion, and at risk of neurocognitive deficits lasting a year or more, with serious effects on academic and athletic performance. RTPs do little to address the problem of sport-related concussion or the chronic damage caused by subconcussive brain trauma. Conclusions: Emphasizing RTPs as the solution to the concussion problem in tackle football risks neglecting genuine reforms that would prevent concussions. More effective concussion prevention is needed. Eliminating tackling from school football for youth under 16 is recommended to reduce concussions. Additional modifications to football are recommended to enhance safety and reduce brain trauma at all levels of play.
Gordon, K.E., Dooley, J.M., & Wood, E.P. (2006). Descriptive epidemiology of concussion. Pediatric Neurology, 34(5), 376-378. ABSTRACT: To describe the epidemiology of reported concussion derived from a large, nationally representative health survey, the microdata files of the Canadian National Population Health Survey (1996-1997) were analyzed. Respondents reported whether they had "any injuries that were serious enough to limit their normal activities" in the preceding 12 months and the nature of the most serious injury. A total of 99.8% of 81,804 eligible respondents, representing 28,606,100 Canadians, reported their injury experience within the preceding year, with 89 reporting a concussion. The annual prevalence of Canadians reporting a concussion as their most serious injury was 110 per 100,000 population (95% confidence interval: 80, 140). Those reporting concussion were more likely to be younger (P < 0.001) and male (P = 0.02). Males were significantly overrepresented in the 16-34 year-old group (P = 0.004). More than 54% of all concussions were sport-related (95% confidence interval: 39%, 67%), occurring at a place for recreation or sport, with sport having a role in >85% of concussions in the 16-34 year-old group. This study presents annual prevalence estimates of reported concussion, derived from a sizeable, nationally representative population survey.

VIEW OTHER SCIENTIFIC PUBLICATIONS
VIEW SELECT MEDIA ARTICLES