News
»
Go to news main
How do I become an Economist? ‑ Prof. Akbulut‑Yuksel
Posted by
Economics Department
on October 14, 2020 in
News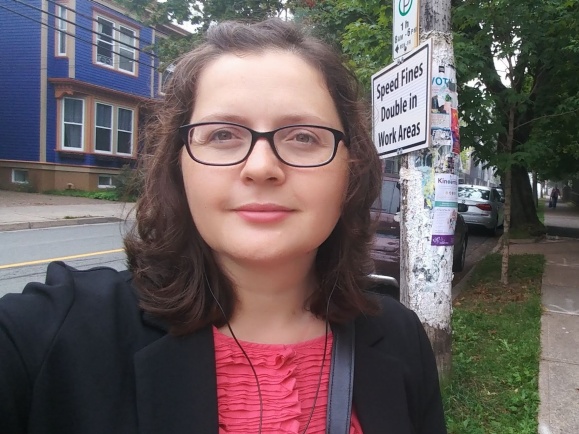 Thank you for this opportunity to share my story in this edition of the newsletter. It is such a pleasure. I am Mevlude Akbulut-Yuksel. I am currently a Full Professor of Economics. I joined Dalhousie University in 2009 after completing my PhD in Economics in University of Houston in Texas. My path to Economics profession was full of twists, corners and errors and at times a bit of luck. I have always wanted to continue learning and touch people's life either directly or indirectly, and our profession was generous in delivering this on both fronts. Since I was asked to write this piece I have been thinking about the pillars that shape me, my life and my decisions collectively both personally and professionally. I came up with these: persistence, curiosity, hard work and belief in goodness and friendship of fellow citizens. You would find each of these pillars intertwined in the story below.
Let me begin with my background and how I came to be an economist, and eventually an academic. I was born in the communist Bulgaria as a Turkish minority at the peak of the Iron Curtain and still vividly remember both the perks and the challenges of this system while growing up, especially as a minority. When I was eight, the Iron Curtain and USSR collapsed for good and the ethnic Turks in Bulgaria were given permission to leave if they were to leave immediately. This was the lifetime opportunity my family, especially my Grandma, was waiting for. With the collapse, we found ourselves in Turkey within a week with rudimentary Turkish knowledge and no transferable skills for my parents. We also had to leave all of our belongings and wealth in Bulgaria to be able to migrate. Both of my parents and almost all of our extended family were blue-collar workers; thus, we settled down in one of the industrial towns in Turkey neighboring Istanbul. My parents had to start over in their mid-thirties in an environment and a new world system totally foreign to them and their upbringing. During the early 90s, Turkey was also undergoing a major transformation through a massive migration from rural to more industrial areas. I grew up at the midst of all this change for better or worse.
Growing up, our family discussions and gatherings were a natural laboratory in labor relations and rights. In those meetings, us as kids were always active listeners of the lively discussions on unfair work environments and employers, small vs. large scale workplaces, strike preparations, unions (mostly a failure of the union initiations), wage and benefit negotiations, a fair share of overwork and more. I now appreciate how much growing up in this vibrant environment does prepare you for life and paves the way for the perseverance, hard work, empathy and strength. Inspired by our parents and some would say our ethnic enclave, both my young brother and I started working in factories in our hometown over summers at the junior high school age and I also find this exposure and experience invaluable in shaping up my future decisions, research choices and a way of going through life.
As it was customary with being an immigrant at the time, my parents were able to afford an apartment at the periphery of the city, thus, the primary school I attended had 70 students per class at times. I was the first student from this primary school who performed well enough in the junior high school entrance exam to get to attend the most competitive junior high school in our town. After an incredible four years in the junior high school and learning a very sound English, I finished it as a Valedictorian. In Turkey, we used to have entrance exams for each level of schooling. For high school, I scored high enough to be admitted to the boarding Science High School in our city, which was the most competitive high school in the region. There, I started to realize the origins of the gender divide in STEM. Our curriculum was designed for the future STEM graduates, preparing them for this future to be doctors, engineers and scientists. However, there were three boys for each girl in our school, even though girls performed a lot better in classes, a smaller number of them ended up in STEM fields in the university. I thus feel extremely lucky to get to teach and do research about gender issues today and hopefully encourage young female economists that there is a bright light at the end of the tunnel.
Once again, I entered another entrance exam at the end of the high school, this time for university. I was working at the Colgate factory as a packaging worker over summers during high school, where again, I was experiencing firsthand the gender divide in the workplace and dual labor market with us women doing the low paying and unstable jobs and men working in the good production jobs with double the salary. I was at work when my boss went to check my university exam results and we found out together that I was among the first 1000 students in the exam out of a million allowing me to choose any field I like. I still remember to day the excitement in my female coworkers and the surprise of the engineers and management in the factory, who came down to our work unit to meet with me for weeks.
I knew deep down that I would be happier in a field which would allow me to closely connect with people and which will academically challenge me at the same time. Thus, somewhat with intuition, somewhat with luck, I decided to pursue Economics as a major in Middle East Technical University, which is one of the top universities in Turkey. As a first generation in university and having moved away from my hometown to the capital city, the first year of the university was somewhat a struggle also because the web of coincidences made me pass the English prep year and I had to start the first-year without much preparation. After the first semester, I learned how to study for university courses, got hold of the courses and things significantly improved from there. In addition to my major, I also did a minor in Mathematics starting my third year, which proved to be instrumental in my acceptance to PhD in economics.
There was quite bit of talk of the graduate school among friends, and I decided to give it a try. I met with someone on a bus ride from my hometown to university town, who graciously hired me as a tutor for their children, which allowed me to save enough money to pay application fees for the graduate school in the U.S. During the application process, I bumped into one of my friends in the city centre, who mentioned to me some graduate schools and we decided to apply together. As I only had a budget to apply to very few universities, the guidance of my friend turned out to be essential. I got accepted from both of these schools and decided to pursue a PhD in Economics in University of Houston. I moved to Houston by myself and with almost no money at the age of 23. I cannot express enough to the enormity of the shock with this move and a significant change in my life. Bestowed with my upbringing and countless conversations and discussions growing up, I decided to focus on labor economics in the PhD as my main field and the University of Houston offered excellent education. I am still grateful to this day to the professors and my advisors.
The academic job market in Economics is quite challenging and random at best. While I was sitting in an airport waiting to fly to Europe for series of day-long interviews and presentations, I got a call from Dalhousie, asking me to fly Halifax for a campus visit. I had no idea how this phone call would have changed my life, and I would be joining this department in a couple of months. I moved to Halifax in August 2009 and have been here since then. These past eleven years were the most rewarding and most challenging years of my life. One the one hand, I have two wonderful kids, a supportive husband and many wonderful students; on the other hand I went through a major health challenge in my personal life. Last year, at age 37, I got promoted to the full professorship and was elected to serve as one of the twelve Board of Directors of the Canadian Economic Association.
All my life experiences and childhood of living in two different world systems significantly influenced and continues to shape my research interest. The main theme of my research is the long-term effects of childhood environment and how shocks during childhood such as wars, persecutions, migration, disease environment, and economic crisis affect the children's socioeconomic outcomes in the long-run. Another research theme that I have been working on over the years is the women at the times of the war, their labor market outcomes in conjunction with childcare and parental leave. I am also quite passionate about understanding the functioning of the standard economic theories in the underdeveloped parts of the world and in emerging economies. I have always been a curious soul and these research topics have always fascinated me since childhood. Still, I cannot wait to wake up every day and continue learning and practically doing my passion for living. To sum up, as my story clearly exemplifies, life and choices are indeed never linear, in fact far from it and life is full of good and not so good surprises, which kind of makes it all interesting. Being hopeful, not giving up at the times of adversity and hard work is the key. Your best bet is to do your best to get ready, and jump in when the opportunity arises, and enjoy the ride. And it goes without saying, make sure to surround yourself with people who would make this ride fun.