News
»
Go to news main
Faculty Profile ‑ Catherine Boulatoff
Posted by
Economics
on March 6, 2019 in
News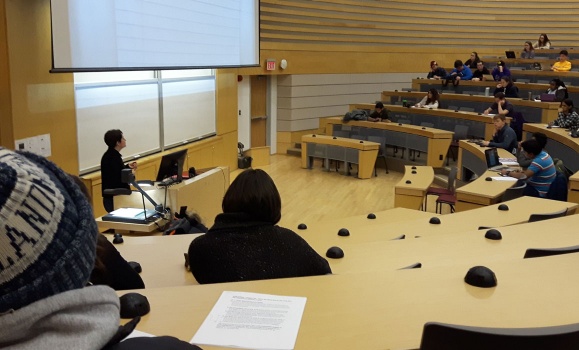 When looking back, the path that led me to Dalhousie University looks somewhat circumvoluted.

After completing my Master in Psychology at the Université Catholique de l'Ouest, in France, I moved to Utah, and completed my Ph.D. in Economics at Utah State University (USU).  Interestingly enough, it is while taking a karate class that I met a fellow student who recommended I meet Dr. J. Keith, an Economics professor at USU, who later became my advisor. While completing my studies, I also taught French at the university level.  
When the time came to work on my dissertation, my background in psychology proved to be quite useful to design, administer and analyze the results of a Contingent Valuation Survey on the costs of preserving habitat along the Garonne River, France.  I was very fortunate to meet Dr. B. Desaigues, a French researcher specializing in non-market valuation. I joined her and her team in Toulouse in 1996-1997. There, I worked with researchers from the Institut National de Recherche Agronomique (INRA) and Toulouse School of Economics (TSE). 
Upon my return in Utah, I became Research Associate at the Early Intervention Research Institute (EIRI), an organization affiliated with Utah State University working on different projects related to population ageing, children with disabilities, child abuse and neglect. During my two years working at EIRI, I learned to write (and obtain) grants, and conduct economic analysis to these diverse projects. The one I most fondly remember is when, along with Dr V. Jump – who specialized in early education and infant massage – I worked on evaluating the cost effectiveness of an Ohio early childhood program to prevent child abuse and neglect. 
In many ways, the different turns and twists of my professional life have followed the trials and tribulations of my personal life, and it is again for these reasons that I found myself accepting an assistant professor position in upstate New York, first at Clarkson University, then at St Lawrence University. 
Joining Dalhousie
Since I joined Dalhousie University in 2010, I have met wonderful colleagues and interesting students. I greatly enjoy teaching, whether it be Introductory Economics, Environmental Economics, Writing, or International Trade.
My areas of research interests today lie in Environmental Economics, the nexus between Trade and the Environment, Urban Economics, and the Economics of Teaching. I typically like to focus on applied projects, whenever possible, related to Canada, Nova Scotia, or Halifax. For instance, Dr. M Akbulut-Yuksel and I are currently analyzing the impact of a green nudge policy in Municipal Solid Waste (MSW) that was recently implemented in Halifax. Using administrative data and recognizing the interplay between psycho-social and economic contents of preference in environmental policies, we use a Regression Discontinuity (RD) design to measure the impact of the policy on recycling and overall MSW generation in our community (also funded by SSHRC Explore grant). Another project with Drs. T Iscan and Y. Kotlyarova, issued this time from a grant project funded by the Atlantic Canada Opportunities Agency (ACOA), focuses on looking at service trade between Canadian provinces between 2007 and 2013. Finally, Dr. T. Cyrus and I have been working on modifying the design of how our introductory Economics classes are being taught, and we will be looking at the effectiveness of this redesign as measured by students' learning and satisfaction. 
Though it has been a winding road with many detours and side routes, travelling the path that has been my life has led me to Dalhousie. To teach in this Department at this institution, sharing my knowledge and research with the next generation of economists that pass through our doors, has been an extraordinary privilege and the high point of my career.
At the risk of seeming rather kitschy, I would like to finish this reflection with something the Dalai Lama once said: "Judge your success by what you had to give up in order to get it."