Research profile: Alana Westwood

Alana Westwood, School for Resource and Environmental Studies
Characterizing how knowledge exchange is done in forest science
To ensure the best-available scientific knowledge is reflected in policy and practice about forests, knowledge needs to flow between its producers (scientists) and users (decision-makers).
We have three questions: 1) what words are used by professionals in forest sciences to describe their activities?; 2) are there particular knowledge exchange approaches (e.g. coproduction, creation of networks) that are used more often than others?; and 3) is there any evidence that certain activities are more effective than others?
We conducted a systematic literature review, interviewed knowledge exchange specialists from the Canadian Forest Service and found that the knowledge exchange landscape is—suffice to say—messy. Over 90 unique English terms used were to describe knowledge exchange, but only 14% of articles we found had keywords that accurately forecasted their knowledge exchange content. This makes finding information about knowledge exchange in forest science literature extremely difficult unless you already know what you are looking for. Only 20% of articles actually included any measure of whether knowledge exchange efforts were successful, with most articles being theories or case studies.
Based on the knowledge exchange cases we observed, we propose a new typology: four types of knowledge exchange. By using this shared language, we can better understand how knowledge exchange works, what type might be appropriate for a given situation, and measure its effectiveness. Follow our latest findings at www.westwoodlab.ca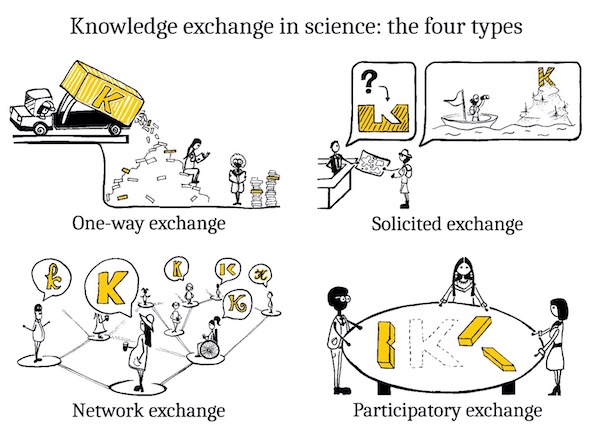 Figure by Sarah Perez
Partners: Carleton University (Dr. Vivan Nguyen), Natural Resources Canada – Canadian Forest Service (Dr. Matthew Falconer)
Funder: SSHRC