Student profiles
Mariah Godin - Recreation Management

Finding an internship
When I started in the Recreation Management program at Dalhousie, I was sure I'd do my internship locally, to establish relationships with employers at home. What I didn't realize is how well-connected the program would set me up to be before I even began searching for a placement. As the time to start looking for an internship finally approached, I realized I wanted to take my opportunity overseas to develop experience that was less common among peers.
When I thought of international options, New Zealand was the first (and only) country that came to mind. I knew it was a place that would always remain on my bucket list, and that it was the more active lifestyle among citizens I was interested in living, rather than the tourist attractions. My internship through the School of Health and Human Performance seemed like the perfect opportunity to explore a lifestyle and career in recreation in the country.
Not knowing where to start, I googled "Recreation New Zealand" and was led to Recreation Aotearoa (the New Zealand Recreation Association). On a whim, I sent an email to one of their program managers with my background and resume, asking if they'd be interested in taking on an intern. A few emails, one visa application, and a skype call later, and it was official.
The support of my professors, along with my drive to get involved and develop practical experience, allowed and inspired me to step out of the comfort zone I had boxed myself into. What seemed impossible at the beginning of my search quickly became reality. If there's an organization you want to work with, don't be afraid to ask.
What I value about my placement
Having just reached the halfway mark of my internship, I've been thinking a lot about what I'm learning both about the field, and myself. Learning all the differences in culture and language around recreation was overwhelming and difficult to navigate at first but has been invaluable moving forward. Here are some of my key learnings:
The field
The team at Recreation Aotearoa has inspired me with their commitment to the values they portray to audiences, especially behind the scenes. With climate change and inequality at the forefront of world issues, Recreation Aotearoa is truly a leader for the industry, by practicing what they preach, and showing others how it can be done. I often find it overwhelming thinking about all the work that needs to be done to see the change I want to see. My experience here has shown me that systemic change can happen, and that I can be an influential part of it.
Me
On a more personal level, my internship has given me the confidence and realization that I am equipped to do the work I want to do. Leaving a community where I have created a strong network of friends and colleagues in recreation, I was scared that my ability to connect people and ideas would be limited. My time in New Zealand has shown me that the skills I've developed in the Recreation Management program at home are relevant and meaningful to the field globally.
Nicole Blinn - Health Promotion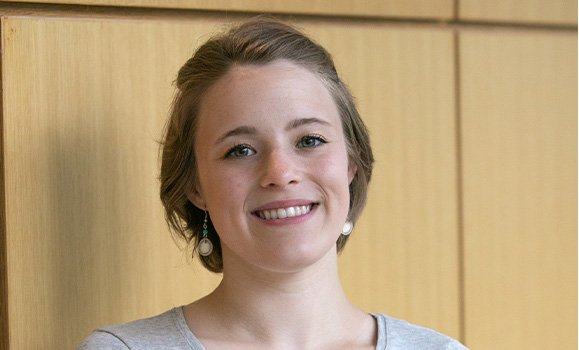 Nicole is a fourth-year BSc Health Promotion honours student, researching body image and gender norms in adolescent and young adult women cancer survivors under the supervision of Dr. Becky Spencer. She transferred to the Health Promotion program in her second year of university. Nicole has been involved with the Student Association of Health and Human Performance, the Health Promotion Society, and other HAHP and health-related societies since the beginning of her time in HAHP. In January 2020, Nicole will be pursuing her internship with the Dalhousie-based Healthy Populations Institute.
She is also one of five North American students to win the first annual Top Hat scholarship, taking home $10,000 USD. Nicole is among a small group of recipients from Ohio University, Michigan State University, Texas A&M and the University of North Georgia. She was nominated by Dr. Spencer, her honours supervisor. The total scholarship fund is $100,000 USD.
She says higher education is more than an education – it's something that allows her to pursue her passions and will give her the skills to be an innovative health researcher.
"My goal is to understand and address health inequities through translating health research into policy and practice for improved population health outcomes," Nicole says. "This award allows me to do so."