Pediatric Vision Science Research Group (PVSRG)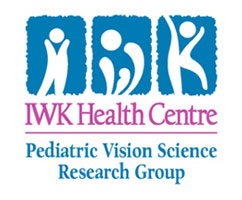 The PVSRG collectively has expertise in genetic disorders affecting vision, cutting edge diagnostic techniques to detect deficiencies in vision function, the treatment of common pediatric vision problems like amblyopia (lazy eye) and exploring the ways vision is interpreted by the brain to guide movement. Our researchers, and projects, span the range from basic science to clinical research so that we can take the information we learn about the fundamentals of vision function and apply it to providing better care to children at the IWK and around the world.
The PVSRG employs a Research Associate and a Research Administrative Assistant. Together they support PVSRG and student projects in such areas as: project design, research ethics and Research Ethics Board applications, participant recruitment and consenting, funding opportunities, applications and management.

PVSRG facilities
The PVSRG has a research laboratory located two floors from the Eye Clinic at the IWK Health Centre. It provides a dedicated work space and area for research participant assessment and testing.

PVSRG website: www.pvsrg.org
Inquiries can be directed to:
Email: info@pvsrg.org
Phone: (902) 470-2741