News
»
Go to news main
Dalhousie Engineering receives $3.7‑million to advance additive manufacturing technologies critical to Canada's marine defence sector
Posted by
Engineering Communications
on October 31, 2023 in
News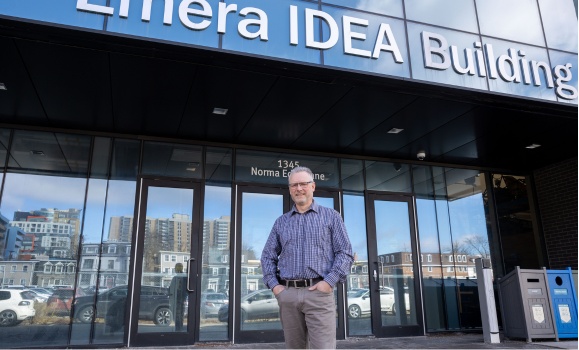 Dalhousie Engineering is leading the way in Additive Manufacturing.  
 
Researchers from the university's Advanced Manufacturing Hub have secured one of the largest NSERC-based funding award ever received within the Faculty of Engineering. The $3.7 million grant, funded by NSERC, the CFI, Defense Research and Development Canada, and a multitude of industry partners, will help advance additive manufacturing technologies for copper alloys critical to Canada's marine defence sector. They'll do so utilizing a chain of highly advanced infrastructure recently installed within the Faculty's Advanced Manufacturing Hub, a research facility dedicated to the 3D printing of metallic and ceramic materials. 
 
Over the past year, Dalhousie Engineering researcher, Dr. Paul Bishop has overseen the setup of new infrastructure within the facility that now houses some of the most prestigious equipment in Canada. This includes multiple systems for printing metallic materials, a broad suite of equipment for material characterization, and a pilot scale gas atomizer for the production of customized metal powder feedstocks such as copper alloys.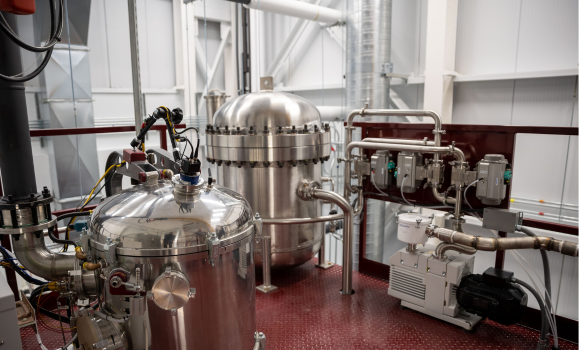 A Sea of Opportunity 
Various grades of aluminum bronze and nickel-copper 'Monels' are examples of copper alloys which have long been standard materials for naval defence vessels. Bishop and his team will now explore the response of these copper alloys to an array of metal additive manufacturing technologies.  
"That's the real differentiator here. We're taking copper alloys that have never been examined in an additive manufacturing context and we're developing the complex processing sequences that define how to print them properly across multiple printing modalities. This information then enables our industry partners to make educated decisions on where, how and when the deployment of additive manufacturing, to fabricate or repair components made from these alloys, would make sense commercially and financially," says Bishop. 
 
Appointed Dalhousie's C.D. Howe Research Chair in 3D Printing of Advanced Structural Alloys last year, Bishop and his team have long been pushing the boundaries of additive manufacturing capabilities. In particular, the chain of equipment now available within the Advanced Manufacturing Hub allows the team to study all stages of the production cycle. That research includes finding the perfect alloys, converting those alloys into powder form using a process called gas atomization, and then processing the powder through the advanced printers to produce a finished component. 
 
"The gas atomizer is key," says Bishop. "With it, we avoid the need to out-source powder production which necessitates months of lead time and cost tens of thousands of dollars. Having our own atomizer in-house, we can safely convert an alloy of interest into high-quality powder in a matter of hours and at a fraction of the normal cost. This dramatically reduces the time needed to devise printing parameters for a prescribed alloy as we can get the powder we need on demand." 
 
He adds that while a select few universities across Canada can produce metal powders, Dalhousie is the only university in the country that is equipped with a pilot scale gas atomizer. 
 
Over the past few months, Bishop's team has begun producing and printing various copper alloy powders. "We're making good progress and we're moving in the right direction," he says. 
 
He adds that the opportunities ahead are both promising and widespread. As his team continues to explore and test new alloy powders, their application and use could span far beyond the marine sector.  
"It's exciting for me because it's tackling research that is very much cutting edge." 
 
"The big thing to stress is that this is an industry consortium that we've pulled together. This taps into a lot of industrial sectors that are really important to Nova Scotia and many of the other provinces in Canada. Furthermore, the alloys are not just naval materials. In fact, they find widespread use in a lot of civilian scenarios as well. So, my team and I feel that this will eventually lead to some very tangible benefits to many different fields in the province and nation alike outside of the defence sector."