News
»
Go to news main
Celebrating the International Student Experience
Posted by
Engineering Communications
on October 3, 2023 in
News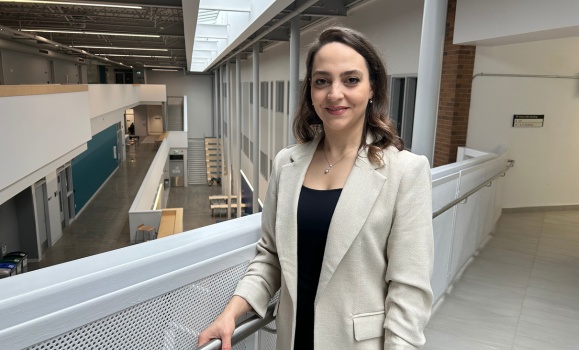 When Reyhaneh Sadeghi left her home country of Iran to pursue a PhD degree at Dalhousie Engineering, she took a big risk. It was a fitting move for a woman who has devoted her PhD research to studying in the area of risk management.

"I was born and raised in a huge city, and when I decided that I wanted to move to Halifax, I was so scared about whether or not I would like this type of a lifestyle" recalls Sadeghi. "But. I vividly recall the first day I arrived here, taking a leisurely walk with my husband, and being greeted by friendly strangers.  I wondered are they actually saying hi to us? Do they know us? That's when I realized that people in Halifax are so friendly and warm, as it's part of their culture"

Fast forward four years, Sadeghi is receiving her degree PhD in Industrial Engineering this week. Now she's reflecting back on one of the biggest risks she ever took when she came to Dalhousie University, and she's encouraging other international students to consider a degree at Dal.
 
Why did you decide to pursue a PhD degree at Dalhousie?

My background is in Industrial Engineering. I did both my bachelor's and Master's degree in Industrial Engineering.

I was working as a risk manager before I started my PhD and I had always seen some limitations in the field of risk management.  The practical aspects of the field differed significantly from the research and academic perspectives, leaving a considerable gap that needed attention. So I always thought to myself "is there anyone thinking about these gaps, or have they done anything to improve these gaps?"
Motivated by these questions, I started contacting professors who were looking for PhD students because I wanted to do my research in this area. There are very limited industrial engineering positions with a focus on risk management, so when I found this position at Dal I was so excited. So I applied for it. I also contacted other supervisors at other universities, but Dalhousie was my favourite.
 
What is risk management?
The interesting thing about risk management is that it can be used in different fields. It's not limited to engineering concepts. It can be used in any domains, such as health related industries, or even in our personal lives.. If I want to make a decision, I do a risk analysis to evaluate the potential outcomes and determine whether proceeding is the best course of action.

In my experience within safety-critical industries, we follow a systematic approach. We start by identifying the sources of hazards, allowing us to subsequently determine the associated risks. These risks can then be defined qualitatively or quantitatively, enabling us to establish suitable mitigations and implement control actions for the identified hazard sources.
In general, the work of industrial engineers largely centres on creating value-added activities that organizations might overlook. Their expertise is sought after to enhance processes and optimize outcomes, as they possess the skills necessary to effect meaningful improvements. This is my passion in life. I live for the thrill of finding a better way to do things, always on the lookout for opportunities to make stuff more efficient and effective. It's like a never-ending adventure, constantly seeking out those hidden gems of improvement.


As an international student, what was your experience at Dal Engineering?
My experience at Dal has been truly remarkable. I can remember the first day that I came to campus. It was before Covid. I really liked the warm and inclusive environment and believed I could foster both personal and academic growth here. I found the faculty and staff at Dal very friendly. They offered valuable support and guidance throughout my journey and whenever I needed help.

What are you plans after graduation?
I already started an amazing full-time job at Metrolinx in Toronto as a Safety Risk Manager. Metrolinx, which is an agency of the Government of Ontario. We play a pivotal role in managing and integrating road and public transport in the Greater Toronto and Hamilton Area (GTHA). Remarkably, this opportunity was offered to me through the valuable connections I cultivated during my doctoral research journey at Dalhousie University.
Within my current position, my responsibilities encompass the creation of safety risk models, conducting thorough hazard analyses, and fostering a culture of safety. These efforts ultimately contribute to the overall safety of both our transportation infrastructure and the public it serves. Witnessing the positive impact my work has on society is incredibly rewarding.
Simultaneously, on the research front, I am determined to continue my exploration in the realm of risk and hazard analysis. I believe my PhD research is a starting point in dealing with the issue of validation in risk and hazard analysis. By performing more research into this field, I aim contributing to the advancement of risk management practices and their validation.  
What is it like to be a women in Engineering?
Back in my home country I'd say the percentage of women and men studying engineering is very close. I was surprised when I saw that here the majority of students are men. I've honestly really enjoyed studying engineering and working in that field and I would like to encourage all the women who want to study in this field to do so. We need more amazing women bringing their unique perspectives and talents to the world of engineering. We can break those stereotypes and show the world what women in engineering are made of.