News
»
Go to news main
Engineering Student Design Team Prepares for Another Electric Year
Posted by
Engineering Communications
on August 22, 2023 in
News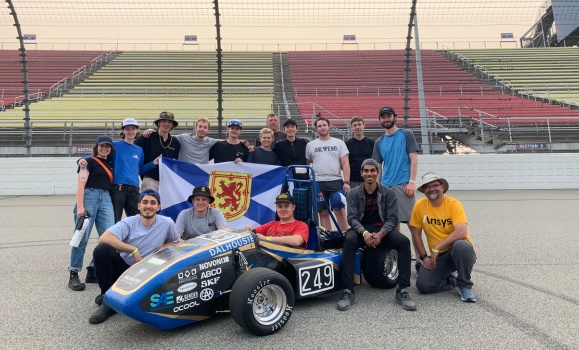 On a warm June day in Michigan, 16 members of Dalhousie's Formula Society of Automotive Engineers (FSAE) team proudly raised a Nova Scotian flag in front of Dal's first ever electric vehicle.

Now, two months after competing with the vehicle for the first time at the Formula SAE Electric Competition in Michigan, team captain and graduate student Mitch Gregory is reflecting back on his team's incredible experience at the event.

"My favourite memory of the year is seeing the team on the Michigan International Speedway with the car for that team photo," says Gregory, who, after five years as a member of the Dal FSAE team, has finally seen dreams become a reality.
"After many late nights, thousands of kilometers of travel, hundreds of hours of discussion, design, and fabrication, we had finally made it to the Formula SAE Electric competition," he says. "To be amongst the other teams on the track to celebrate the event was amazing."

Formula SAE competitions challenge teams of university students to build and design formula style vehicles. Each competition gives teams the chance to demonstrate their creativity and engineering skills against other university teams from around the world.

"We had a tremendous time with a lot of success and failure," says Gregory. "Meeting other teams from across Canada and beyond, gaining valuable feedback from experienced judges, and putting our systems to the test in a one-of-a-kind environment was incredible"

"Although we didn't get to compete in dynamic events, it was an educational experience and set a solid foundation for next year. It was amazing to see the spirit of the team while at competition."
The Road to Opportunity
It's been a long road for the Dal FSAE team, who, for many years strived to one day design and build an electric powered vehicle. Since 2007, the team has built ten gas-powered cars and provided more than 300 engineering students with hands-on experience in areas such as automotive, manufacturing, design and leadership. Going electric was a new and exciting challenge for the team.
With Emera's blue and yellow logo now shining front and centre on the new electric vehicle, Gregory is quick to praise the Halifax-based company for a generous $70,000 sponsorship that changed the team's course of action. With Emera's support, the team had the resources to upgrade equipment and purchase the essential electric components for their vehicle, including motor and control electronics.

A strong partner to Dalhousie Engineering, Emera's sponsorship builds on a $10-million investment to the Emera ideaHUB.

Change leaders in the transition to cleaner energy, Emera also believes in supporting future leaders in Atlantic Canada by investing in opportunities for young people to learn and grow here at home.
"We were thrilled to support the Dal FSAE team in the development of their first electric vehicle," says Jennifer Parker, Senior Director of Corporate Communications, Emera Inc. "This partnership is an investment in the next generation of engineers, fostering the innovative thinking needed to achieve net-zero CO2 emissions by 2050. To see this work happening right here in Halifax is incredibly exciting for the entire Atlantic region."
"Without sponsors like Emera supporting our student experiential learning, student teams like the Formula SAE electric vehicle team would not exist," says Gregory. "The team would like to say a heartfelt thank you to Emera for their generous support of our team's transition to an electric drive train. Emera's support enabled us to make the transition to a zero-emission system, develop skills and knowledge around cutting edge technologies, and build a faster race car."
The End of One Journey and the Start of Another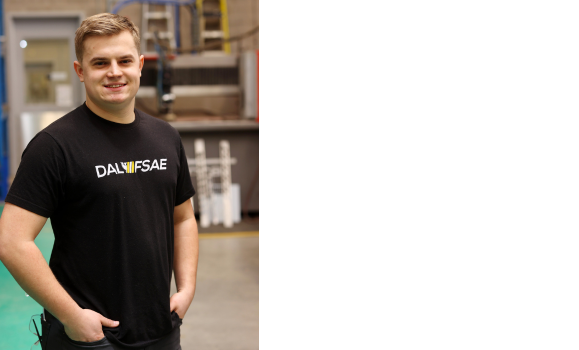 When we first met Gregory in 2019, he was assisting a pair of Dalhousie researchers in converting a 1971 Triumph Spitfire into a modern-day electric car.

A third-year mechanical engineering student at the time, Gregory joined Dalhousie's FSAE team, fueling his passion for clean energy technologies. Though one of the youngest members of the team at the time, he had big dreams and pushed the team to move from an internal combustion engine car to an electric powered vehicle.

Five years later, and now a graduate student, Gregory says he feels a great sense of accomplishment and satisfaction when he looks back at how far the team has come. 

"The most rewarding part of the year was seeing the car roll for the first time," he says. "It started off as a drawing, probably on the back of a napkin or in some class note, then it became a CAD and it looks pretty close to the final design, but things change, and you don't get the full picture until it all comes together. When you finally see it as an assembled car, that's special. You get tingles down your neck."

"I hope this project will inspire and educate a new generation of students skilled in electrifying our future transport, energy systems, and beyond."

And with that, Gregory is now ready to step down as captain of the Dal FSAE team. Jumping into the driver's seat is mechanical engineering student, James McIntosh.

"The team is working on some really cool advanced technologies like battery pack and electrical control systems that I am very interested in supporting and learning more about," says Gregory. "So, I will be sticking around as I finish off my Mechanical Engineering MASc in an advisory role."

He adds that most of the team's other key members will be retuning again this year, building from lessons learned in competition last June.

"Having identified over 20 technical development areas, we plan on growing the team from around 13 core members up to over 25 core members," says Gregory.

"We want to compete with the top teams in Canada. To be competitive we need to get more points through iterative design and lots of testing. We are going to improve the parts of the car that work well with structural analysis and light weighting, and re-design the parts that don't work well with a systems level design process and as much testing as possible."

Gregory says Dal FSAE will begin recruiting new members to the team beginning in September.

Dalhousie Engineering and Dalhousie FSAE would like to thank Emera for powering student innovation and growth. Their generation contributions and support have helped generate momentum and inspire students, faculty and staff.