News
»
Go to news main
New President of the Dalhousie Engineering Undergraduate Society Ready to "Pay it Forward"
Posted by
Engineering Communications
on June 23, 2023 in
News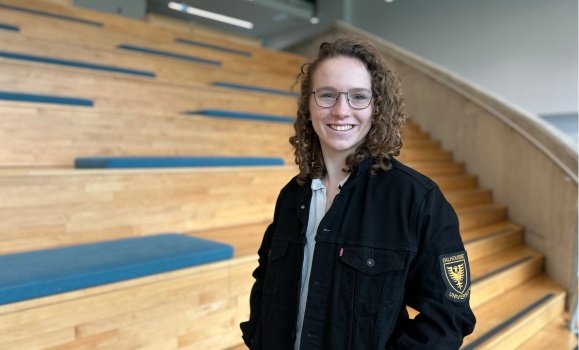 Dalhousie Civil Engineering Sarah Hall has many reasons to be proud. In the last few months, she has been elected as the new president of the Dalhousie Engineering Undergraduate Society (DUES) and she is the recipient of the 2023 Canadian Engineering Memorial Foundation (CEMF) Pomerleau Ambassador's Scholarship. But if you ask the fourth-year student what her greatest accomplishment has been since coming to Dal, she'll tell you it's the resiliency and strength she's developed over the years.  
 
"In the Fall of 2021, I was enrolled in my third year of engineering at Dal. At the time I had hit a wall emotionally, and was struggling with mental health and burnout," she recalls. "I realized that I would not be able to finish the semester in my current state and decided to step back from school and instead work for the year." 
 
On paper Hall was a star student. She had a near 4.30 GPA, participated in list of extra-curricular activities, and held a part-time job as a marking assistant in Dal's Department of Engineering Mathematics and Internetworking and as a hostess at a local restaurant.  
 
"Admitting that I needed to step back and prioritize myself is one of the hardest things I have done in my life, and by far the most important decision I have made," she says. "But the amount of love and support the engineering community, both at Dal and at my work, showed me during this time made a huge difference in my life." 
 
In particular, she says it was a strong community of female peers who guided her through the challenging times and gave her the strength to enroll back in the engineering program this past Fall. 
 
"I feel incredibly fortunate and proud to be a woman in engineering, and I hope I can mentor and support other female engineering students in the way that these ladies have helped me," she says. "To date, returning to the engineering program is what I consider my biggest achievement and what I am most proud of." 
 
Now as President of Dal engineering's largest society, Hall says she's ready and eager to "pay it forward," and help other students find their path. 
 
Community Leadership 
 
An active member of the Dalhousie Engineering community since returning back to her studies in the Fall of 2022, Hall has been involved in a number of societies and initiatives including co-editor of the Dal Engineering yearbook and Chair of the Sexton Engineering Endowment Fund. 
 
She was recently honoured as the 2023 Canadian Engineering Memorial Foundation (CEMF) Pomerleau Ambassador's Scholarship winner. The prestigious award pays tribute to the memory of 14 women who lost their lives in the École Polytechnique massacre on Dec. 6, 1989. The scholarship is awarded annually to the most promising women in engineering at the university level who demonstrate exceptional leadership within their community.
"One of the highlights of my university experience has been my involvement in student government and extracurricular activities," she says. "I truly believe that being involved on campus gives students a unique opportunity to not only grow personally but find a community that they can call home." 
 
It's a home that has helped Hall grow as a woman in engineering. She says while completing her co-op terms, she was often the only female out on the field, but over time came to love and appreciate her role and impact on society.  
 
"I have grown so much from the timid late-teen girl who felt out of place on sites and am very grateful for the crews and foremen who treated me with kindness and taught me so much," she says. "Being a minority is not always easy but learning to deal with conflict and "not fitting in" has made me a much more resilient person." 
Future Plans  
 
This summer Hall will be working with the Dalhousie Coastal Hydrology Lab as a NSERC (Natural Sciences and Engineering Research Council of Canada) Undergraduate Student Research Award recipient. Under the supervision of Dalhousie engineering professor Dr. Barret Kurylyk, Hall will spend the next few months conducting field experiments across coastal regions of Nova Scotia and her home province of Prince Edward Island. 
 
"Growing up in Prince Edward Island, I have always had a passion for environmental issues affecting the beautiful place I get to call home," she says "One of the aspects of civil engineering that I was most drawn too is the potential for me to take what I learn in school and implement it to the problems facing the island such as coastal erosion and groundwater resources." 
The opportunity so far has helped solidify her desire to one day pursue a master's degree in either water resources or coastal hydrology.  
 
"Long term my goal is to move back to the island and apply my education in the field, and hopefully be able to positively impact the island," she adds. 
 
But for now, she says she's looking forward to the final year of her engineering degree, and the opportunity to help her peers find their place on campus. 
 
"I have learned that the path people take in engineering is rarely straight forward and seamless. Seeing my fellow female students overcome whatever obstacles may be in front of them, makes me so proud."