News
»
Go to news main
Engineering Graduate Reflects on Time in Dal Engineering
Posted by
Engineering Communications
on June 2, 2023 in
News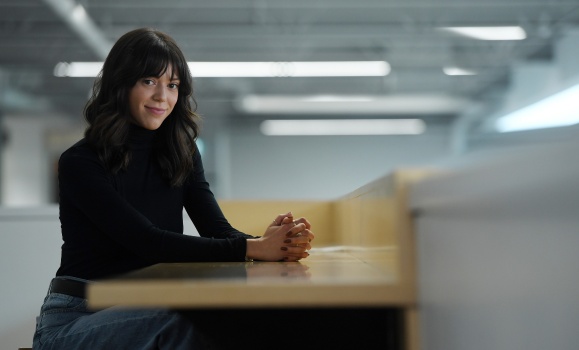 Zoë Smith effortlessly bounces around Sexton campus, from one initiative to the next. She's one of the most active students at Dal Engineering.

Sometimes you'll find her selling grilled cheese with the Gearheads volunteers, other times she may be assisting students in the engineering society office. It's not a problem for this senior year chemical engineering student. She can easily attend her lectures and labs, participate on student government, assist in publishing the yearbook, and hold the position of President of the Dalhousie Engineering Undergraduate Society. It's no big deal she says.

"It's been the best five and a half years of my life," she enthusiastically adds as she lists off her extra-curricular activities.


Inspiring Community Engagement
Last November, the Canadian Engineering Memorial Foundations honoured Smith as the 2022 Marie Carter Memorial Undergraduate Engineering Scholarship Winner. The prestigious scholarship pays tribute to the memory of 14 women who lost their lives in the École Polytechnique massacre on Dec. 6, 1989. The scholarship is awarded annually to the most promising woman in engineering at the university level who demonstrates exceptional leadership within their community.

"It recognizes students who are going out of their way to promote engineering," says Smith. "They are promoting good experiences to their peers. Whether it's getting young women involved in engineering, or getting their peers more involved in activities that aren't just academic."

"I think there are a lot of awards that focus on good grades, and that is very important, but there are a lot of other aspects of being a good engineer that I think are sometimes overlooked, like teamwork and leadership."
Smith says she's spent a lot of her academic career trying to get an many students involved in the engineering community as possible. From the opportunity to join student design teams, to simply handing out welcome packages at Dalhousie's annual Go Eng Girl event, Smith is always the first to take a new student by the hand and introduce them to different societies and groups.

"We have so much going on, you can definitely find your niche," she says. Though, she does add that sometimes she can sense their anxiety and fear.
"It can be very intimidating for younger students. They may think to themselves 'I have too much work, engineering is hard, I have so many courses, I can't do that.' But I promise you, you can do that. It's fun. And honestly, it's nice to have something productive to do that isn't just school, at least for me."


Home away from Home
Smith is counting down the days until graduation, but not because she's excited to leave. She's quick to point out that her involvement on campus has helped her build a community of peers who now feel like family.
"We're a very tight knit community at Dal Engineering," she says. "I've had the chance to work with students across all disciplines. You get to meet a lot of interesting and exciting people and you feed off each other. This is a space where you can really be yourself and grow as a person,"
Smith says she's had the opportunity to do just that. In fact, through her co-op programs she discovered her love for renewable energies and hopes to work in the field when she graduates with her degree next week.

Until then, she says she'll take one last moment to enjoy a place she now considers home.
"Dal Engineering is a great program. I'm very happy with my choices, and I really hope that other people (future students) can see that and take that into account when they're figuring out what they want to do."