News
»
Go to news main
Dalhousie Engineering Introduces State of the Art Metal 3D Printing Equipment
Posted by
Engineering Communications
on May 25, 2023 in
News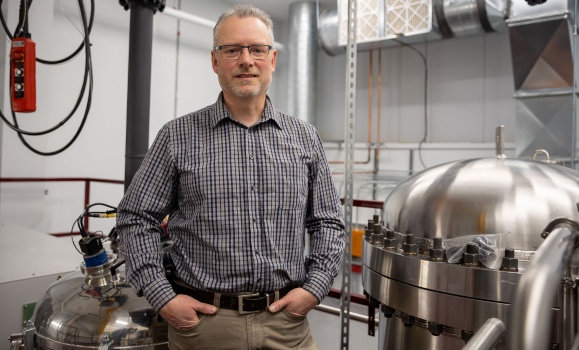 The Faculty of Engineering is leading the way in Additive Manufacturing.

Over the past few months, Dr. Paul Bishop from the the Faculty's Department of Mechanical Engineering has overseen the setup of a research facility on Dal's Engineering campus dedicated to the 3D printing of metallic materials. This allows his students to conduct comprehensive and high-quality, high-level research on many different metallic systems.  
 
"The chain of equipment that we have is such that we can study all stages of the production cycle going from the design of a part on the computer to actually make a finished metallic version of it through 3D printing," explains Bishop.
The parts that Bishop and his team are producing are stronger, lighter, and more geometrically complex than could ever be created by traditional methods such as casting and forging. The research includes finding the perfect alloy for each part, converting that alloy into powder form using a process called gas atomization, and then processing the powder through the advanced printers to produce a finished component.  
 
"Gas atomization capability is the real differentiator here as it allows us to convert almost any alloy into a powdered feedstock suitable for printing on campus.  Think of gas atomization as when you use a bottle of cleaning fluid with a trigger spray, but our fluid is a molten alloy that we hit with a very high-pressure gas to obliterate it into tiny droplets that subsequently solidify into powder particles," Bishop explains. 
There are very few educational facilities in North America with comparable equipment, and certainly no other Canadian universities that do — meaning that students working with Bishop are given exclusive access to equipment that puts them at a unique advantage in this exciting branch of engineering. Bishop is currently working with several exciting industry partners, including the Royal Canadian Navy (RCN), who are interested in harnessing his lab's potential to help them understand how 3D printing can be used to fabricate replacement parts that they currently have difficulty sourcing. 
"The problem is that for an organization like the RCN, complex naval assets such as warships, submarines, and frigates contain many different components made from many different alloys. Some of these naturally degrade over time and must be replaced, yet the companies that originally made the parts say 30 years ago are frequently no longer in business. Therefore they see tremendous benefit in leveraging metal 3D printing to address this problem "on demand".  Working with my team and the specialized equipment we have at Dalhousie is a critical first step towards that end goal as we can research a wide array of alloy chemistries and rapidly amass data on the complex parameter sets needed to print the alloys effectively." says Bishop.
Bishop was recently appointed Dalhousie's C.D. Howe Research Chair in 3D Printing of Advanced Structural Alloys. A major benefit of holding this position is that it frees up more of his time to conduct this research.  
 
"That in turn allows me to train even more undergraduate and graduate students at the university in metal 3D printing, which is exploding globally in terms of the companies using and implementing it," Bishop says, "It is a cornerstone of the next generation of manufacturing of metallic components. There's just no question about it at this point."