News
»
Go to news main
Remembering One of Nova Scotia's First Female Chemical Engineers
Posted by
Engineering Communications
on May 11, 2023 in
News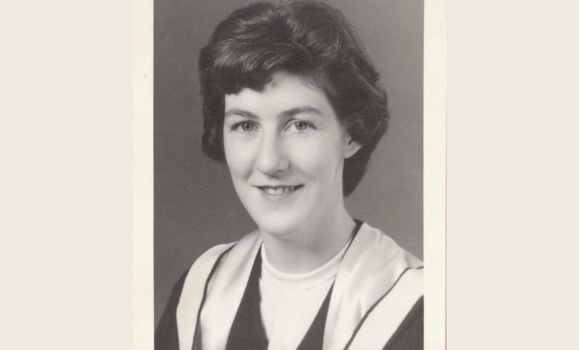 Judith Ishbel Paul (BEng'61) stood out in many ways. She was tall, athletic, strong minded, and in 1961, she was one of two female students to graduate from Dalhousie's Engineering Program (then known as the Technical College of Nova Scotia).

In the 1950s, few women pursued post-secondary education, and many who did studied arts and humanities. That's exactly what Judi (as her family called her) studied when she attended Acadia University in the mid 1950s.

"She even taught for a brief period following her graduation," recalls her niece Janice Murdock. "But she quickly realized that this was not for her, and though her father encouraged her to stay in a more 'ladylike profession' she decided that she wanted to go back to school. I think she probably felt that she could give more in a way that was untraditional and I think that might have been more attractive to her."

Janice describes her aunt as a risk taker, "somewhat of a rebel," she laughs. But she had a passion for chemistry and math that she could not ignore. So she pursued a degree in chemical engineering, and thrived in an environment dominated by her male counterparts.
"I think she was proud of it," says Janice. "It wasn't that she felt she was special in achieving this goal, she just had faith that this was something most females could achieve. One of her favourite sayings was PPO, persistence pays off."

It certainly paid off for Judi who immediately found a job in her field after graduation.
Landing an entry level engineering position at Kruger Pulp and Paper, she moved to Sherbrooke, Quebec, a province where she spoke little French, knew few people, and worked in an office where she was the only female engineer. She later transferred to Montreal, where she would eventually become the Vice President of Sales.

"She went to Montreal during the FLQ crisis (the October crisis). So there was a lot going on with bombings and kidnappings. It was a dangerous time to be there," says Janice. "She really didn't harp a lot about her work experiences, but I know they weren't all pleasant. I know there were struggles dealing with her status as the female there in a male dominated situation. But I think she learned to overcome a lot of that. She was very willing to participate on their level. She didn't feel intimidated."

Judi spent her entire career at Kruger Inc, moving back to Nova Scotia once she retired. She passed away on May 11, 2014.


Message to Future Female Engineers


Today, the number of women in engineering has greatly increased since the 1950s. In recent years, more and more women such as Judi are breaking stereotypes and pursuing post-secondary degrees in fields once traditionally dominated by males. Better support and awareness about STEM (science, technology, engineering and mathematics) are opening more doors for young women.
While Janice's son Connor Murdock (BEng'22) was inspired by his great aunt to pursue a degree in engineering at Dal, Janice says she hopes that young women who also hear Judi's story, feel encouraged to take more risks.

"I think her(Judi) father worried that she was entering a field out of her realm and maybe wasn't the best place for a young lady to be. She did it anyways," says Janice. "I think young women today have more freedom to pursue an education of their choice and societal and familial expectations for women to be married and raise children have changed. And I'm hoping young women will exercise their freedom to choose their own path."