News
»
Go to news main
Students make device to save people in peril from powerful waves at Peggy's Cove
Posted by
Engineering communications
on April 11, 2023 in
News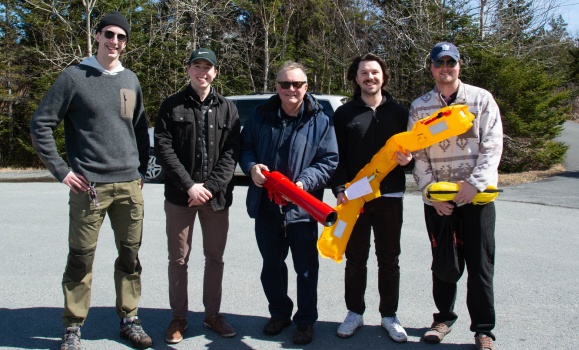 Peggy's Cove is one of the most iconic sites in Canada. With its red and white picturesque lighthouse, the busy Nova Scotia tourist attraction draws in 800,000 visitors each year.

As iconic as the lighthouse may be, the rocks at Peggy's Cove are also very dangerous. Over the years, the landmark has been site to multiple drownings, the most recent occurring last year. Regular visitors of the area will tell you to stay away from the black rocks, but some choose to disregard the warnings. 

It's an ongoing issue that has sparked numerous discussions over the years about how to improve safety at the popular site. Last year, 43 warning signs were installed around the area, an initiative promoted by Paul D'Eon, special projects director with the Lifesaving Society of Nova Scotia. Now he's partnering with a Dalhousie Engineering Capstone team to design a lifesaving device that could further help prevent fatal drownings from taking place.

"It's very hard to be able to really emphasize the danger of the Atlantic Ocean to people that aren't from the Atlantic Coast," says Willem Glozanski, a member of the Dal mechanical engineering capstone team working with D'Eon. "But you have factors such as wind and rogue waves. These are enormous waves that can come out of nowhere, that build up off the coast, and come in and sweep people off the rocks."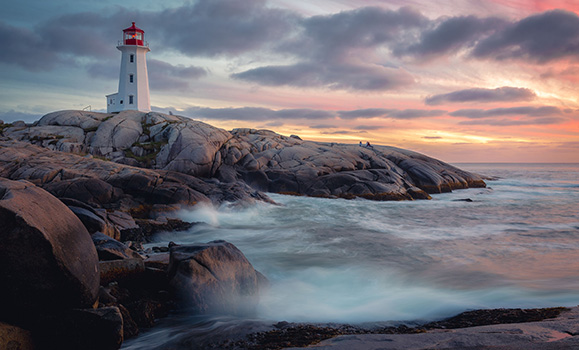 Visitors to Peggy's Cove are warned to avoid black rocks slick with water. (Barry Coolen photo)
Small window for saving victims

Once a victim has fallen into the ocean, Glozanski says the best chance of rescue needs to happen within the first 60 seconds. He and his teammates, Liam Carson, Zach Gould and Tanner Duplessis have designed and built a launching device that will eject an inflatable lifejacket to the victim.

"Our client (D'Eon) said that when people are drowning and panicking, getting a rescue aid kick to them that keeps their head above water is really important. So, our idea was to get a floatation piece out rapidly," says Glozanski.

The red launcher uses compressed air to fire the projectile into the ocean. The device can travel 100 feet through high force winds. The projectile features CO2 cannisters that inflate a lifejacket once there is tension in the line. The lifejacket is tethered to the launcher by a plastic safety rope, allowing bystanders on the shore to pull the victim to safety.
Glozanski says his team would like to one day see five launchers installed along the Peggy's Cove coastline, each 200 meters apart. The launchers would carry five accompanying projectiles and a visual instruction guide to show bystanders how to operate the device.
 
Solving real-world problems
 
A prototype of the launcher will be on display at this year's Dalhousie Engineering Capstone Conference, happening today (Tuesday, April 11) on Dalhousie's Sexton Campus.
The Faculty of Engineering's Capstone Program gives senior year undergraduate students the opportunity to collaborate with industry partners on open-ended problems they don't have the resources to tackle on their own.
"I think we've all learned a ton from this project, especially just how challenging of a problem it (Peggy's Cove) really is," says Glozanski. "We've enjoyed being able to get creative with designs and just think freely and start something from scratch and take it from an idea to an actual physical product."

On their next trip to Peggy's Cove, Glozanski stresses that the capstone team will be a lot more cautious when viewing the waves. "We're boardwalk visitors now," he laughs.

"The thing about Peggy's Cove is that it's a tourist attraction, you're not supposed to go swimming there, so there's not a lifeguard on duty. So even who has ownership of the safety there is a bit of a question mark."

Following this year's Capstone Conference, Glozanski hopes members of the Nova Scotia Lifesaving Society will continue to improve and develop the launcher, eventually presenting the device to the provincial government for approval.
"We're very happy where we've gotten it so far, but with more I think it can eventually be something that could be implemented," says Glozanski. "I think the prospect of potentially saving someone who otherwise wouldn't get saved is also inspiring. It's exciting that our work might lead to that someday."