News
»
Go to news main
International Women's Day: Celebrating Two Women Who Inspire Change and Growth
Posted by
Engineering communications
on March 8, 2023 in
News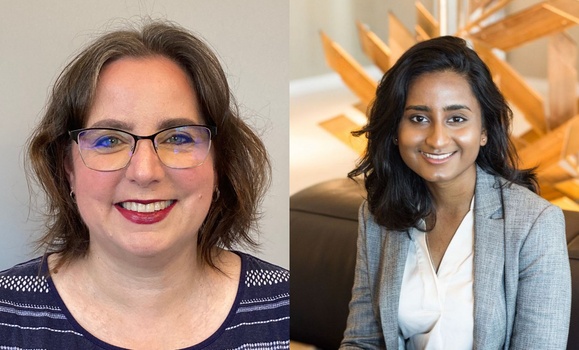 Wendy Gentleman can still remember what she was doing on December 6th, 1989. That was the day a gunman walked into École Polytechnique in Montreal and opened fire. He was targeting women in engineering.

"I feel integrally tied to the Dec 6th massacre as it happened when I had just started my own engineering program in Montreal (University of Montreal)," says Gentleman. "I was in my dorm room studying for my physics exam and listening to the radio. The announcer interrupted the music to say that there had been a shooting at École Polytechnique. I remember getting a panicked telephone call from my brother in the U.S. I will never forget the sound of relief in his voice when he realized I was okay."

Now an associate professor in Dalhousie's Department of Engineering Mathematics and Interworking, Gentleman says that hate-fueled crime was her introduction to the challenges facing women in engineering. It also raised her awareness to the profound need to do whatever she could to empower, inspire and educate women.

Thirty-three years later, she plays an integral role in supporting the Faculty of Engineering's December 6th Resilience and Remembrance Ceremonies. The event, which is hosted annually by the faculty's Women in Engineering Society (WIE), honours the lives of the women lost during the École Polytechnique massacre.
"The legacy of the 14 women killed is not restricted to women in engineering alone. The best way to honour their memory is for today's young women ─ engineering students and others -- to fulfill the aborted dreams of those 14 women, their families, and their friends, and for modern young women to become the victim's living legacy," says Gentleman.
A Career Built on Resilience
Gentleman's impact at Dal Engineering spans far beyond her involvement with the December 6th ceremony. Throughout the years, she has worked hard to shine a bright light on women's rights, opportunities and gender equality.
Her career has been filled with triumphs and challenges. A researcher in the area of ocean ecosystem science, Gentleman is proud of her academic accomplishments. But, like many other women, she admits that juggling her career while raising a family has been challenging.

"Being a working mom is really hard. I sacrificed career advancement opportunities to prioritize taking care of my kids," she explains. "I worked part time for many years, worked late at night when the kids were asleep, but it was all well worth it."

A member of the faculty's Equity, Diversity, Inclusion and Accessibility committee, Gentleman goes to campus each day with the goal of ensuring that everyone feels welcomed and respected. From spearheading the Engineering Sisterhood Awards in 2017 (which recognized the extra-curricular activities of female students in engineering), to pushing the faculty for better female washrooms on campus, she has opened countless doors for women in her field.

"Being a woman in engineering is challenging. We are under-represented, and all genders need to rally to improve recruitment and retention of our female students and faculty members," she says . "We need to challenge biases and change practices that alienate women or are presumptive about their abilities. We need to support one another, and celebrate our achievements."

Above all else, it's been Gentleman's work with the WIE that's had the greatest impact. Serving as their faculty advisor between 2009-2017, she helped the society execute events such as Go Eng Girl that support and educate female identifying youth on the opportunities in engineering. During the COVID-19 pandemic, she also played a prominent role in helping WIE launching a virtual panel series called "Women of Today," which focused on motivating current and future female engineers.

"I share their mission," she explains. "As someone who experienced overt and insidious sexism during my engineering studies, and who bears witness to the continued gender gap in engineering, I want to ensure that women are treated fairly and with respect and to increase their representation in engineering and math. I recognize the great value that WIE adds to the university, especially as I didn't have that kind of resource when I went through undergrad."

"Whenever there's any sort of initiative involving women in engineering, you can expect to see Wendy Gentleman there," adds Industrial Engineering student Aparna Mohan.

Throughout her academic career, Mohan has had the opportunity to work with Gentleman on several initiatives such as Go Eng Girl and the "Women of Today" panel series. "She really pours her heart and soul into this work and she has been a really important part of increasing the representation of women in the program."

Meet Aparna Mohan
Mohan has also been a strong voice for change and inspiration, especially within the international student and engineering student communities at Dal.

Born in India and raised in the Philippines, she is only one of a few international students to ever become President of Dalhousie's Student Union (DSU). Her role involves representing the needs of over 20,000 Dal students when engaging with university administration, media and government. It's a position she's also using to encourage her fellow international student peers, and educate others on the dynamic role and impact of modern day engineers.

"It's been interesting to be able to bring my perspective as an engineering student to that role and really apply the problem solving lens that an engineering background gives me," she says. "I've really recognized how misunderstood engineering is as a profession, and I hope that my example of being in this role and being an engineering student encourages more students to see themselves as being an engineer and being a force for change."
Community Passion
Mohan describes her position as both exciting and nerve wracking. "It's been my most challenging and transformative leadership opportunity yet," she adds.
Her typical day begins with a coffee from the Tim Hortons at the Student Union Building before heading up to the DSU office on the 2nd floor to review her calendar and emails. From there, each moment brings a new challenge and a new adventure. From sitting on Dalhousie's Presidential Search committee to advocating on behalf of students on Parliament Hill, to leading strategic operational developments that better reflect student needs, her days are busy but rewarding.
She says she owes much of her leadership experience prior to her DSU Presidency to the engineering community. Through roles such as the VP Finance for the Faculty of Engineering's Go Eng Girl event, VP Academic for the Dalhousie Undergraduate Engineering Society (DUES) and VP Advocacy for the Canadian Federation of Engineering Students (CFES), she built the network, knowledge and expertise necessary to take on larger and more complex challenges.

In 2021, she was honoured with Dalhousie's Outstanding Student of Distinction IMPACT Award in recognition of her service to the engineering community and beyond.

"I have a deep passion for service," she says. "I've faced a lot of adversity over the course of my degree. It has not been a smooth journey and what I've realized is that in times of adversity, what really fueled my own resilience was having  a strong support network. This is what drives me to do everything that I can to strengthen and support."

Last November, Mohan partnered with Dalhousie's Advancement Office on their Food Security Project. It was community-wide campaign to raise money for the DSU Food Bank and help students who struggle to make ends meet. The project has had an immeasurable impact on the community, raising over $72,000.

"I provided the campaign with up to date student data to illustrate what students' food security looks like and the kinds of increases in demand we have faced at the DSU Food Bank," says Mohan, who researched the issue of food security while completing her Industrial Engineering Capstone project.

As DSU President, Mohan impacts students' lives in a way she says she was never able to do in her previous leadership roles. She adds that in the past, many international students have shied away from pursuing high level student leadership positions within the engineering and broader Dalhousie community.

"We've been historically sidelined, or also sidelined ourselves, by thinking that we don't belong in certain spaces or can't perform as effectively without local roots."

As more international students find a home at Dalhousie University, Mohan says their voices are becoming more resonant and influential across campus, and she's honoured to be among them.

"Now we're seeing more and more international students taking on big roles and really wanting to do so much, not only for local communities, but also the post-secondary community at large."