News
»
Go to news main
Celebrating Imhotep's Legacy Academy: Building 20 Years of Strong Community Connections
Posted by
Engineering communications
on February 16, 2023 in
News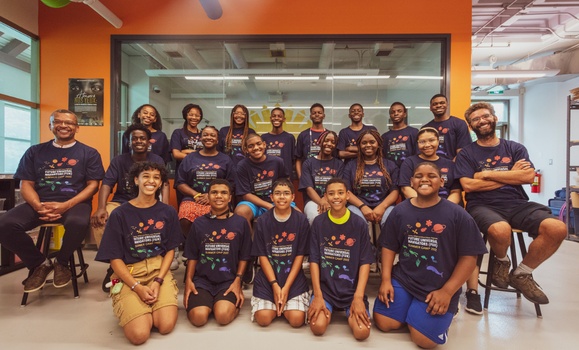 This weekend, over 50 African Nova Scotian youth will travel to Acadia University to participate in the FIRST LEGO League competition. The students are part of Imhotep's Legacy Academy's (ILA) robotics program, an initiative designed to get youths between the ages of 9-14 excited about science, engineering and technology. The two-day tournament gives the students the chance to build and test robots, while also applying their skills to on-field competitions.

The event is one of many initiatives ILA offers to African Nova Scotian youth across the province. Now set to celebrate 20 years of community connections and success, ILA is gearing up for their most active year to date.
In January, Asher Trim-Gaskin was hired as the organization's new Program Director. While he's only been in the position for two months, he has been making an impact on the ILA community for over ten years. A member of their team since 2017, he remembers volunteering as a student mentor while completing his science degree at Dal in 2011. He says it started as an opportunity to simply tutor students in his favourite topic: biology.

"From there I saw the effect that I was having on those students, the reason behind Imhotep's Legacy Academy, and I got behind the mission. I found myself coming back here," he recalls.

That mission is to influence and inspire the lives of African Nova Scotian youths by making STEM (Science, Technology, Math and Engineering) subjects accessible and fun for junior high and high school students. Led by their President, and Department of Industrial Engineering Head, Dr. Pemberton Cyrus, ILA offers students a blend of real-world learning projects, skill building and leadership development activities as well as tutoring support. 

They operate out of Dal's Sexton Campus. It's a warm and supportive environment where students can visit, learn and dream. The space features a variety of tools to support STEM development including a designated 3D printing room, soldering stations, wet lab, and collaboration workstations. It's a space designed to inspire.
 
ILA recruits university students of African heritage to deliver their STEM programs. Mentors serve as role models to youth, helping them discover who they are, and what they are capable of doing.

"The centre allows them to be themselves," says Trim-Gaskin. "Sometimes students come in and they doubt themselves and then you see them two years later and you see what they're doing and you think, oh my goodness. You see the growth in students when you're actually paying attention to them as individuals."


Growth and Success
Although ILA began as a Saturday school project in 2003, they now offer many initiatives focused on STEM development, and they operate in over half the regional centers of education in Nova Scotia. While participation was down during the COVID-19 pandemic, the organization is now back to full scale operations.
"There's been market growth over the years. We're seeing an increase of 200 students each year," says Trim-Gaskin, who adds that ILA is currently reaching close to 1,800 Nova Scotia youth a year. "And we're also seeing this translate to the number of schools that we connect with, and the way we administer our programs."

This year, Trim-Gaskin says his team is launching several new initiatives, including one focused on introducing students to the world of game app development, and another aimed at engaging more students in the areas of agriculture and food security.
A number of new scholarships have also become available to African Nova Scotian youth. This includes the ILA-TD Scholarship which gives students in ILA's after school programs the chance to earn awards that they can later use to offset the cost of their university tuition.

"We also have the ILA Ocean tech scholarship. That's a $28,000 scholarship that's given to a student of African heritage going to university and pursuing a career in anything ocean related," says Trim-Gaskin.

Scholarship opportunities are also available to student mentors, who are often enrolled in post-secondary STEM studies. Trim-Gaskin says some of their mentors were once students themselves in ILA's after school programs. 

"Students come in, and they themselves don't realize that they are going to be in the program for such a long time. You see the program achieving its mission, which is students going into post-secondary education, and now some of those students are right here, studying at Dal, who I used to tutor," says Trim-Gaskin. "You have an Imhotep journey that's from the lens of the tutor and then from the lens of a student."

Now as that journey continues, Trim-Gaskin says ILA is looking to expand their reach in Nova Scotia. "We'd like to touch into areas such as elementary school students, tapping into lower-level activities for students and engaging them earlier. As well as also reaching our French learners."
ILA continues to welcome community and commercial partners to support its programs through scholarships, internships or direct program funding.

ILA Programs and Initiatives:
After-School Program (ASP)
FIRST LEGO League Program (FLL)
Virtual School Program (VSP)
ILA Coding Program
Summer Student Research Scholarship (SSRS)
Young, Gifted & Black Science Fair
STEM Quiz Tournament
STEM Essay Writing Competition
Engaging ANS in Agriculture and Food Security Initiative
Summer Rocket Building and Launching Program
Young, Gifted and Black Future Physicists Camp
Black STEM Contributors Exhibition
ILA-TD Promise Scholarships
Imhotep's Learning Community
Upcoming Events:

February 18th, 2023: Provincial FLL competition
February 19th, 2023: Provincial Robofest competition
February 23rd, 2023: Canadian Space Agency Brain Hack