News
»
Go to news main
Dalhousie Engineering Students Host Atlantic Engineering Competition
Posted by
Engineering communications
on January 26, 2023 in
News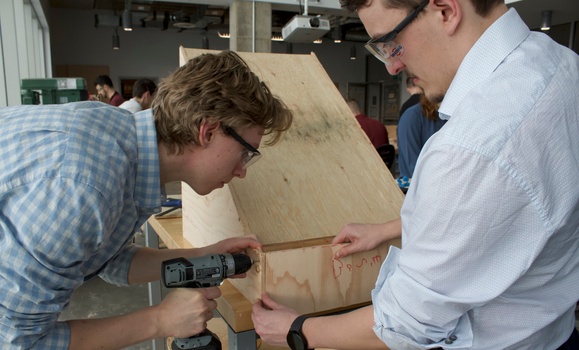 Last weekend, twenty-six Dalhousie engineering students proudly hosted the Atlantic Engineering Competition on Dalhousie's Sexton Campus.

Undergraduates from across the region gathered to design and build sustainable solutions that could one day improve our environment and society.

It was a moment members of this year's Dalhousie engineering student organizing committee had been waiting to experience for a long time.
"I was excited for everyone to interact with each other in person," says Sapna Natarajan, Chair of this year's organizing committee, and a third year chemical engineering student. "For a long time, having an in-person during COVID seemed like an impossible thing to do."
Sustainability First
This was the first time since 2020 that the Atlantic Engineering Competition (AEC) was held in person. The conference is a three day student run initiative that takes place each year in the Atlantic Region.  
This year 166 engineering students from nine different universities competed in a variety of design challenges and competitions. Categories included junior design, senior design, consulting, engineering communications, programming, innovation design, re-engineering and extemporaneous debate. Each competition centered around this year's theme of renewable energy.

"Fossil fuels like coal, oil and gas are by far the largest contributors to global climate change. That accounts for about 75% of all global greenhouse emissions," explains Natarajan. "And we know that by 2040 our need for electricity is going to increase by seventy per cent."

Natarajan says she and her committee members selected this year's theme to help educate students on future sustainable practices, and the impact of their contributions.

"We are the engineers of tomorrow, so we're the ones building the world that we're about to live in."

Renewable Energy plays a key role within Dalhousie University's priorities and initiatives, particularly within the Faculty of Engineering. Recently, a massive renovation to Dalhousie's Sexton Campus was completed with sustainability in mind. The project included two new buildings that were designed to improve efficiency, reduce greenhouse gas emissions and maximize the use of renewable energy.

The Faculty also conducts a wide range of renewable energy research and continuously instill these priorities and initiatives onto their students.
"This year we really tried to do a lot of sustainability around the conference," says Natarajan. "We tried to stay paperless. So for example, we switched all of the gift cards to e-gift cards, and all our delegates were emailed their cases for the competitions."
Natarajan says, in total fifty-two student teams had the opportunity this weekend to utilize equipment and expertise within the Faculty Engineering.
"Dalhousie is such a great campus to host AEC," says adds. "We have so many resources in the Faculty of Engineering, and we have the ability to use them all which is great."

In addition to design competitions, participants at the conference also had the opportunity to attended an afternoon career fair that included employers such as Lindsay Construction, Michelin, J.D Irving and Eastpoint Engineering.

Natarajan was quick to praise and thank all of this year industry partners, volunteers and sponsors for their support and commitment, including platinum and gold sponsors, Pathways Alliance and Actemium.

At the end of the weekend, the two top teams from each competition, including five teams from Dalhousie Engineering, have been selected to compete in the National Canadian Engineering Competition to be held in Waterloo, Ontario in February.
 
Congratulations to this year's Dalhousie Engineering winners:

Senior Design Challenge: Second Place Winners
Siddhanta Das
Maxim Belinson
Yianni Trihopoylos
Mickey Jackson

Re-Engineering Challenge: First Place Winners
Matthew Jenkins
Dante Coulter

Debate Challenge: First Place Winners
Andrew Ollerhead
Amy Kehoe

Engineering Consulting Challenge: Second Place Winners
Alex Cross
Jordi Eagleson
Caleb Bourassa

Engineering Communications Challenge: First Place Winner
Lauren Mouser