News
»
Go to news main
Dal Engineering students hold vigil of remembrance for victims of Montreal violence
Posted by
Engineering communications
on December 6, 2022 in
News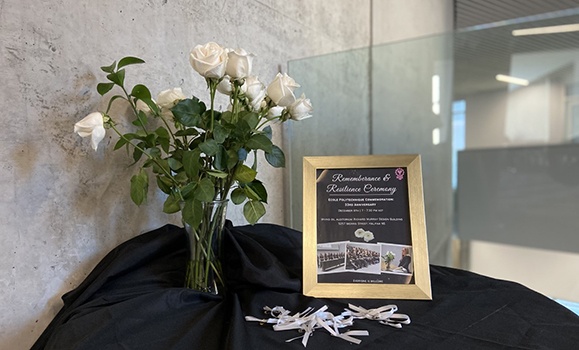 On this day 33 years ago, a gunman walked into École Polytechnique engineering school in Montreal and entered a mechanical engineering classroom armed with a semi-automatic weapon. After separating the women from the men, he opened fire on the women before turning the gun on himself.
In his suicide note, he blamed feminists for ruining his life.
Fourteen women lost their lives in the violence, which Canadians remember each year on Dec. 6 — the National Day of Remembrance and Action on Violence Against Women. 
 
Each year, in honour of the women killed in the École Polytechnique massacre, Dalhousie's Women in Engineering Society (WIE) hosts a memorial to commemorate the victims of the massacre, and to showcase the resiliency of women in our society.

This year's event will take place tonight at 7:00pm in the Irving Oil Auditorium located in Richard Murray Design Building on Sexton campus, The vigil is open to all members of the community.
"December 6th is a day to remember who we are and where we came from. It symbolizes determination and perseverance for all women. Despite the aversity, despite the resistance, women continue to push boundaries and take up space," says Teo Milos, President of WIE.

Twelve Dalhousie engineering students, one nursing student, and one administrative staff member will be at this year's ceremony to represent each of the fourteen École Polytechnique victims who were killed. Each individual will blow out a candle and receive a single white rose in honour of the victims.

For members of WIE, the commemoration is not only an opportunity to honour the victims of a tragic shooting, but a chance to acknowledge and speak openly about the challenges many women still face today.

"I hope that what people take away from our ceremony is, although we have come so far in the past three decades, we have so far yet to go," says Milos. "Most importantly, I hope that the ceremony conveys a message of perseverance and resilience of women in STEM."


National Vigils
 
In total, 28 people were shot on December 6th, 1989. It was one of the worst masse shootings in Canadian history.

The shooting sparked a national movement that took direct aim at violence against women. Canadians vowed to fight the hatred that motivated the murders. And in 1991, the Government of Canada established December 6 as a day of mourning and remembrance for the fourteen lives lost. 
 
Dalhousie's Faulty of Engineering will join communities across Canada in remembering the fourteen women killed in 1989. Across the nation, engineering schools and other organizations will hold similar vigils to honour the victims. Canadian flags on all federal building, including the Peace Tower on Parliament Hill in Ottawa, will fly at half-mast.

In Montreal, fourteen beams of light will illuminate the sky above Mount Royal in memory of the women who lost their lives that day.

On December 6, we remember:
Geneviève Bergeron
Hélène Colgan
Nathalie Croteau
Barbara Daigneault
Anne-Marie Edward
Maud Haviernick
Maryse Laganière
Maryse Leclair
Anne-Marie Lemay
Sonia Pelletier
Michèle Richard
Annie St-Arneault
Annie Turcotte
Barbara Klucznik-Widajewicz