News
»
Go to news main
Building the BUILD Program
Posted by
Engineering Communications
on November 1, 2022 in
News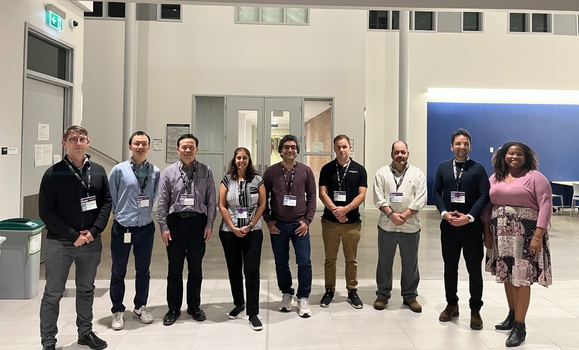 From the development of savvy applications that utilize the power of brain-computer interfaces, to a device that helps waste management companies reduce fuel consumption, there will be no shortage of innovative activity taking place at the Dalhousie Emera ideaHUB this year.
Last week, ten early-stage product venture companies joined this year's cohort of BUILD Participants; a ten-month intensive program that helps aspiring founders take their physical product ideas from design to prototype.
Through a series of workshops, one-on-one sessions, and access to 3D printing equipment within Dalhousie's Faculty of Engineering, the program addresses the specific hardware needs of physical-based companies that have limited access to engineering and prototyping resources. It also helps founders learn the key fundamentals essential in running a successful business.
Over the past two years, the Emera ideaHUB has graduated twenty-five companies from the program. Some of these startups have gone on to join the HUB's BRIDGE Residency program, while others have gone on to join other accelerator programs, or sell their innovative products to larger companies.
"The pathway is going to look different for everyone depending on your funding model," says Barrinique Griffin, Program Manager at the Emera ideaHUB. "And that's one of the things that's changed this year. We want to make sure that we have the right funding strategy for your business."
 
Building Change
 
Those are not the only changes to this year's BUILD program. As the third cohort of participants prepare to start their journey, Griffin says they'll be entering a much more rigorous process than participants in the past.
"This year the main goal is to have accountability with each team," she says. "This means developing an action plan so that we know what your prototyping needs are, reviewing a diagnostics intake to determine your weak areas, figuring out how we can fill those gaps, and making sure that we have the right people in place to address issues you may have."
Over the past year, the Emera ideaHUB has continued to strengthen and grow their team of Experts in Residence, furthering their partnerships with organization such an Enginuity, who provide design and engineering consulting support to solve engineering challenges.
"One of the main goals of the BUILD program is to create an environment for our founders to create a functional prototype and our experts in residence allow them to accelerate this process," says Griffin. "Our experts in residence are from varying industries and have created successful ventures, they are a resource for our founders by giving them advice and holding them accountable in order for them to achieve their business milestones."
One new face to the team of experts is Venture Coach, Ben Bschaden.
"Ben was a past participant in the BUILD Program and the BRIDGE Program, has built a successful company, and is very good with product development," says Griffin. "He'll be helping out companies one on one and he'll be hosting some workshops."
The BUILD program consist of a series of four modules, each focused on a different stage of product development: Prototype, Build, Scale. At the end, many teams complete the program with one to five prototypes.
"Our BUILD program is for those who are at an early stage. So it's people who might have done some research, customer discovery, or might have done some piloted testing or they're in the lab and they want to test to see if what they're doing is a viable option," says Griffin.
This year's cohort of BUILD participants begin their journey on November 4th.
 
Introducing our 2022/2023 BUILD Cohort
 
BioLabMate
Biolabmate was designed on the principle of creating the recyclable or biodegradable lab product for the university laboratories and private research center.
Dri-Print
Dri-Print is bringing humanity back to presentations with the creation of a new interactive whiteboard that improves the pace of learning.
aviSYNA
aviSYNA* is developing applications based on brain-computer interface (BCI) technology. Using a combination of artificial and veritable intelligence, users will be able to control devices, communicate with computers, and even play games using only brain signals.
XO Technology
Xo Technology is hoping to create the next generation human-computer interface device with personal health monitoring for augmented reality or virtual reality system and collaborate with AR/VR display companies to create a complete hardware AR/VR ecosystem. Their purpose is to empower humans to interact with technology more effectively.
Nditive 3D
Nditive3D is an early-stage technology company developing a digital twin-driven gas monitoring system for the real-time safety analysis of maritime and offshore personnel. Their Smart cloud-based gas monitoring system will help oil and gas, chemical, and marine shipping industries with earlier, easier, faster, and less expensive gas detection and will significantly increase personnel safety in the field. 
Ocean Sights Technology
Using artificial intelligence, Ocean Sights Technology is developing applications that'll help fisherman save on fuel and provide valuable insight into the size of their catch from shore. The technology will track the number of lobsters and crabs caught in their traps and determine the most efficient route to those traps.
Oxebow
Oxebow Enterprises is a team of two brothers from Yarmouth Nova Scotia focused on designing products to improve productivity in the fishing industry. They are currently working on a crustacean scanning conveyor to enhance on-board processing and stock assessments.
Safe Harbour
Safe Harbour Research & Technologies Corp. is seeking solutions to create safer passage for all those sharing a body of water (harbours, inlets, canals, lakes). Through the deployment of marine technologies, the startup is developing a portable, renewable, self-powered and self-sustained marine buoy capable of measuring vessel speeds. The technologies will help address the environmental hazards and incidents that may occur because of boats speeding in waterways.
Scient
Scient empowers geoscientists by mapping rock features otherwise indistinguishable by the human eye. They integrate deep-tech and artificial intelligence for streamlined identification of minerals and geological features with submillimeter spatial resolution. Scient service removes the latency between drilling to collect rock samples and providing real-time feedback for decision support in mining operations.
Smart Bin
SmartBin is helping waste management companies reduce fuel consumption by improving their waste collection processes. The startup is developing easy-to-install sensors for existing commercial waste bins that detect fill levels. The sensors will be connected to SmartBin's route-optimizing software which will then suggest more cost-efficient routes for waste trucks to use.