News
»
Go to news main
Engineering Graduate Goes to New Heights
Posted by
Engineering communications
on September 20, 2022 in
News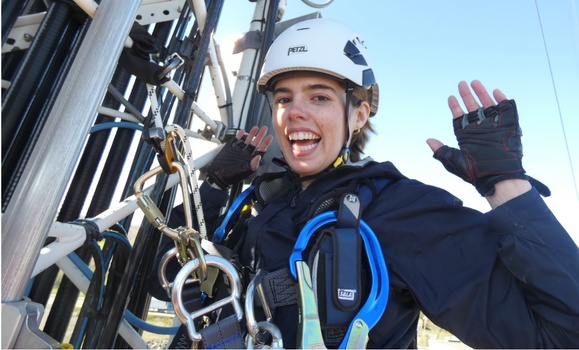 An engineering degree can take your career in many different directions, and for one Dalhousie graduate, that direction is up.
From 400-feet above the ground, Holly MacLeod (BEng'22) always takes a moment out of her work day to appreciate the spectacular view at the top of the telecommunication towers she climbs.

Last spring, the Environmental Engineering graduate was hired by Tower Engineering Professionals' Canadian Division (TEP Canada) to work as a Field Engineer. Her role: climb and inspect the structural integrity of the telecommunication towers across Canada.
Recruiting engineers who also climb towers is what sets TEP apart from its competition. Founded in 1997 in Raleigh North Carolina by two structural engineers who climbed and inspected telecommunication towers, the company has since grown to more than 1,000 professionals. They have provided engineering and construction services to more than 150,000 towers around the world. In 2020, the company opened an office in Halifax, Nova Scotia and is managed by Dalhousie Engineering alum Colin Dickson.


Top Responsibilities
Strapping on her safety equipment and climbing up the side of a tower doesn't scare MacLeod. In fact, since beginning her position last spring, she's now had the opportunity to climb towers spanning from British Columbia to Nova Scotia.
These telecommunication towers are typically owned by organizations such as Bell, Rogers and Eastlink.

MacLeod climbs a variety of different structures including guyed towers, self-supporting towers and monopoles. Although the climbing element is the most dangerous part of the role, it's only one piece of the puzzle. Once at the top, MacLeod is required to perform a thorough analysis of the structural components and equipment of the tower.
"The towers are designed to last for a designed life cycle but they do change because they are operating in all types of weather conditions such as rain hail, ice, snow," says Dickson. "The team identifies steel components that are deteriorating on the tower such as rust or bolts that aren't there anymore because of corrosion."
Other deficiencies could include damage to the foundation and other issues with the tower's structural integrity.


Safety the Highest Priority

Although a profession that could be considered a hazardous role, it's also one that has become in high demand in today's digital era. But it's safety first at TEP. Each new climber is provided with extensive in-house training. This includes tower climbing techniques, safety planning, tower rescue procedures and first aid training.

"I have a respect for climbing and the risk that's associated with it," says MacLeod. "So there are nerves, but it's not a debilitating level of nerves."

Connected at all times to the side of the tower, MacLeod adds that a safety person is always situated on the ground in case of an emergency. That same person will also perform a structural assessment at the base of the tower.

Rain, snow, wind or shine, MacLeod performs tower assessments year-round. Only a few situations such as thunder and lightning will prevent her from climbing to the top of the tower.

"And nesting season," adds MacLeod. "Protected birds such as eagles and hawks, if they decide to pick a tower and nest in it, then we don't climb the tower."

MacLeod say it can sometimes take several hours to climb to the top of a 400-foot tower and complete a full structural inspection. It's an exhilarating job she never imagined she'd be doing with her engineering degree.
She says it's also an opportunity that has significantly helped her develop as a person and a young engineer.

"My ability to adapt has really grown. My Project management, time management and technical writing skills have also grown."

"But the company itself is very supportive. Colin has been very supportive with my development as a young engineer. And my supervisor is also very helpful, keeps a high standard and really pushes me to always improve. The job is a great opportunity to develop a lot of skills very quickly."

She adds that young engineers seeking opportunities where they can venture "outside of the box" and explore new career paths, would thrive at TEP.

"Just as long as you aren't afraid of heights."