News
»
Go to news main
Irving Oil Helps New Grad Find the Right Path
Posted by
Theresa Anne Salah
on June 17, 2022 in
News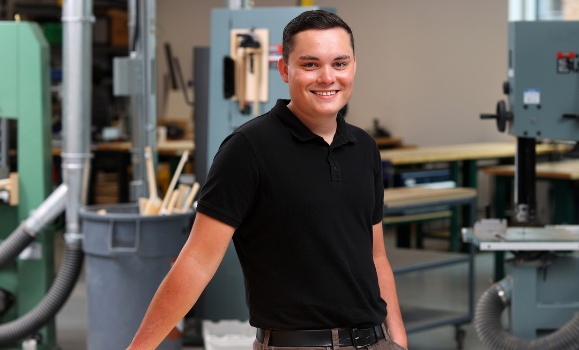 Jace Goodwin credits many different people for his academic success. Good faculty members, good classmates, a good co-op supervisor, and most importantly, a supportive organization that's helped him find the right path forward.
Irving Oil has been at the forefront of Jace's engineering journey, providing opportunities to learn and grow through its student co-op program. Following two co-op work terms with the company, along with a generous scholarship, Jace received his Bachelor of Mechanical Engineering at last week's convocation ceremonies.
"I've enjoyed my time at Dal. I loved working with my peers, I loved being in the Design Commons and I loved the atmosphere. But in many ways, I owe a lot to Irving Oil for not only awarding me with a scholarship, but providing me with the experience that's helped shape my future career."
The Building Blocks of His Future
Growing up with a chisel and a drill in his hands, Jace was inspired to pursue a degree in engineering after spending years in the basement of his home, designing and crafting speciality wood products.

"My father is a carpenter by trade and we have a full workshop in our basement," he says. "As soon as I was old enough to operate the tools on my own, I spent a lot of time down there. When I was in junior high I even started building chairs and selling them."

"Then in grade seven I wrote a paper about what I wanted to be when I grew up, and I wrote about being a mechanical engineer because it's so broad and it touches so many different industries."

Originally from New Glasgow, Nova Scotia, Jace says the small town was once known as an industry hub for employers such as Michelin Tire Plant, Sobeys and the Northern Pulp Nova Scotia corporation. 

"Although a lot of companies have now shut down, many of the people in town worked in industry. So going into university I knew two things; I wanted to be an engineer and I was pretty sure that I wanted to work in industry."

The Support to Make the Right Decisions
Pursuing the first two years of his degree at Acadia University, he transferred to Dalhousie's Sexton Campus in 2019 and was immediately impressed with their co-operative education program and the number of industry partnerships within the region.

His first co-op term, which took place shortly before the COVID-19 pandemic, gave him the opportunity to explore life at Irving Oil in Saint John, New Brunswick. Though slightly skeptical about not gaining the same hands-on experience many students receive at smaller organizations, Jace soon discovered that the support and guidance received by his new employer was immeasurable.

"During my first co-op, I was young, I was timid and I didn't know what to expect. But on my first day Irving Oil brought all the co-op students together for breakfast with their senior leadership," recalls Jace. "That lowered my sense of nervousness and made me feel welcomed. At Irving Oil, you're always provided with people who have great experience, they support you and make sure you understand what you're doing."
Following his four-month work term, Jace was awarded an Irving Oil Scholarship, a gift he says played a key part in ensuring he made the right decisions moving forward.
"The scholarship was a huge weight lifted off my shoulders and it allowed me to put experience over money when I applied for some of my other co-op terms. I wasn't entirely sure if industry was where I wanted to go when I graduated, so it allowed me to try a career in research for four months. That allowed me to choose what was best for me and I ended up going back to industry."
And that's where he finds himself today. With a mechanical engineering degree complete and a full-time position set to begin with Irving Shipbuilding in Halifax, Jace says he's ready to start the next phase of his journey. 

"As I enter the next phase of my career, I am looking forward to combining the wide array of skills I have been provided with over the past five years, and to discover what the future has in store, both professionally and personally."