News
»
Go to news main
Emera Sponsorship Helps Student Design Team Go Electric
Posted by
Engineering Communications
on June 9, 2022 in
News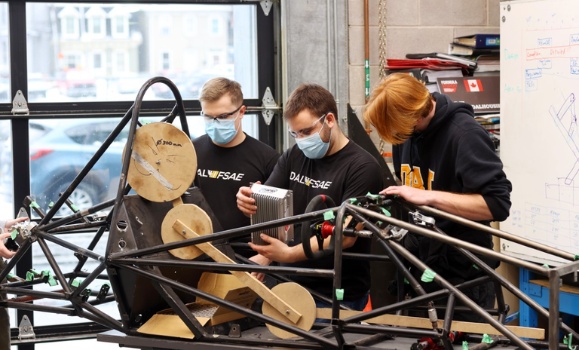 As the automotive industry rapidly evolves into a future fuelled by electric-powered vehicles, students in Dalhousie's Faculty of Engineering are accelerating their own technologies in renewable and sustainable energy.

The Faculty's Formula Society of Automotive Engineers (FSAE) student team is building the university's first electric-powered competition car, thanks to a new sponsorship from Emera, building on their $10 million investment in the Emera ideaHUB.

Drivers of both innovation and sustainability, Emera invests in clean energy initiatives that impact the region and support the company's net-zero 2050 vision.. The organization is also dedicated to building stronger, safer, and more inclusive communities through their Community Investment Program.

"Emera believes in supporting our future leaders by investing in opportunities for young people to learn and grow here at home, " says Rick Janega, Chief Operating Officer, Emera Inc.. "As change leaders of sustainability, we are excited to support the Dal FSAE team as they build an electric vehicle for the first time in this competition. The development of a clean vehicle will have a positive impact on the student community and will inspire learning across the Atlantic region."

Transitioning from a conventional internal-combustion engine to a battery-powered drivetrain, the FSAE student team is engineering a race car that will compete in the 2023 Formula Student Collegiate Competition. With Emera's generous support, the team now has the resources to upgrade equipment and purchase the essential electric components for their vehicle, including a motor and control electronics. 

"Going electric is the way of the future and this is something that we needed to do," says Mitch Gregory, captain of this year's FSAE team. "The team is extremely excited to welcome Emera as sponsor, supporting our next generation vehicle."
From Gas to Electric
Formula SAE is an interdisciplinary design and engineering challenge for university students across the world. Teams are tasked with building formula-styled race cars for competition. These competitions test a vehicle's performance in areas such as acceleration, endurance, autocross and the overall engineering design of the vehicle.

Since 2007, Dalhousie's FSAE team has designed and built 10 gas-powered vehicles and provided over 300 engineering students with the opportunity to gain hands-on experience in areas such as automotive manufacturing, design, and leadership.

In recent years, many university teams have transitioned their vehicles to electric powered drivetrains. It's a move that has not only improved the performance of their race-cars but also helped reduced their carbon footprint. It's also provided students with hands on learning experience in an area poised to take over the world.
 "If you connect the dots between what we need from a sustainable society and what we are developing here, there are direct links. says Gregory. "Building battery systems and building electric vehicles, whether it's big or small, is a skill set that's applicable to a future career in many different industries."

Strong Partnerships Are Key to Great Innovation

Over the years, Dalhousie University's Faculty of Engineering has rapidly advanced resources and programs in clean technology research and education.

"Our curriculum and student experiences continue to evolve to meet the changing issues facing society" says Dr. John Newhook, Dean of the Faculty of Engineering. "Students are looking for careers where they can make a positive impact on our community, and opportunities such as FSAE are giving them the chance to explore their creativity and learn innovative thinking outside of the classroom."

But he adds that great innovation isn't possible without key partnerships such as Emera.  

"The Faculty of Engineering and Emera have many shared priorities including driving innovation, clean energy, and empowering teams and communities. Emera's climate commitment is admirable and essential to our region's future, and their dedication and support to our students is key in empowering the next generation of engineers."

In 2021, Emera unveiled its Climate Commitment with a vision of achieving  net zero CO2 emissions by 2050.  The organization's net zero vision will require investments in emerging technologies and working closely with regulators, policymakers, and partners.

"At Emera, we know we need innovative and diverse ways of thinking to reach  our net-zero vision and we believe the Faculty of Engineering will develop bold and strategic leaders who are working to achieve this vision for our province," says Rick Janega, COO, Emera Inc. "Building on our strong relationship with the Emera ideaHUB, the opportunity to support the Dalhousie FSAE team is  a perfect fit."
The Road Ahead

Now with support from Emera for the FSAE team, Gregory says his team has the capacity to bring their innovative design concepts to life. This Fall, they'll begin building a new frame for their electric vehicle and will begin installing the electrical components of the car. They hope to have the vehicle ready for testing by early 2023.
 
"Emera's sponsorship will immediately enable development to progress from virtual CAD drawings to real world prototypes," says Gregory. "Without their support we would not be able to move on to build our dream."
About Emera Inc.
Emera Inc. is a geographically diverse energy and services company headquartered in Halifax, Nova Scotia, with approximately $34 billion in assets and 2021 revenues of more than $5.7 billion. The company primarily invests in regulated electricity generation and electricity and gas transmission and distribution with a strategic focus on transformation from high carbon to low carbon energy sources. Emera has investments in Canada, the United States and in three Caribbean countries. Emera's common and preferred shares are listed on the Toronto Stock Exchange and trade respectively under the symbol EMA, EMA.PR.A, EMA.PR.B, EMA.PR.C, EMA.PR.E, EMA.PR.F, EMA.PR.H, EMA.PR.J and EMA.PR.L. Depositary receipts representing common shares of Emera are listed on the Barbados Stock Exchange under the symbol EMABDR and on The Bahamas International Securities Exchange under the symbol EMAB. Additional information can be accessed at www.emera.com or at www.sedar.com.
Media:
Dina Seely
902-222-2683
media@emera.com