News
»
Go to news main
Engineering Grad Chases Opportunities
Posted by
Merilyn Layne
on June 8, 2022 in
News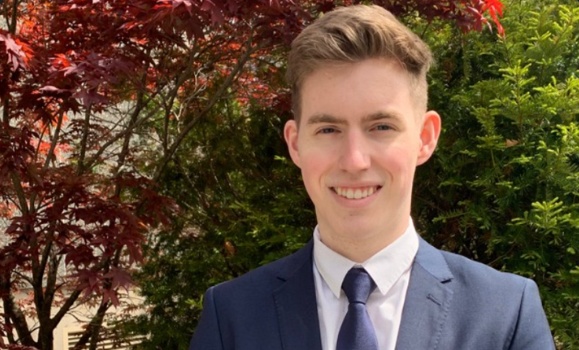 Brad Jones (BEng'22) is one of electrical engineering's newest graduates. With memories of meeting new friends in his first year, living in residence, and fun design projects Brad looks back at his time at Dalhousie fondly. He has already taken the next steps of his professional career, equipped with hands-on experiential learning, and support from the Schulich Leadership Scholarship.
One of the aspects of graduating that Brad was most anticipating was entering the working world. With his course work wrapping up in December Brad jumped right into the workforce as the Systems Engineer Associate at Lockheed Martin working on the Canadian Surface Combatant. Brad also continues to work for a start-up company that he worked with for his senior-year Capstone Project as Lead Engineer at the company Enigma Key. You might think that Brad's plate is quite full, but he also makes time for a personal project for which he's designing a sporting goods product for his father's company.
Impacts of a Scholarship
Brad Jones is a recipient of the Schulich Leaders Scholarship. These scholarships are among the most coveted in Canada for young minds in STEM (science, tech, engineering and math) fields. On receiving the scholarship Brad says "That was a really awesome experience. It took a lot of stress off of me coming into university."
The impact went beyond the financial support as well for Brad, "Their [Schulich Leaders'] network was pretty incredible too. The events that they ran, they had some influential speeches for me. The speakers that came in gave me some insight and inspiration."
He also got to meet other young leaders at the annual events for Schulich Scholar recipients. Brad enjoyed meeting people from around Canada with similar interests.
In a full-circle moment, Brad met also the company he works for now, Lockheed Martin at a Schulich job fair.
Making it work
Brad Jones is driven by variety in work, he enjoys the different roles he gets to fill with Lockheed Martin, Enigma Key and for his own personal entrepreneurship project. He works Monday to Friday with Lockheed and Fridays he sets aside for Enigma Key.
"The start-up is fun too because I can do the things I want to do. Because we're doing, we're doing everything from the firmware, the software, the hardware we're doing everything. And we have a pretty small team still, so there's a lot of chance to do a variety of things if you want to."
While the personal project is currently the third priority Brad enjoys making time for it and moving it along the process, he is almost ready to make the first prototype.
When sharing about how he got started on his own project Brad shared, "A few things really helped, the design project wit taught me a lot about electronics. My co-ops at Engenuity helped me learn about PCB design, soldering, firmware and programming, which were a lot of the skills that I needed for designing things as I do at Enigma Key and with my personal project.
Co-ops were a huge learning piece for Brad and his advice for incoming students is "100% I would say to do Coop or get internships if you're not in Co-op because that experience is really important for getting a job when you graduate for the first thing, and it also gives you a good background of knowledge and gives you a chance to temporarily work for companies and get experience you might not get otherwise."