News
»
Go to news main
Engineering the Future of Indigenous Communities
Posted by
Theresa Anne Salah
on March 31, 2022 in
News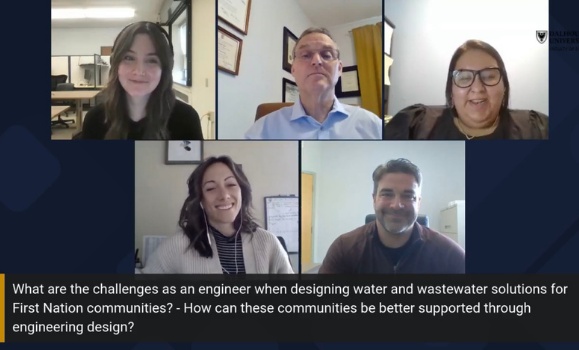 Clean and safe water are critical to human health, food production and more, yet access to this cherished resource remains a challenge for many Indigenous communities in Canada.
Water advisories continue to be a common occurrence and an all-too-regular reminder of the different standards that exist in the country for public infrastructure.
"More often than not, boil-water advisories are put on due to a lack of confidence in the system. Frequently, short-term ones are because there was a break in the line, the line depressurized and some contaminates may have been introduced into the distribution system," explains Ryan Dunbar, president of SOAR Professional Services, a consulting firm focused on Indigenous employment and community development. The company was launched as a limited partnership with Dillon Consulting Limited.
Dunbar, who is a member of the Kingsclear First Nations, says watermain breaks often occur due to aging infrastructure, much of which were built when the reserves were originally established.
Dunbar was part of a panel discussion last week that explored how Indigenous communities are impacted by water infrastructure and accessibility issues. Hosted by the Faculty of Engineering, the event was part of the Engineering Impact series that aims to shine a spotlight on the many ways engineers contribute to and improve communities.
Panelists also included Carl Yates, interim CEO of the Atlantic First Nations Water Authority Inc. (AFNWA); Tiannie Paul, an operations engineer with AFNWA; and Julie DiCicco, an environmental engineer with Dillon Consulting.
Paul, who is a member of Eskasoni First Nation and a recent graduate of Dalhousie's Engineering program, says she became an engineer to help her community through the challenges they've faced accessing safe drinking water.
Within the last decade, addressing and upgrading aging and deteriorating water infrastructure has become more of a priority, and engineering plays a significant role in tackling these issues. In addition to developing innovative systems and technologies, Paul said engineers also need to gain knowledge and perspective of the Indigenous way of life to help guide their solutions.
"As an Indigenous woman who was raised in Eskasoni, you connect with water spiritually, emotionally and physically," she said.
Engineering Solutions through "Two-Eyed Seeing"
Such traditions play an important part in the livelihood of Indigenous people. But, in the past, projects issued within First Nation communities have not been reflective of the spiritual connection to the earth, community needs and Indigenous land use.
In recent years, though, engineers have begun taking a "two-eyed seeing" approach to their designs. The term is used when looking at solutions with one eye on traditional Indigenous methods and one eye on modern science and engineering.
"It's important to involve the community in any project, not just water related, and understand the 'why' of any project objective," said DiCicco. "Understanding those synergies is what will create the best solutions for First Nation communities."
DiCicco, who has partnered with Dunbar at Dillon Consulting, said she was introduced to "two eyed seeing" many years ago when she began working on major infrastructure projects in First Nation communities across Atlantic Canada. Though her and Dunbar were unaware of the term at the time, they began engaging members of First Nation communities to gain more insight on their values and needs.
"We will not approach engineering solutions without having a deep understanding of Indigenous land use and traditional ways of life," says Dunbar. "You can modify the engineered approach in such a way that it's much more meaningful resilient and much more valuable to the community both in engineering and in traditional perspectives."
Building a Sustainable Future
The Atlantic First Nations Water Authority Inc, has established the Elders Advisory Lodge to their The Atlantic First Nations Water Authority has established the Elders Advisory Lodge and continues to be the "conscious" about ensuring the utility stays connected to traditional Indigenous culture, knowledge and values.
In the last few years, Yates says the AFNWA — which is focused on water and wastewater service within Atlantic Canada First Nations communities — has mad
e progress in providing a sustainable approach for better social, economic and environmental outcomes. "We expect things to be looking very different in five to 10 years," he said. "First Nations communities should receive water and wastewater services that the rest of the country takes for granted."
He adds that part of that goal will include training the next generation of youth.
"We need to very intentional in looking for opportunities that will contribute to the triple bottom line," he said. "You're looking for a holistic approach from engineering. You're looking for social , economic , and environmental benefits, and we can realize that from engaging with all aspects of the First Nations Community."
To learn more about how engineering will impact the future of First Nations communities, you can watch the full video of our Engineering IMPACT event "Water & Indigenous Communities"