News
»
Go to news main
A Flipped Approach to Traditional Learning
Posted by
Theresa Anne Salah
on March 1, 2022 in
News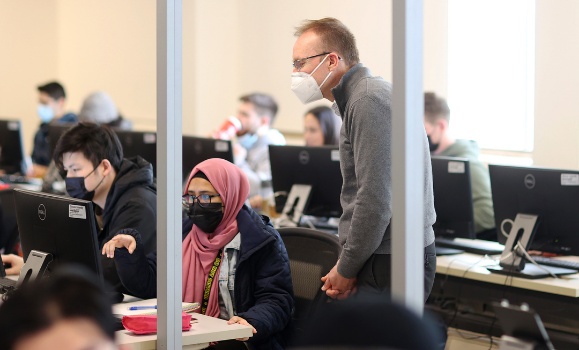 The COVID-19 pandemic has re-shaped the way we teach and learn. While the move from classroom to computer screen has come with challenges, it's also unveiled different methods of learning that have positively impacted students.
This includes models such as the flipped classroom: an approach Dalhousie University Civil Engineering Professor Dr. Craig Lake introduced to his students in the Fall of 2021.
Drawing on components of traditional based learning, the flipped classroom allows students to learn new materials at home, and then discuss or practice those concepts in the classroom.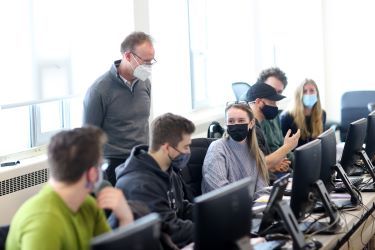 Each week Lake provides filmed lecture and lab videos for his students to watch online prior to class. Following each video, students were then given a short quiz to assess their level of understanding. While in the classroom, Lake then focused his time and attention on engaging students, asking questions, and ensuring they better understood the materials they had learned at home. They then were given another quiz to further test their understanding.
"Most classes are conducted in a traditional lecture format. So you go to class and it's the first time that you're hearing about the lecture material," says Lake. "In my class, you've already tried to learn the material and I'm there to help you learn that material better."
For Jenna Marshall, it was a success. The 3rd year civil engineering student says the flipped classroom approach gave her the opportunity to gain a better understanding of concepts and ideas often challenging to understand on her own.
"The model provided a specific time to ask questions on any of the course material and further grasp content that I never would of realized I was struggling with until test time," she says.
After nearly two years of online learning, Marshall says that interacting with her professor and her classmates face-to-face was a welcome change. Although many of her other engineering courses are also in person, their traditional lecture format prevents her from getting to know anyone.
"I never had a chance to form a relationship with my professor or meet my classmates and I find it easier to learn when I have relationships with both my professor and my classmates," she says.
"When you read about teaching and what makes a good teacher, one thing you'll read about is that it's important to establish a connection with the students," adds Lake. "If the students can't connect with who you are and what they're trying to do, then they may not necessarily put the effort into learning."
Future Lessons
Although it took Marshall and her classmates a few weeks to adjust to a new learning model, Lake says the positive feedback he's received from his students has motivated him to apply the flipped classroom approach to future courses. With only a few minor adjustments to his delivery techniques, Lake says overall the model will help his students better prepare for their future engineering courses.
"One of things I find when you teach a lecture format class is that students are too concerned about how to get the grade or write the test," says Lake. "What I'm more interested in is not just the teaching aspect of this but also the learning aspect. How can I get my students to understand the stuff better and how can I get them to retain it better?"
"In my mind, teaching is the delivery vehicle, learning is what we're after. If you don't understand what I'm trying to tell you, then I'm not being a good teacher.