News
»
Go to news main
Building a Company and Community
Posted by
Rowan Morrissy
on February 14, 2022 in
News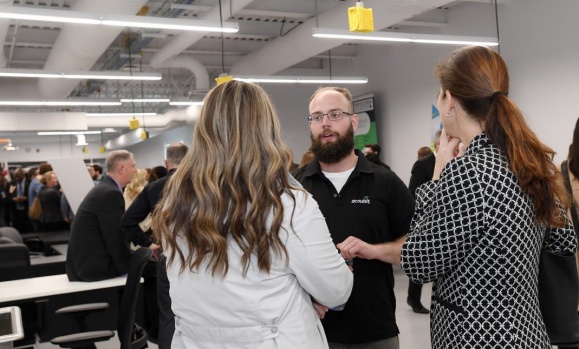 "MY GOAL HAS ALWAYS BEEN TO WORK IN AN INNOVATION-FOCUSED OR TECHNOLOGYFOCUSED COMPANY HERE IN NOVA SCOTIA" — COLIN ROSS
Navigating the world of entrepreneurship is not for the faint of heart. Not only does it take skill, passion and dedication, it also requires the support and guidance of those who have walked the path before you.
Like many entrepreneurs, Colin Ross (PhD'21) felt quite alone and isolated in the early stages of starting his company, Acoubit. However, he quickly found his stride when he started engaging with the specialized programs and resources that Dalhousie has to offer, starting with joining the Emera ideaHUB headquartered in the Faculty of Engineering.
"The ideaHUB is filling an incredible gap," says Ross. "They're very supportive of unique companies that are focused on commercializing research out of the lab and are very in tune with the challenges that founders face."
Ross also believes that having the support of trusted mentors was crucial for his success. In his experience, the most important part of cultivating a successful mentorship is creating a comfortable environment that allows both parties to have open and honest discussions. He explains that his relationship with ideaHUB Founding Advisory Council member Chris Huskilson (PEng'83), the former CEO of Emera Inc., works because it's founded on mutual respect.
"Chris has done some extremely incredible things over his career and he's very approachable," says Ross. "Having access to a mentor who has gone through it, who can guide you and allow you to remain focused on what's important is absolutely critical."
With the support of his mentors, Ross made the decision to pivot away from his startup Acoubit. Instead, the skills he acquired in pursuing innovation and entrepreneurship set him up for success and opened many doors. Ross was approached by his mentor, Chris Huskilson, Advisor at ABCO, and was offered a role leading ABCO's Research & Development (R&D) team.
"ABCO is working to bring start-up techniques to a traditional business to transform it into an innovation-driven enterprise," says Chris Huskilson. "Colin's experience in the start-up ecosystem is instrumental in bringing new thinking to the business and the ability to innovate in a much greater way than in the past."
At ABCO, Ross is focused on improving existing products, supporting new product development and building the foundations of their R&D team. With many projects coming down the pipeline, and massive growth on the horizon, having a strong foundational team is paramount.
The role with ABCO also gave Ross the opportunity to continue commercializing technology in Nova Scotia.
"My goal has always been to work in an innovation-focused or technologyfocused company here in Nova Scotia and not have to move out of the province or the country."
Creating more opportunities in Nova Scotia is a driving force behind Ross's plan for the coming years. Due to his previous roles as a university researcher and entrepreneur, he knows first-hand how important it is to support students and create jobs in Atlantic Canada
"I think there is an incredible amount of talent coming out of Nova Scotia and Dalhousie and helping [students] commercialize their research and make an impact on a global scale has ripple effects for the students, new startups, and for established businesses who want to grow and think differently."
Looking to the future, Ross is passionate about giving back and providing mentorship to support the next generation of entrepreneurs and innovators.
"If there is any way that I can help give back in that way then I very much want to do so, says Ross. "I'm very keen to work with local entrepreneurs and local graduates to really give them the same opportunity that I've been fortunate to have."