News
»
Go to news main
STARTUP BREATHES NEW LIFE INTO ASTHMA INHALER MARKET
Posted by
Jennifer Cameron
on January 15, 2022 in
News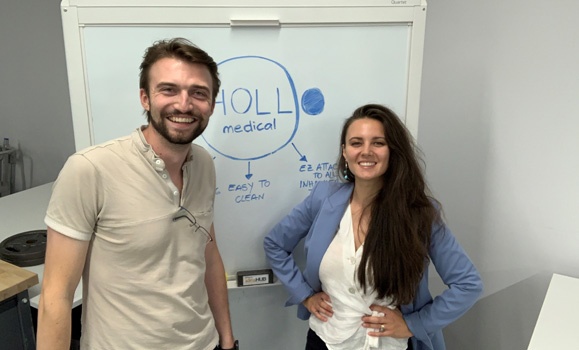 When you see someone take a puff on the asthma inhaler there is a 90 per cent chance that they aren't doing it right. Dal medical student David Hodgson was shocked to learn this when he was doing a rotation with a respiratory therapist at a Halifax hospital. When the thought of kids gasping for breath and not getting the medicine they need flashed in his mind, he was inspired to help fix the problem.
"You see the pressurized inhaler releases the medicine so quickly, it makes it difficult for kids to coordinate inhaling their medicine," says Hodgson. As a result, much of the drug is deposited to the back of the throat and swallowed, increasing the risk of side effects, and minimizing the intended relief.
Hodgson and his partner, engineering student Sara Fedullo, discovered a key part of the problem was not the inhaler itself, but the spacers kids are supposed to use to improve an inhaler's performance. Traditional spacers act as holding chambers. They are about the size of a pop can and attach to the inhaler. The medication is dispensed and then suspended in the spacer's chamber. This gives a child time to breathe normally so the lungs absorb the dose of medicine slower and more smoothly.
Spacers take up too much space

The problem is that kids' spacers aren't kid-friendly, say the pair. They're bulky and cumbersome. "You can't just stuff a spacer in your pocket," says Hodgson. "We want to empower kids, by giving them a spacer they will want to use and show their friends," adds Fedullo.
Spacers now on the market are big because their designs make a direct correlation between the amount of volume in the spacer and its performance. "The bigger chamber, the better the job it does of delivering the full dose," explains Hodgson. "When you spray the aerosol, it needs space in order to form particles small enough to breathe into the lungs."
The pair, who have established their venture as HOLLO Medical, turned to Dal's Emera ideaHub, which helps students accelerate the development of innovative physical products, to conceptualize their prototype. But before they got too far the hub's technical experts recommended that they apply to Ready2Launch — a program run through the Dal Innovates network of venture creation offerings — to validate the commercial potential of their product.
"If ever there is an ideal time to do market research to fully flesh out an idea and develop an initial business plan, it's before you start to prototype, otherwise you're going to use up a lot of unnecessary resources and time," says Hodgson.
Painkiller of vitamin?

During Ready2Launch, Carly Chase, a facilitator from the Martin Trust Centre for MIT Entrepreneurship, challenged HOLLO's founders to ask if their product is a "painkiller or vitamin," forcing them to think what about what motivates people to buy. Chase noted that people are much more likely to take a Tylenol for a headache, whereas vitamins are optional. Customers are similarly more likely to buy something that solves a painful problem than something that's "nice to have" but not a "need to have."
To determine if their pocket spacer addressed a major pain point, HOLLO Medical conducted market research and interviewed respiratory therapists, allergists, people with asthma, and parents of children with asthma. Their inquires revealed how embarrassed kids felt when they had to carry a bulky spacer and realized the self-stigma may be leading to missed doses when kids need them most.
"Not only are these devices a hassle to pull out of a fanny pack, but most patients are not a fan of their appearance," says Hodgson. "One asthmatic, who was teased in school, said, 'The second you showed me that chamber, I got shivers.'"
In addition, Hodgson and Fedullo learned parents were buying multiple spacers for school, the car, sports camps, for the grandparents' house, and so on, just to overcome the portability barrier. "That's when we knew we had a painkiller product and not a vitamin," says Fedullo.
The pair estimate there is a $100-million market to address the needs of school-aged children.
Designing the smallest spacer

Fedullo set to work leveraging her training as an engineer and expertise in 3D printing to accelerate HOLLO Medical's product development. She has created a pocket-sized spacer that's portable, effective, easy to use, and easy to clean. And its appearance, customizable, so kids can make them uniquely theirs and reduce the embarrassment factor.
"Our spacer will be the most portable valved holding chamber ever produced and made in such a way that it matches the performance of industry leading chambers," says Hodgson. In addition to portability, their pocket spacer will feature a design that allows the user to inhale a dose optimally. "The flow control system acts as a mechanical solution, so the user knows they are getting the correct dose to where it is needed."  
With their market defined and a functioning prototype in hand, the pair have made the leap from the Dal entrepreneurship and innovation ecosystem to Halifax-based innovation hub Volta, which announced HOLLO as one of five early-stage Atlantic-Canadian startups to join its fall 2021 cohort program. The pair received $25,000 to invest in their company and will gain mentorship from experienced entrepreneurs, and resources to help grow their businesses.