News
»
Go to news main
Message from the Dean: While we were away
Posted by
Engineering Communications
on September 10, 2021 in
News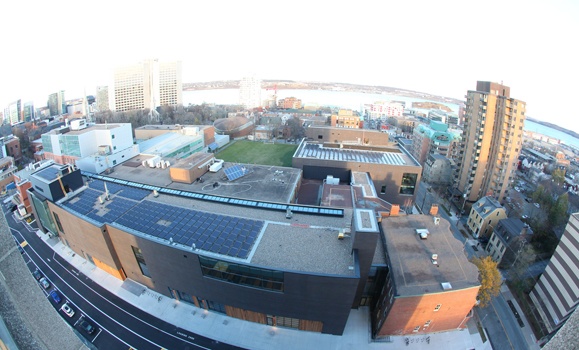 While we were away
In March 2020, I do not think any of us imagined we would be away from campus for the best part of 18 months. We were able to complete some physical upgrades to campus facilities during that time, and some others are still ongoing. I thought I should send an email just highlighting some of the key ones.
While some of the changes were necessary to improve facilities such as classrooms, others enabled us to move further towards our vision of an inclusive campus.
Renovations completed while we were away:
On the fourth floor of D building, we removed four smaller old classrooms. In its place, we have a new 150 person collaborative classroom space (D406), fully outfitted with a modern AV system and designed to current accessibility standards, including space for companion persons when necessary. In addition, we renovated the washrooms to be fully accessible and have an equal size men's and women's washroom. Finally, we added 24 student study spaces to the floor.
In the B Building stairwell, we removed the men's washroom on the third floor and replaced it with a large women's washroom and an all-gender washroom.
In the hallways of D and B building, the picture of graduating classes from the early Nova Scotia Technical College and TUNS days showed an engineering history of mostly white male students. We had received many comments about this not being consistent with the vision of a welcoming campus for all students. These class pictures have now been removed,  archived with the help of Dal Libraries and will be available online in the future to alumni and others. Many of these wall spaces are now empty, but we will look for opportunities in the future to project a more diverse and inclusive vision of engineering.
The Melda Murray Student Centre underwent some renovations to make a much-needed office for Brooke, the director. A third meeting room was built for increased student services on Sexton Campus and other alterations to make the space more accessible (front door upgrades pending delivery of the new doors).
Many of the classrooms in B building received new chairs, some paint and AV improvements.
Renovations still underway:
O'Brien Hall is undergoing a complete renovation of the building envelope and the construction of a proper entrance that meets accessibility standards. Construction will continue for the fall term, and many of the building occupants will continue to work from home or have found temporary spaces around campus.
Through the initiatives of the EDI Committee, we have the budget to install some greenery (plant life) in key areas around campus and to provide picnic tables and a gathering area once the old gazebo next to Sexton House is removed.
The Faculty has identified several places in the IDEA Building atrium where we can further increase student study space with additional seats or additional tables and chairs. We are working to have those installed by the end of the fall term.
We continue to work on other research spaces and offices to satisfy the Faculty's growing needs in this area. I look forward to updating you in the winter about progress on ongoing and new initiatives.
-John Newhook, Ph.D., PEng, FCAE