News
»
Go to news main
ENGINEERING STUDENTS AMONG WINNERS OF AWARD IN NATIONAL COMPETITION FOR DESIGNING DEVICE TO HELP WHEELCHAIR USERS BEAT BAD WEATHER
Posted by
Natasha Breward
on September 1, 2021 in
News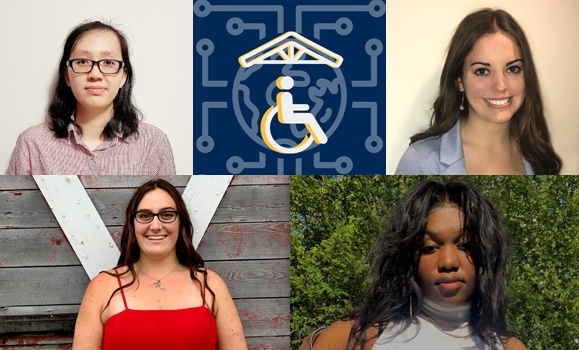 A group of Dalhousie students who joined together last year in an innovation sandbox program at the university have won an award for a device they designed as part of a national design competition centred around accessibility.

Sammy Pham (Science), Kaitlyn Busson (Agriculture), Kerilyn Kennedy (Engineering) and Jesimiel Ugbebor (Engineering) developed The Swing Door Shelter as part of the Universities Canada Innovative Designs for Accessibility (IDeA) competition earlier this year, winning third place in the Architectural/Industrial Design Barriers category for their design.

The device provides shelter for people who use wheelchairs when transferring to a vehicle during wet or snowy weather.

"A common complaint among manual wheelchair users is getting wet, cold, and discouraged when moving in and out of their vehicles in the rain or snow. The Swing Door Shelter offers much-appreciated protection from the elements in a cost-effective and user-friendly design," according to a description of the winning team's device.

"Fixed to the roof of the vehicle, the shelter opens and closes with the door, requiring no extra effort or time. It can be affixed to either the driver or passenger side and is easily removable when seated or in strong winds."

The IDeA competition challenges Canadian university students to creatively develop innovative and practical solutions to accessibility barriers faced by those with disabilities across a range of categories targeting real-world problems related to systemic, architectural, technological or distance learning barriers.
An interdisciplinary approach

The Swing Door team first came together during a winter 2020 semester pilot program of Dalbox Access, a weekly meetup for members of Dal's four sandboxes: Cultiv8 (Agriculture), IDEA (Engineering), Pulse (Health), and SURGE (Science). The program includes educating and training students about customer discovery, design thinking, empathy mapping, product design/prototyping, and effective pitching. The students then worked in interdisciplinary teams to apply these principles to their accessibility solutions for the IDeA competition.  

"Accessibility is a human right, but unfortunately it is often misconceived as an inconvenience to accommodate for," says Kerilyn. "The DalBox Access Program allowed me to work alongside students and mentors that wanted to change this stigma. Everyone deserves the right to equal opportunities."

During the winter pilot program, students had the opportunity to meet users who would benefit from their solutions. This allowed students to gain first-hand knowledge of their disability of interest, exercise design thinking and empathy, and gain experience speaking with potential customers.

"I wanted to get involved with Dalbox Access and the IDeA Design Competition because I wanted an opportunity to build a network of like-minded people and work towards the common goal of making Canada a better place," says Kaitlyn, another team member.  

Team member Sammy noted, "being a member of Dalbox Access Program is my most memorable experience of this year."

The Dalhousie Sandboxes are planning to run another iteration of Dalbox Access this upcoming academic year, with the hope to have more students involved in breaking barriers for those with disabilities and creating a more accessible and accepting environment.