News
»
Go to news main
Visualizing Steel Connections With Dalhousie's New Teaching Aid
Posted by
Dr. Kyle Tousignant
on January 13, 2021 in
News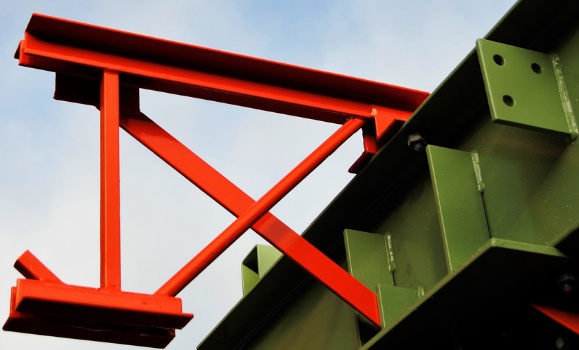 On December 7, 2020, Dalhousie University lowered a brand-new Steel Teaching Aid into its new home in front of the MacDonald Building on Sexton Campus. Steel Teaching Aids help students visualize how steel shapes are joined to form the frameworks in buildings, towers, bridges, and other structures.
The idea for the Steel Teaching Aid was dreamt up in 1986 by the late Duane S. Ellifritt, a then new professor at the University of Florida in Gainesville. He wanted to provide students with hands-on exposure to structural steel components and connections, since it was difficult for them, at the time, to visit job sites to see examples of steelwork in full scale. Today, Steel Teaching Aids can be found dotting the landscape of North America on university and technical college campuses.
Dalhousie's New Teaching Aid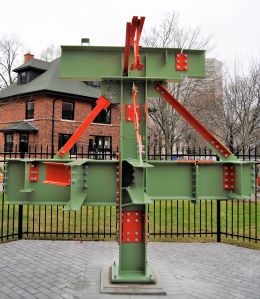 Dalhousie's new Steel Teaching Aid was produced as a joint effort by members of the Canadian Institute of Steel Construction's (CISC's) Atlantic Region. The project, led by Marid Industries, was a first-of-its-kind effort to put the steel industry "front and centre" on Dalhousie's Sexton Campus, home of the Faculty of Engineering, and the Department of Civil and Resource Engineering.
The final structure consists of pieces ranging from 10" to 4' in length, and has a total weight of 1,600 lbs. The structural steel members are both galvanized and painted - a "belt-and-suspenders approach" to improve their durability in Atlantic Canada's harsh maritime climate. For the same reason, galvanized A325 bolts and stainless-steel anchor rods also make an appearance. The fundamental incorporation of architecturally exposed structural steel (AESS) is also noteworthy. Its colours, green and orange, pay tribute to the Angus L. MacDonald and A. Murray MacKay steel suspension bridges that span the Halifax Harbour.
As described by Marid Industries, "the goal of the structure is to educate, promote, and inform Dalhousie engineering students about steel construction". Moreover, it will become an integral part of Dalhousie's fourth-year steel design course in the Department of Civil and Resource Engineering, where it will be used to exemplify the benefits of steel in construction and assist students in making the connection between design drawings and as-built steelwork.
A Commitment to Excellence in Steel Education
With virtual classes during the 2020-2021 academic year, and students largely situated off campus, an appreciation and formal unveiling event for the Teaching Aid (to thank contributing members of the CISC Atlantic Region for their support) has been postponed until at least late 2021. Nonetheless, this project – for all those involved – is symbol of Dalhousie's commitment to excellence in education.