News
»
Go to news main
Engineering Student Receives Tyler Lewis Clean Energy Research Foundation Award
Posted by
Engineering Communications
on March 27, 2020 in
News
Two years ago, engineering student Christopher White traveled to Nunavut with the Canada C3 Expedition. He witnessed first-hand the dramatic effects of climate change in the Arctic and learned how limitless resource extraction can have devastating consequences for Indigenous peoples. The experience changed his outlook on life and fueled his passion for environmental sustainability.
Working in the area of clean energy since enrolling as an undergraduate student at Dalhousie University in 2008, White's recent PhD work has now won him the 2019 Tyler Lewis Clean Energy Research Foundation Grant.
The Tyler Lewis Clean Energy Research Foundation was established to honor the memory of University of British Columbia engineering graduate student Tyler Lewis, who was passionate about the environment and its sustainability.
The highly competitive grant is awarded to clean energy research projects undertaken by accomplished graduate students across Canada.
White's current research aims to develop sustainable energy storage technologies to support the clean energy transition, through smart control systems for repurposed electric vehicle batteries.
Helping batteries find a second life
"Since we cannot control when the wind blows or when the sun shines, the world's electricity grids will not be able to rely solely on renewable energy sources unless we combine them with large energy storage systems," says White. "Lithium-ion batteries have become the most popular choice for energy storage, but they are still too expensive for widespread use at this large scale."
Lithium-ion batteries are commonly used in electric vehicles, which White says will be the way of the future. With millions of these vehicles set to hit the road, plans are underway on how to best reuse and recycle their batteries once the cars are retired.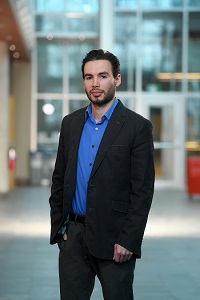 Chris White
"We're going to have a tremendous amount of these batteries, and if we can't recycle them effectively it's going to be a lot of waste," says White, "Instead of immediate recycling, these discarded batteries can last for up to ten more years supporting electricity grids and allowing for increased renewable energy. This is called 'second life'."
White says second-life batteries offset the need to build new batteries from scratch, reducing the economic cost and environmental footprint of energy storage. The problem, however, is that companies such as Nissan and BMW have designed unique batteries to power their own electric vehicles. These batteries vary in chemistry, shape, size, performance, and cooling system design.
"That makes it difficult for second life, because we've never combined many different battery types into one system before," says White. "The few second-life battery systems that currently exist use only batteries from one type of electric vehicle, such as the Nissan Leaf. We need new technology to allow us to build universal second-life battery systems that can make use of whatever battery types are locally available."
Working with a wide variety of different electric vehicle batteries, including Tesla, Nissan, Chevrolet, and BMW, White's PhD research will focus on a series of complex experiments to identify the different strengths and weaknesses of each battery type under different electricity grid scenarios.
"This will allow me to rank the different battery types from best to worst for each scenario and build this information into a smart controller. When a team of these different batteries are connected to the electricity grid in real life, the smart controller will adjust the role of each battery on the team as the needs of the grid change over time."
White says the smart control system will boost the performance of second-life energy storage and improve the affordability and sustainability of the clean energy transition.
"As we move towards clean energy, we also need to manage our demand for resource extraction by taking steps to minimize the energy and materials that end up as waste. I can take pride in my research project knowing that my goal is to help solve both the cost problem for large-scale energy storage and the waste problem for electric vehicle batteries. Reusing batteries should be a priority in the clean energy transition."