News
»
Go to news main
Finding a Path Half a World Away
Posted by
Engineering Communications
on October 16, 2019 in
News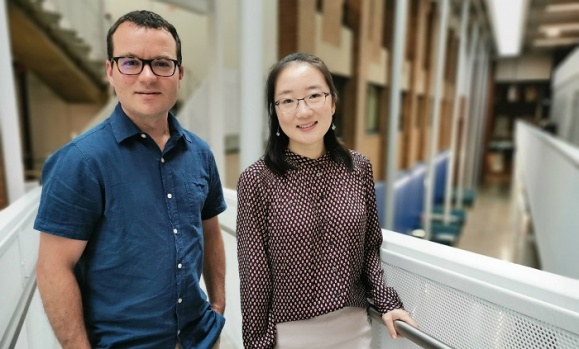 Mengyu Li remembers the day she moved to Canada. It was August 2008 and the twenty-two-year-old had just finished packing everything she could fit into two suitcases. That same day, she boarded an 18-hour flight from Beijing to Halifax.
She had been accepted as a master's student in the Department of Food Science and Technology at Dalhousie University. Although it was an amazing opportunity, it was also the first time she'd ever been away from home. It was the first time she'd left her family, and her first time traveling to a country half a world away.
When her plane landed at Halifax Stanfield International Airport, Li felt alone. There would be no one to greet her as she walked through the arrival gates, and no one to introduce her to life in Canada.
"I was frightened," she says. "I now had to live by myself, in a completely different country, halfway around the world, away from my family and friends."
But when she arrived, she was met with a heartwarming surprise. Her Dalhousie Supervisor, Dr. Gianfranco Mazzanti and his master's student, Omar Al-Qatami, were waiting for her at the airport.
"They welcomed me with big smiles and warm hugs," she recalls. "And to this day, I still remember the scene vividly, as if it happened yesterday. We even stopped at Tim Hortons on the way to my new apartment. At that moment, I knew my life in Halifax would be great."
And she says it's been just that.
Now eleven years later, Li is graduating from Dalhousie University with a PhD in Industrial Engineering and reflecting back on her time in Canada as some of the best years of her life.
Finding her Passion
Four years after completing her degree in Food Science and Technology, Li enrolled as a master's student, and then a PhD in Dal's Department of Industrial Engineering. Her interest sparked after working as a Food Scientist in the Research and Development Department with the Scotsburn Dairy Group.

"I was responsible for designing and executing product development projects through all stages." she says. "Over the years I began to develop an interest in areas such as project management, supply chain management and faculty design. So, I decided to go back to school to advance my knowledge in the field of industrial engineering."
From there, an opportunity to work on a lifesaving research project with her PhD supervisor, and Dal Industrial Engineering Professor, Dr. Peter Vanberkel.

Partnering with Emergency Health Services (EHS) in Nova Scotia, Vanberkel and Li studied the effects of the province's ambulance offload delays (AOD).

Offload delays occur when incoming ambulance patients cannot be transferred immediately from the care of the paramedics to an emergency department (ED) bed due to ED congestion. Li says this affects the ability for ambulance services to respond to future emergency calls.

"This is a concerning challenge in EHS daily operations," she adds. "It has become a pressing health care concern in many countries, including Canada. Ambulance offload delays could lead to poor patient outcomes and could also have a negative impact on EMS systems and resources available."
Over the course of her PhD, Li developed models for measuring the effects of AOD on the EMS system and proposed recommendations that would minimize negative outcomes.
Strategies included determining when it was advantageous to send patients to out-of-region hospitals that had shorter offload times.
The AOD project won the Top Research Award at this year's Dalhousie Emergency Medicine's Annual Research day, and in May, Li was invited to present the project at the 2019 National Association of EMS Physicians Annual Meeting in Austin, Texas. It was a rare invitation for an engineering student to have the opportunity to present their research work to a clinical audience.

"This was my first time presenting at an international healthcare/clinical conference and the presentation was well received," says Li. "I got great comments and feedback from the audience. I was also approached by ambulance service providers that are currently facing the same issues for potential collaborative research"
Moving on
This week, Li graduated from Dalhousie University with her PhD in Industrial Engineering, marking an end to not only her time at Dal, but also her time in Canada.
"There are so many precious memories that I cherish from my time in industrial engineering," she says. "Going to conferences with my lab mates, attending seminars and lectures, riding along with the paramedic supervisors."
"But my favorite memory is when we finally presented our research project to our industrial partners, the ambulance service provider in Nova Scotia. They embraced our findings and showed a lot of interest in implementing our recommendations," she adds. "It made my research and all the long hours of hard work very meaningful."
Li has now started a new chapter at the University of Florida, where she's been offered a faculty position in the Industrial and System Engineering Department. Her research within the Faculty will include operations research and systems engineering in healthcare and effective teaching for engineering education.
While she says she's incredibly grateful for the opportunity to work in the United States, her time in Canada left a significant mark on her life.
"As a city girl growing up in one of the biggest cities in the world, Beijing, I have always lived a fast-pace, competitive life. Life in Halifax, though, is very different," she says. "Living here has given me a caring and appreciative outlook on life. I am a blend of two opposing lifestyles, and because of this, I have become an open minded individual. I have learned to accept opinions and viewpoints different from my own and try to understand the reasoning behind them to broaden my perspective of the world."