News
»
Go to news main
Dal Alumni Take the Pain and Destruction Out of Ring Removal
Posted by
Theresa Anne Salah
on September 3, 2019 in
News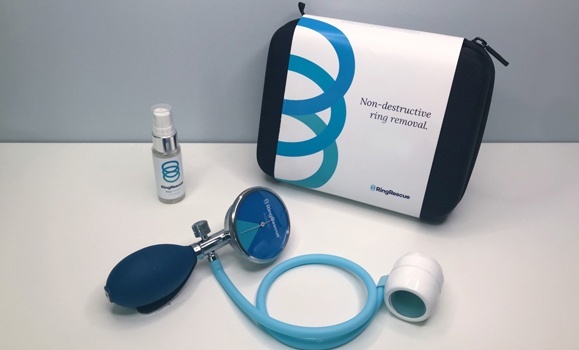 It may sound like a scene out of a comedy TV show or movie, but getting a ring stuck on your finger is a rather common occurrence. In fact, one or two people a week will walk into an emergency room to try and have their rings removed from their swollen finger.

Conventional methods of removing the rings often involve painfully wrapping string around the finger to compress the swelling or, in a worst-case scenario, simply cutting the ring off entirely. But emergency room doctors are now taking a new approach to the problem, using a device known as RingRescue to treat patients.

Created by four alumni from Dalhousie's Faculty of Engineering, RingRescue is designed to temporarily decrease swelling in your finger, allowing a ring to easily slip off within minutes.

"The device is a solution to a problem that we thought we were going to solve a very different way," says Patrick Hennessey.

Hennessey, along with former classmates Mason Landry, Brad MacKeil and Callum Thompson, designed the device as part of their 2017 Dalhousie University Capstone Design Project.

Students within the Faculty of Engineering are required to complete a Capstone project in their final year of study. Student teams are matched with partners from industry to solve real world challenges. However, in some cases, students can pursue their own ideas.

"At the time, when we were trying to come up with concepts for our design project, we thought we were going to design a ring cutter because that's what everyone complained about," says Hennessey. "Then we started digging a little deeper and realized that people just don't want to have their valuable rings cut off."

Instead, what they invented was a first-of-its-kind product: a device designed with a simple air pump and a cuff that easily slips onto your finger and removes a ring within five minutes.

"What the device is doing is applying external pressure to a swollen finger. There is fluid in-between your cells, and we just want that fluid to temporarily go somewhere else," says Hennessey. "So, we force it either to the tip of your finger or past the ring base and it will temporarily make your finger small enough to get the ring off with lubrication."

Fast forward two years and Hennessey and team have now established RingRescue as their own business, manufacturing devices for hospitals and jewelers all over North America.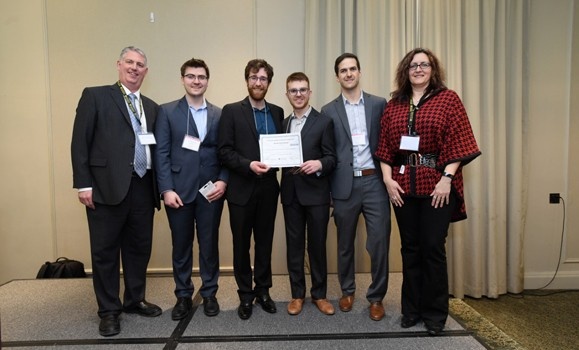 From concept to reality
It was a goal they'd been striving to achieve ever since sitting down to discuss ideas for their Capstone Project.

"Seeing the way you can bring an idea to life was very cool," says MacKeil. "At the time we thought what better way to get something kickstarted than to use our last year in engineering to start a project that we could turn into a business. But I never thought it would end up being quite what it is today."

The idea of compressing a swollen finger isn't brand new. A quick Google search can find videos on how to use dental floss or other different wraps to compress a finger.

"But the problem with all of those is that you're very tightly wrapping something around a finger that's already swollen, and that's incredibly painful," says MacKeil. "So that's what it came down to: finding a better way to squish the finger compared to just using a piece of string."

After experimenting with various prototypes, the team was ready to present their project at the 2017 Capstone Conference. It was there that they were approached by one of the judges at the event, an emergency room doctor named Dr. Kevin Spencer, who later teamed up with Hennessey and MacKeil to refine and test the device on patients in the ER.

"The device looks deceptively simple but getting the right material and figuring out an effective way of squishing your finger has been a challenge," says Hennessey.
Ringing in the future
RingRescue has now received a license from Health Canada and clearance from the U.S. Food and Drug Administration to move ahead with their product.

"Today we've sold our first 200 units and we're just completing our first production run. If all goes well, we'll be shipping next week," says Hennessey. "This is a huge deal for us. This is our first time shipping our final product to customers."

The team however isn't just targeting hospitals. They've also turned their attention to jewelry stores, many of which are trying to move away from ring cutting because it carries a lot of risk for them.

"The beauty of our device is that it's super safe," says Hennessey. "There's a prescribed pressure and there's a prescribed amount of time that you can put this device on your finger. This is a much safer way of getting rings off."

Although two of their original team members, Landry and Thompson, have moved on to pursue other professional opportunities, MacKeil and Hennessey's team is now up to eight, including a newly appointed CEO hired to target international markets. (They're also looking to add an export developer.) And they're looking forward to what the future has in store.

"There are so many paths that RingRescue could lead us down," he says. "With that being said, both of us are in agreement that we would like to see RingRescue become the global standard for ring removal."