News
»
Go to news main
Dalhousie Engineers Take an Oath of Honour in Iron Ring Ceremony
Posted by
Engineering Communications
on March 11, 2019 in
News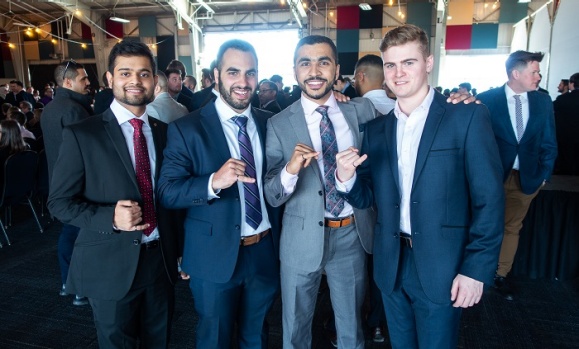 For engineers all over Canada, there's a great amount of pride and accomplishment associated with wearing the prestigious iron ring.

Worn on the pinky finger of an individual's working hand, the rings are presented only to those engineers who choose to obligate themselves to the highest form of professionalism and ethics. The rings serve a symbol of their responsibility to the public: trained engineers are reminded of that honour each time they write or draw and their rings hit the surface of a piece of paper.

This weekend, over 475 engineering students in Halifax were amongst the latest iron ring recipients to take the oath of obligation.  

This year's Iron Ring Ceremony, known as the Ritual of the Calling of an Engineers took place at the Cunard Center.

"I've been waiting for this moment for a very long time," remarks Chemical Engineering student Andrew Salah, who was amongst this year's cohort of engineers to receive their rings.

"Growing up, a lot of my family members had an iron ring, and it's something that's always carried a lot of significance in my life. No one really talked about the ceremony though, so I wasn't sure what to expect."

The long-standing Canadian engineering tradition dates back almost a century. The ceremony was created in 1922 by seven former presidents of the Engineering Institute of Canada: the original Corporation of Seven Wardens. Rudyard Kipling, author and poet, provided assistance in developing an obligation or statement of ethics to which young engineering graduates would adhere. Rings are bestowed to recipients by fellow engineers who have already taken their oath and received their iron rings.

"I spent a lot of time thinking about the iron ring" says Salah "and now I feel so honoured to be wearing one on my finger. For everyone here, this is so much more than just a ring. It's part of who we are as engineers and how we will contribute to society."