News
»
Go to news main
Engineering Partners with Local Recycling Company to Revolutionize Construction Industry
Posted by
Engineering Communications
on November 2, 2017 in
News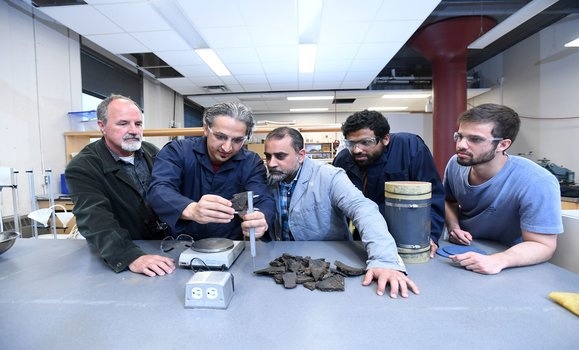 When Dan and Lee-Anne Chassie founded their family business in 1995, one of their top priorities was to create a company that would continuously seek new ways to innovate and have a positive impact on their environment and local communities.

Since that time, their company, Halifax C&D Recycling Ltd, has been recognized as a leader and pioneer in the recycling industry by continuously introducing new products made from old products. 

Currently, all used tires in Nova Scotia are sent to Halifax C&D Recycling Ltd. The company shreds the tires to make a product called Tire Derived Aggregate (TDA). They are the largest recycling company in the province and hold the tire recycling contract for all tires included in the Use Tire Management Program (UTMP) in Nova Scotia.
"We have invested over five million dollars into this contract through land, infrastructure, equipment and education," says vice-president of the company, Mike Chassie. "We want to show the industry how TDA made from scrap tires can be used in a multitude of different applications and outperform materials that would be standard for these cases.". 
In 2015, Chassie and his company partnered with Dalhousie University Faculty of Engineering Professor Hany El Naggar to take their TDA mixture to the next level.

Seeking new ways to use TDA as a beneficial resource to the community and the environment, El Naggar and his team began mixing the product with other materials.

"Over the years we've developed a very good relationship with C&D Recycling and we've produced good quality research that has been published in journals worldwide," says El Naggar.
After years of testing, they are now using their newly engineered TDA mixture in a pilot project that'll change the way TDA is utilized in the construction industry.

The team is taking part in the construction of a full-scale commercial building in Elmsdale Nova Scotia. The building will be built with conventional construction methods using the engineered TDA product underneath the footings and slab on grade.
El Naggar says this will be the first building in the world to be built on TDA.

"TDA has been used before to backfill behind retaining walls, used on roadways, but not in buildings," he says. "The beauty of TDA is that it's a lightweigh back filling material so it poses less stress on soil, especially if you have soft soil."

El Naggar says many locations around the province are currently located on soft soils that cannot be built on directly.
"You're only option would be to replace the soil, and replacing soil is very expensive because you'd need to excavate and then import another soil from somewhere else. It's not environmentally friendly," he says.
El Naggar and Chassie plan to use instrumentation and sensors on the project in Elmsdale to monitor the condition of the TDA, the building, and any thermal insulation properties that the TDA will provide.
"This is an important project for us because this could open up a new market in using TDA underneath new buildings" says Chassie.

"We will be monitoring this building over an extended period, five or six years. This will allow us to start developing new guidelines and new design procedures," says El Naggar.

El-Naggar says over the years, Halifax C&D Recycling Ltd's vision for research and commitment to giving back to Nova Scotia has made a positive difference to both their community and their work with Dal. 
"C&D wants to invests in Nova Scotia," says El Naggar. "The research that we produce together, in my opinion, is leading the world in this regard.