News
»
Go to news main
Building the Future of Oceans Engineering at Dal
Posted by
Engineering Communications
on July 7, 2017 in
News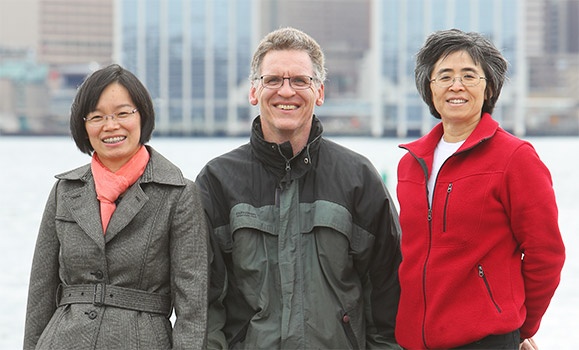 From underwater communications to sonar technologies, there's a great deal of research that takes place on the ocean, and a lot of it is happening at Dalhousie University.  
Over the years, Dal has solidified its position as a global leader in oceans research, driving breakthrough discoveries, and attracting students, researchers and industry partners from around the world.

Among the top researchers at the university are members of Dal's Faculty of Engineering. With the development of the IDEA Project on Sexton campus, comes a promising future for oceans engineering research within the Faculty.
The IDEA Project, which stands for "Innovation and Design in Engineering & Architecture", is a $64-million investment on Dal's downtown campus which will not only revitalise the look of Sexton campus, but also transform the campus into the heart of Halifax's emerging innovation district.
The IDEA Project will include R&D infrastructure renewal to create research and outreach hubs around three sector: clean tech, oceans tech and advanced manufacturing. 

The new Oceans Engineering Hub facilitates applied research; commercialization and innovation in underwater sensors, and  autonomous marine robots which include autonomous underwater vehicles (AUV), unmanned surface vehicles (USV), and unmanned aerial vehicles (UAV). The hub will also provide faculty, students and industry with space and facilities to unlock their creative potential and build a stronger culture of innovation in Atlantic Canada.
The Hub will serve as a key resource for several oceans-related research centers including the Centre for Ocean Ventures and Entrepreneurship (COVE) as well as an important link to ocean technology companies.
Located on the first floor of Dal's Mechanical Engineering Building, the 5000-square foot state-of-the-art space will include a 15 ft long × 10 ft wide × 6 ft deep trim tank, and a designated area for unmanned ground vehicles as well as a motion capture system to fly and track UAVs. The new facility is scheduled to open in the Fall of 2017.

At the heart of its potential will be a trio of the Faculty's top Oceans Engineering researchers: Dr. Mae Seto, Dr. Robert Bauer, and Dr. Ya-Jun Pan.  All three are part of Dal's Department of Mechanical Engineering.

THREE KEYS TO SUCCESS


The team has been working together for over five years, continually seeking better and innovative methods to survey oceans using autonomous marine robotics. Since beginning their partnership, their research has focused on areas such as AUV and USV dynamics, simulation and control, adaptive path-planning, simultaneous localization and mapping (SLAM) and acoustic transmissions amongst collaborative AUVs.

"At Dal we have an international, multi-disciplinary ocean research platform addressing one of the difficult problems in ocean science: being able to accurately sample massive areas," says Darrel Doman, Head of Dalhousie's Department of Mechanical Engineering. "In engineering, we're not focused on just the sampling or observation, but also the infrastructure, tools and machinery so that scientists can acquire that critical data."

Doman says in many situations harsh ocean conditions make it virtually impossible for humans to conduct oceanographic research on their own. Instead, Seto, Bauer and Pan have been working collaboratively to advance the field of autonomous marine robots to gather data under and above the water, processing the data into information, and transmitting the information to satellites, surface ships, or shore-based stations. Such robotics often include the use of AUVs, USVs, and aerial drones. 

"One of the major challenges that these three are working on are fundamental problems such as, how do we get these marine robots to navigate and be controlled both under and above the water?" says Doman.

While Pan's area of expertise focuses on integrating multiple cooperative autonomous vehicles, Bauer's area of research involves improving the depth and trim control of AUVs.

For her part, Seto, who recently joined Dal's Department of Mechanical Engineering as an Associate Professor, looks at the on-board intelligence and autonomy of the robots and getting them to work together.  This is an area she has worked in for over a decade.

"They (Pan, Bauer and Seto) are the foundation of Ocean Engineering at Dal," says Doman. "They are the pillars of what we would see the Oceans Hub research becoming down the road. These three are attacking many of the fundamental gaps in the field collaboratively, and we are building a group that can really push marine robotics forward."

Over the years, the team has worked with several industrial partners: Rolls-Royce, Ultra Electronics Maritime Systems, Deep Vision, and Defence Research & Development Canada among others.

In an on-going collaboration with the Massachusetts Institute of Technology (MIT), Seto researches Underwater Mapping and Localization; a tool to help autonomous robots recognize objects they detect underwater, and generate geo-localized maps without the use of a global localization system, like GPS.
"The AUV needs to go into the water and make its own way and think for itself." says Doman. "So, the robot keeps a record of everything is sees, and it says 'ok there's a rock or hydrothermal vent at this location.' The next time it sees the same hydrothermal vent or rock, it recognizes it as something it's seen before and therefore can figure out its location. So, it's building its own map without the use of a GPS as it goes through an area that it has no prior information on."

Seto says that use of Underwater Mapping and Localization will assist oceanographers in pin pointing the exact location of objects at sea. A challenge given that air and water currents often push objects off course and there is no global localization system underwater.

Construction for Dal's new Oceans Hub is currently underway, and Seto says she hopes the facility will help launch the Faculty of Engineering's position on a different type of map.

"This is something engineering should be a part of, especially with the large Oceans Frontier Institute endeavors. The Oceans Hub will be a place where people can bring their ideas, and we can work through those ideas," she says "It's a good coming together of purposes because we now feed directly into the oceans engineering community, not just in Nova Scotia, but up and down the eastern seaboard and internationally."

With Seto, Bauer and Pan, along with collaborators in electrical engineering, Doman anticipates the new Hub will be well positioned to offer industry collaborators with a full complement of expertise in autonomous marine robots, though he says that down the road, he would like to see a few key components added to the mix.
"Our researchers are very successfully, individually and as a team, but there are three right now," he says. "We'd like to see that number grow to 8 or 9 researchers across mechanical and electrical engineering. At that size, we can start engaging industry at a very large level. We want industry to know that you can come here as a one-stop shop. I think that would be a great place to be in five years."