News
»
Go to news main
Faculty of Engineering Pays Tribute to Sexton Scholars
Posted by
Engineering Communications
on March 10, 2017 in
News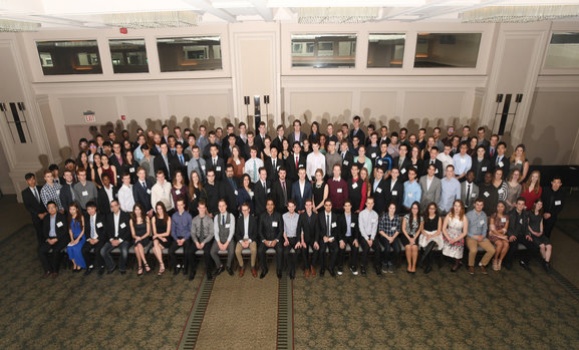 Dal's Faculty of Engineering celebrated the accomplishments of 165 of their brightest students Thursday evening at the Sexton Scholars Reception. The event was held at the Westin Nova Scotian Hotel in Halifax.

Close to three hundred people filled the ballroom as this year's annual reception.  

The Sexton Scholar designation, named for Frederick H. Sexton, PhD. is unique to the Faculty of Engineering. Students who achieve a GPA of 3.85 or higher, and maintain a full course load in one or more academic terms during the calendar year, are honoured as a Sexton Scholar. Students who maintain this caliber of performance throughout their entire engineering degree receive a "Sexton Distinction" on their diploma at graduation.

Although engineering has been known as a difficult discipline, 10 percent of students within Dal's Faculty of Engineering receive their Sexton Scholar designation each year, carrying on the Faculty's tradition of excellence.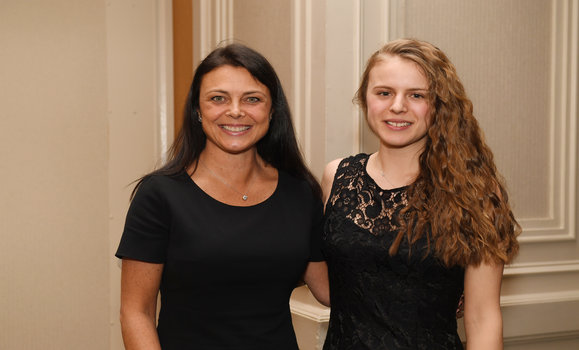 Third year Civil engineering student, Meaghan MacGillvray had many reasons to celebrate at this year's Sexton Scholars Reception. In addition to being one of the students to receive their designation, she also received another gift. Her mother, Beth MacGillvray, unexpectedly flew in from Qatar to surprise her daughter at this year's reception.

"I was so shocked. She was honestly the one person I wanted here the most," says Meaghan. "It was amazing to see her. I was really happy."
Although originally from Halifax, Beth says she's been living in Doha, Qatar for the past eleven years. And although she now resides on the other side of the world, Beth says the Sexton Scholar Reception was an event and milestone she couldn't miss.

"I think for her to be receiving this award is such an incredible academic achievement and it indicates how dedicated and disciplined she is," she says. "I also think it's a positive reflection on the university that they will take the time, the effort and put resources into recognizing these students. So I thought the least I could do was travel from Qatar and spend one night with my daughter to make sure she feels supported and recognized by her family as well as the school."

March is known as National Engineering Month in Canada. It's a time to celebrate the success of engineers across Canada, and demonstrate to young Canadians the joy and value of pursuing a career in engineering.

The Sexton Scholars Reception is just one of many ways  the Faculty of Engineering will pay tribute to their large pool of talent on campus.