News
»
Go to news main
Alumni collaboration makes Nova Centre possible
Posted by
Engineering Communications
on September 8, 2015 in
News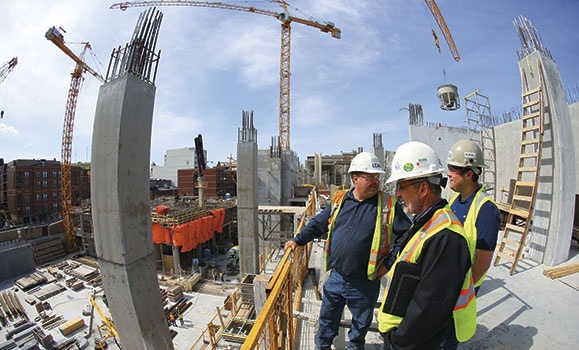 When Murray Tate (BEng'01, Mechanical Engineering) says the engineering constraints associated with the Nova Centre project are challenging, he's not exaggerating.
The Nova Centre is a unique mix of retail, hotel, office, residential parking and convention space that will also have Grafton Street Public Plaza cutting through the centre. It's also squeezed on all sides by view planes, rampart heights and the four property lines, leaving no area to stage or prepare materials.
 "In the face of these constraints, the structural team is committed to delivering on the vision: Create an Iconic Structure," notes the project advisor for the 1M square-foot mixed-used development currently taking shape on two city blocks in downtown Halifax.
That structural team, engaged by Argyle Developments, includes BMR Structural Engineering, Cherubini Metal Works, Harbourside Engineering and LEAD Structural Formwork. All have been working in close collaboration, navigating a project that is constantly undergoing design changes to address space and construction constraints.
Roy McBride, principal, BMR, has been witness to its evolution since 2009. He recalls how arches were once considered the principal structural support. Later, the design incorporated a massive truss system, and that changed as a result of public consultation.
"That process determined that the ballroom should be above ground," notes McBride, "and the entrance to the parking structure was to be moved from Argyle onto Grafton – inside the structure. This change derailed the concept of the massive truss system. That's when Cherubini came into the picture with the final solution: box girders."
Typically, Cherubini fabricates girders as one long piece, but given the constraints of the site, that wasn't possible. "The physical length and mass of the girders required us to ship them in three pieces and then assemble near the crane," says Tom Parsons ('79). "Normally, we'd haul the girders longitudinally across the span but there's simply no room. After they were assembled, we jacked them onto skates so they could be pulled laterally into their final resting place."
With two clear spans of over 160 feet – one above Grafton Street and one below – the structural team's challenge is to ensure they are not a factor for visitors. "Vibration was one concern, as movement caused by dancing in the ballroom or traffic on Grafton Street could have a noticeable impact on people in other parts of the building," notes Daniel Grant ('06, '09), Structural Engineer, Harbourside. "We performed rigorous vibration analysis and found that mass tuned dampers were needed, and these are installed in each girder to dampen the vibration out of the structure."
Meanwhile, David Pottier ('88) and his team at LEAD Structural Formwork have been working with BMR since the inception to determine how to construct the elaborate concrete shapes – the front exterior, when completed, will resemble the bow of a ship, sitting atop a blue ocean – that will inspire Nova Scotians to sail successfully into the future.
"It's a very complicated structure. Constructing the concrete shapes and achieving the desired appearance required us to invent new formwork systems in collaboration with Cherubini and BMR," says Pottier. "The design includes a 70-foot vertical clear span atrium that will simply make you wonder 'how did they ever get that up there?'"
There are other challenges that the integrated team are working to resolve. There are nearly 50,000 cubic metres of concrete they must safely transport to the site and offload while minimizing disruptions to neighbouring businesses and local traffic. There is a merging of structural steel and concrete to negotiate as the ballroom takes shape and marries into both the office and hotel towers. And there is the creation of the covered portion of Grafton to consider.
"Every day, we're solving problems," observes McBride. "It's very much a team effort and I think that is the real strength of this project."
Joe Ramia, president of Argyle Developments, agrees. "What we do on all our projects, and especially this one, is we go to the people we believe are the best in their field. This is a great team that has worked very well together and that's vital given the challenges involved."
If anything, the challenges seem to have exhilarated the team. "A project of this scale and magnitude is a once-in-a-lifetime job for many of us," says Aaron Everett ('05), Structural Engineer/Project Manager, LEAD Structural Formwork Ltd. "Most of the projects you see around here are very straight-forward. Everything about Nova Centre – its shape and designs – is very unique, so its design and constructability are challenging in a very good way."
Tate adds that there is considerable enthusiasm among the team to take on similar collaborations in future. "We're hopeful the relationships being forged on the project will act as a catalyst. This project has been conceived and constructed by Nova Scotians, and it will be a major accomplishment if it inspires others to work together and create a brighter future for our province."
Nova Centre architecture reflects our maritime past
Developing a unified vision for a project like Nova Centre wasn't easy, but lead architect Noel Fowler (BArch'79) made it happen.
What he has conceived reflects a careful consideration of context that goes far beyond scale and city street grids to take public opinion and aspirations into account.
"It became clear that people wanted a contemporary design,' says Fowler, who worked with IBI Group Inc. on the project. "Basically a bold, forward statement that would raise the bar in terms of building design we see downtown."
Yet behind what will be Nova Centre's fairly modern and rectilinear exterior will be curvilinear geometry, a rather ingenious and subtle reference to the province's seafaring and shipbuilding heritage.
"In the ballroom, for example, the perimeter's structural supports consists of tubular steel members spanning from the floor to the ceiling at various angles. These are meant to reference our maritime past, ship's spars, fish flakes and the weirs of Hall's Harbour."
Public consultation also influenced the predominate use of glass in the overall design. "People wanted a light building. They didn't want to see any more stone and brick. On completion, while the materials are contemporary, you'll see patterns in the glass that recall traditional punched windows, so people can relate to that."
Considering the size and complexity of the project, Fowler has done well in balancing all the distinct interests and constraints to deliver a design unlike any that has ever been attempted in Halifax. Components larger than the city blocks where they are located have been raised above street level to maintain street grid patterns but without compromising view planes. The hotel, residential parking, ballroom, conference, office and retail spaces have all been thoughtfully integrated. And Nova Centre incorporates bridge technology, something you don't often see in building designs.
"Most buildings in the downtown belong to a family we have come to know over the past several hundred years," says Fowler. "Here, you have large cantilevers and large spans, so it's unique among downtown buildings in scale, geometry and structure. It's a one-of-a-kind project for sure and we may not see anything like it for a while."