News
»
Go to news main
Robots fighting fires
Posted by
Jennifer Moore
on August 15, 2013 in
Students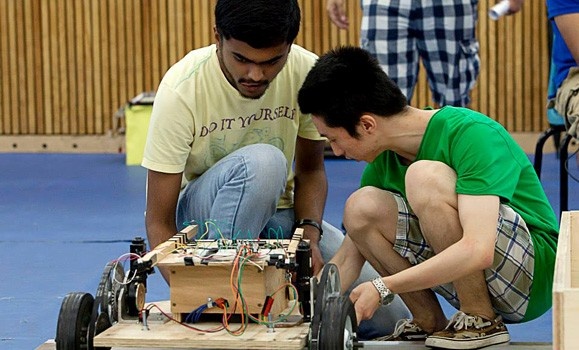 A fire has broken out in a nearby warehouse and is spreading rapidly. The building contains various chemical storage containers and the owners are concerned about a dangerous explosion should they ignite. It was deemed unsafe for human fire fighters to enter the building. Too unsafe for human fire fighters, this is a job for the "Robot Fire Fighters," the fire station's newly acquired team of autonomous robots, specially designed to seek out, and extinguish fires.

While many university students have been taking a break from their studies over the summer, third-year Electrical and Computer Engineering students have been busy building fire fighting robots since May.   

'Robot Fire Fighters' was the theme of this year's 22nd Annual Electrical and Computer Engineering Design Competition, held late last month on Sexton campus. More than 50 third-year students in Sara Stout-Grandy's "Design Methods II" course gained numerous applicable skills from the project, as they were forced to get comfortable with uncertainty, work with a large open-ended problem, and apply formal design methods in a major project.
The teams had to carefully choose a strategy, learn new technology to design a robot, and then hope that the robot properly executes the strategy on the playing field. The competition surface was 28' long by 16' wide obstacle course with moveable walls, which officials changed around at the beginning of each round. A box with an internal light and a cardboard flame represented each fire. Fire fighter robots were required to press a button on the box in order to extinguish the "fire."
Design considerations

The first robot to put out a fire was "Speedy Bullet," built by Harmanveer Cheema and Manpreet Sidhu.

"Leading up to the competition, we had built a more complex robot," said Sidhu. "But in the practice runs we could see that the complex design wasn't working out very well. So, at the last minute we changed to a much simpler and straight forward design, and the robot performed much better."  

Although the students put a lot of value and energy into the competition, Dr. Stout-Grandy explains the final marks given in the course are not based on how the team does in the competition. The final marks are based on two progress reports, a final report, and various assignments and labs outlining all aspects of the planning stages from design to delivery.

In the end "Spock Del Fuego," built by Matthew Pyne and Rebecca Bohne, made it to the end of the competition and was declared the best fire fighter. The team was presented with the course trophy and all the associated bragging rights.