Message from the Dean
Dr. John Newhook, P.Eng.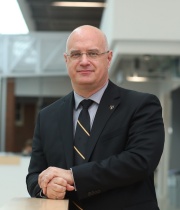 Welcome to all new and returning students.
The upcoming academic year promises to be one of energy, enthusiasm, and change. Sexton Campus has been the location of Nova Scotia's engineering school for 110 years with a consistent focus on education, research, and innovation. Today, this commitment to excellence is stronger than ever.
I am very excited to serve the Faculty of Engineering and its community as your new Dean. Under the leadership of our out-going Dean, Dr. L. Josh Leon, Sexton campus has seen significant growth in student enrolment, staff size, and revitalization of infrastructure and space.
The Sexton Campus IDEA project, which has seen over $64 million invested in new and improved buildings and space, will be completed this fall. This transformative project will have a positive impact on all aspects of the student experience, providing a large modern auditorium for classes in the first years of the program and increased student design space for senior years. It will offer enhanced, hands-on experiential learning opportunities through upgraded teaching labs and maker spaces.
Our core faculty workshops are modernized and expanded to provide better support to student design projects, competition teams, and graduate student research, while updated research labs will facilitate excellence and growth in innovation.
We are excited to offer new space and programming where students can learn about engineering's key role in the innovation ecosystem, and where graduating students can explore their entrepreneurial ambitions based in engineering technology.
Attracting and supporting an engineering student population that is reflective of the communities in which we live is important to our Faculty. We will be opening dedicated space to facilitate outreach and diversity programs here on Sexton Campus.
We are deeply proud of our students and the impact they have had in industry and government all across Canada and around the world. We are pleased to have you as part of our Engineering community and look forward to what we can achieve together.
Dr. John Newhook, P. Eng.
Dean of Engineering