Irish Film Series
Working with NSCAD and Saint Mary's universities, the centre sponsors an annual series of films devoted to an important Irish filmmaker.
The 2014 series is devoted to the Derry-based filmmaker Margo Harkin and her company Besom Productions.
All screenings are at NSCAD's Academy Building, at the corner of Sackville and Brunswick streets. They are open to the public and free of charge. Seating is limited, so come early!
---
30 March Screening: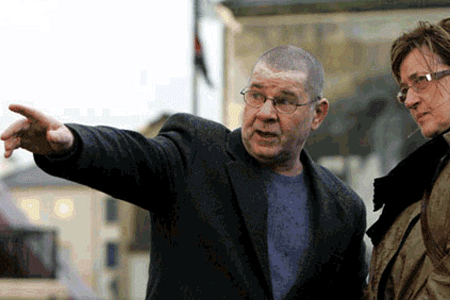 Bloody Sunday: A Derry Diary is an unflinching portrayal of the consequences of the Bloody Sunday massacre and the British government's ensuing cover-up. Margo Harkin interviews survivors as well as the relatives of those killed by British troops during the six-year process of the Saville Inquiry.  She also puts herself and her own experiences with Bloody Sunday directly and powerfully on screen.  Raw and uncompromising, Bloody Sunday: A Derry Diary documents the grief, the hope, and the courage of those who fought to have the British government's original findings overturned.
---
2 March 8:00 p.m.

12 Days in July is an insightful documentary about the 1997 crisis at Dumcree, Portadown. Director Margo Harkin and her team gained the trust of the otherwise media-shy participants, allowing for highly detailed and deeply personal reflection on the issues Northern Ireland faced and the challenges that still lay ahead.
Sisters of the Lodge explores the ceremonies and traditions of the women behind the Orange Order. Allowed unprecedented access to this secretive order, filmmaker Alison Millar has made an intimate documentary allows these women an opportunity to voice their concerns, fears, and aspirations for their organisation.
---
2 February 8:00 p.m.

Photo: Bernard Testemale

More than just another surfing movie, Waveriders is a breath-taking tribute to the human spirit. Opening by recounting the tragically short life of the father of modern surfing, George Freeth, the son of an Irish immigrant, Waveriders goes on to lovingly document the rise of modern surfing and surf journalism around the world. From Hawai'i, down through California and Central America, the film circumnavigates the globe before coming to an end in Ireland and telling of the birth of surfing off of its north-west coast. Engaging and lush, the finely-crafted Waveriders is has captivated audiences around the world.
---