Researcher's Corner
Dr. Sean Myles - In his words, Sean Myles is "super-passionate about food."
Dr. Lord Abbey - Have you ever wondered what you could do with your compost? That there might be alternate uses for what lies inside your green bin?
Dr. Gefu Wang-Pruski - Working with growers to produce high quality potatoes that are not only environmentally friendly but adaptive to different climates.
Dr. Vasantha Rupasinghe - Apple bioactives could help fighting against breast cancer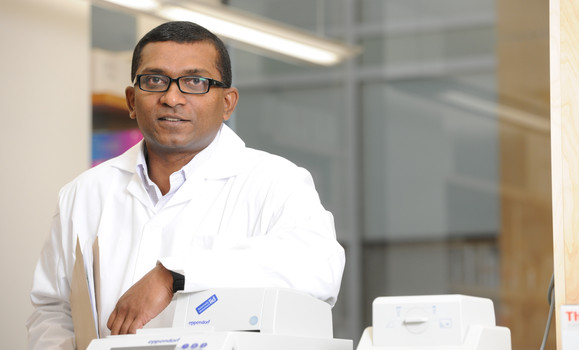 The most recent research conducted by Dr. Vasantha Rupasinghe's research team at the Dalhousie University has shown that a flavonoid preparation isolated from apple peels called apple flavonoid fraction 4 (AF4) has the potential to keep the breast cancer cells under control. According to a research presentation made by Dr. Rupasinghe at the Functional and Medical Foods for Chronic Disease Conference at the Harvard Medical School, Boston, USA, the apple flavonoids can kill selectively triple negative breast cancer cells, a group of breast cancer cells that are difficulty to treat with chemotherapy. Dr. Rupasinghe explains "Apple flavonoids induced cytotoxicity in a dose- and time-dependent manner but selectively in cultured mammary carcinoma cells". We have also seen that apple flavonoids could suppress the growth of tumors created in experimental animals". Researchers are now in progress to explain how the apple flavonoids act at molecular level by investigating their interactions with various cellular mechanisms in cancer and normal cells. Recently, Dr. Rupasinghe's team has also made a scientific publication to demonstrate that apple flavonoids can kill liver cancer cells with minimum adverse effect to healthy normal liver cells at the same concentration. These research have been conducted by his graduate students, Wasu Fernando, a PhD student in pathology, and Sudhanshu Sudan, a Masters student who graduated recently.
The last decade of research conducted by Dr. Rupasinghe and his collaborators at Dalhousie University have also shown multiple health benefits of apple flavonoids including, reducing the risk for cardiovascular disorders and neurodegenerative disorders such as multiple sclerosis. His research has also helped local industry to develop flavonoids-preserved value-added fruit products. Currently, as a Professor and Killam Chair in Functional Foods and Nutraceuticals, he is working on developing food and natural health products to fight against cancer and other metabolic disorders. He believes that finding ways of prevention of these chronic disorders using dietary interventions established from local fruits and vegetable along with a healthy life style is the most realistic. Dr. Rupasinghe's research program, which has attracted $6.7M (since 2004) in external funding, has resulted in three patent filings, one license agreement and contributions to the commercialization of over a dozen value-added food products. He has published over 130 peer-reviewed research articles (Scopus author h-index 30 and total citations 2456) and trained over 100 highly qualified personnel (HQP). He serves as the chair of the Scientific Expert Council of the Canadian Institute of Food Science and Technology (CIFST).