Facilities
Facilities and Equipment
Room 308
Ultra High Precision Charger
UHPC Cyclers
5 Vertical Units make a 100-channel Ultra High Precision Charger.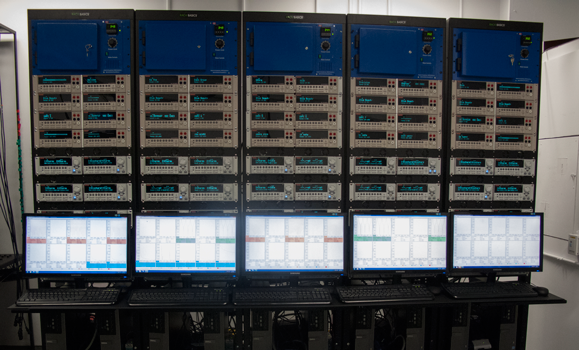 Novonix System
Novonix cycling systems provide an additional 40 ultra high precision coulometry channels.
Cell Testing Facility
Cell Chargers
Expanded Cell testing facility now has 5 Neware cyclers for a total of 480 channels!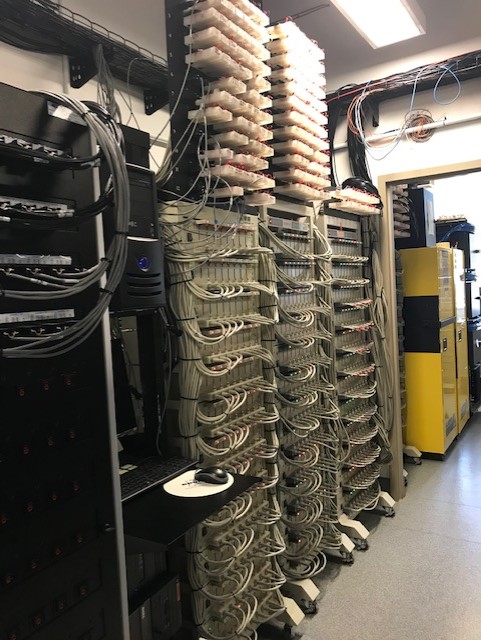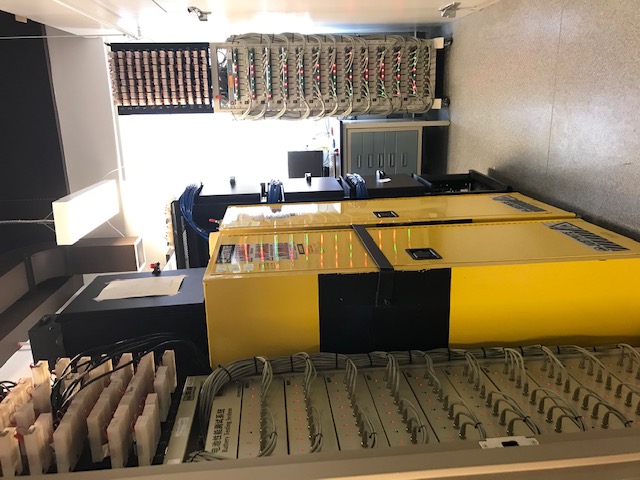 Cell Chambers
3 temperature chambers are enclosed in every JustRite cabinet. Photo above also shows 4 other temperature-controlled boxes.

Room 312
Cell Testing Facility
High Precision Charger
Jessie preparing cells on the HPC software.

Temperature Controlled Chambers
Chris changing the temperature on one of the chamber controllers.

Maccor Cycler
Jian connecting cables on the Maccor System.

Neware Cyclers
Neware Cell charger station with temperature chambers - 192 channels.

192 more Neware channels with temperature chambers.

Microcalorimetry
Battery Microcalorimeter
Laura removing a cell from the microcalorimeter.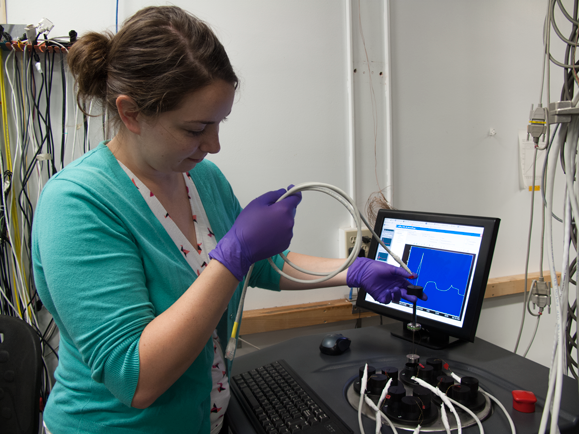 Sample
A pouch cell is enclosed in each capsule as shown to the right.

Dahn Headquarters
The Captain's Chair
Jeff helping lab members John and Dan.

Workspace
Minds at Work
Nupur, Jian and David discussing electrolyte additives in non-pandemic times!

Students
Colby and Chris managing their projects.

ARC
Room 313
313A - Electrolyte & Electrolyte Additive Lab
Double Glove Box
Kathlyne preparing electrolytes in one of the double glove boxes we have.

Sample Characterization
TA-Instruments SDT-Q600 with RGA

Madeleine, summer student setting the TGA.

G20 Compact Titrator
C30 Coulometric Karl Fischer Titrator

Lina, summer student, using the titrator

GC-MS Dedicated for Liquid Analyses


In-situ Volume Measuring Systems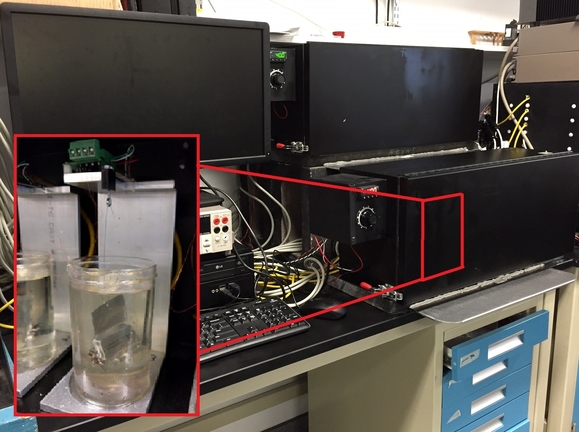 Furnaces for sample syntheses

313B - Characterization Lab
X-ray Diffractometer


X-ray Sample

Dan setting up the XRD.

Particle Size Distribution Analyzer

60MHz Benchtop NMR and Benchtop Phenom SEM

Room 314
Solid-State Battery Lab
Solid-State Preparation Glove Box


Planetary and Ball Mills used for grinding materials to sub-micron diameters.

Room 316
Pouch Cell Station
Pouch Cell Filling Glove Box

A closer look at the workspace

Electrolyte-filled Cell prepared for evacuation/sealing

Impedance Spectroscopy
48-Channel EIS Measurement Station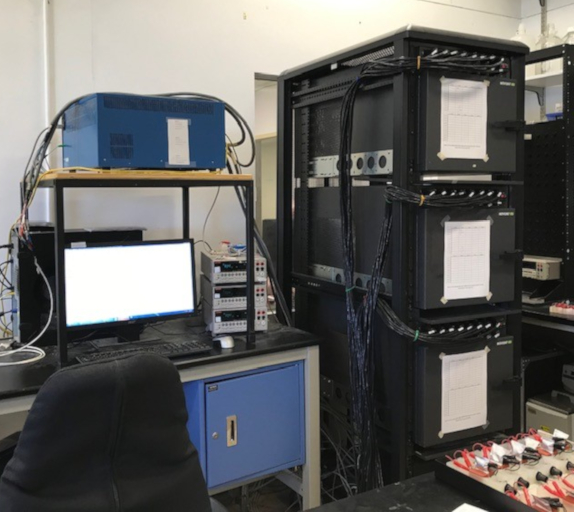 Room 317B
Chicken Coop
The Chickens in their Coop
Former graduate students of the Dahn group

Room 321
Physical Properties Lab
Ultrasonic Scanning Instrument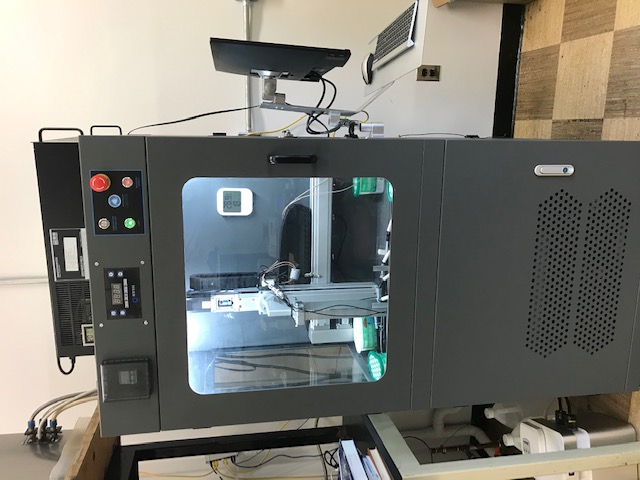 Differential Thermal Analysis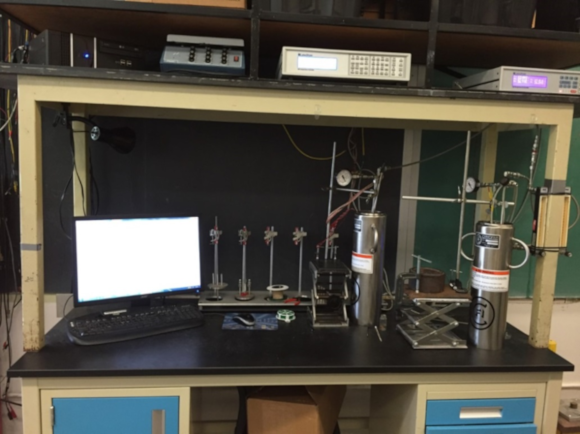 Helium Pycnometer and BET machine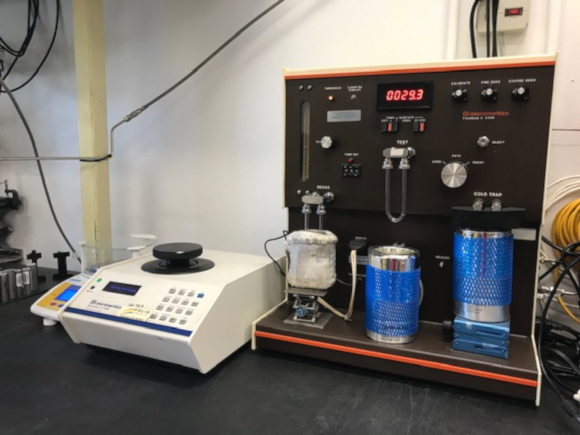 Room 322
Positive Electrode Material Synthesis Lab
Continuous Stirred-tank Reactor


CSTR Tank

Room 323
Cell Abuse Lab
Nail Penetration Testing Machine

Nail test outcome - Cell may or may not go out of control and combust

Laser Cell Thickness

UCV Cell Storage

Room 217
Coin Cell and Electrode Fabrication
Coin Cell Crimper
Roller

B2
Muffle and Tube Furnaces
Atmospheric Muffle furnaces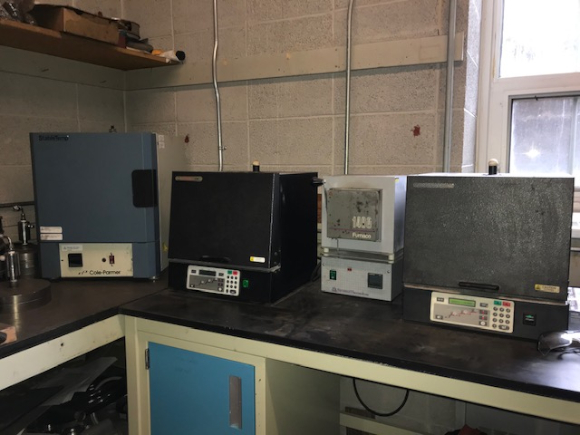 Tube Furnaces, choice of gas atmosphere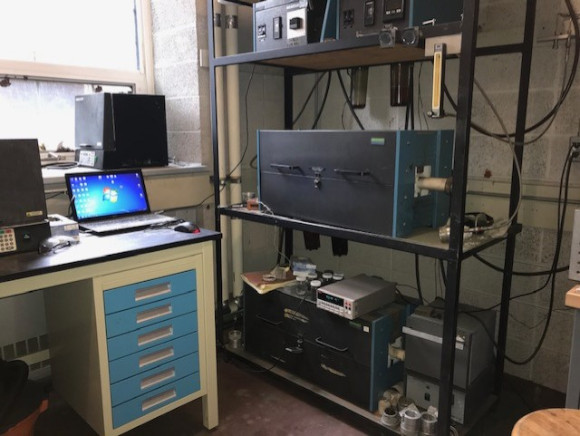 Dry Particle Fusion Machines
Lab-Built Dry Particle Fusion Machines (by our machinist)

B9
CVC Sputtering System
CVC Sputtering System

Inside view of CVC chamber after depositing aluminium

B12
Cell Testing Facility
Neware cyclers
Neware cell cyclers (200 channels) and temperature chambers.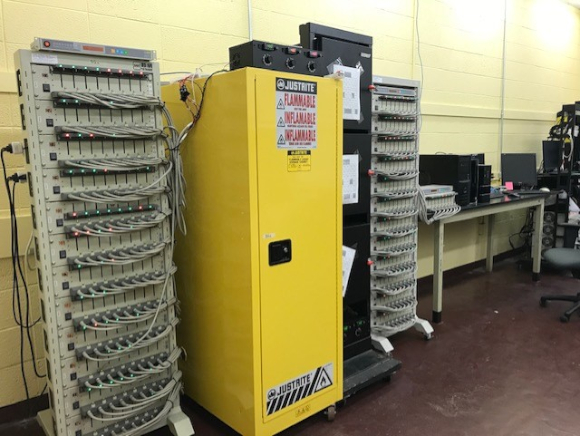 FRA cycler
FRA cycler with 24 channels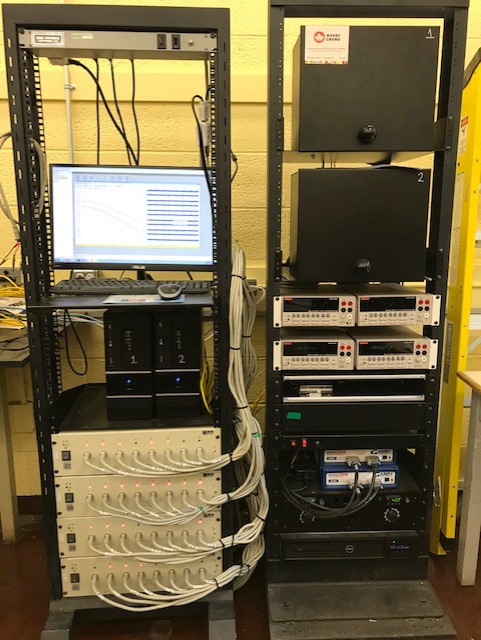 Basement
Machine Shop
Simon Trussler provides us with machining services.

Student Machine Shop
Students may use the student shop for their projects.

X-Ray Photoelectron Spectroscopy