Facilities
Facilities and Equipment
Room 308
Ultra High Precision Charger
UHPC Cyclers
5 Vertical Units make a 100-channel Ultra High Precision Charger.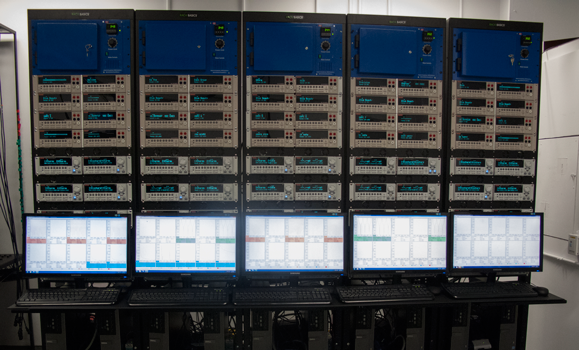 Novonix System
Novonix cycling systems provide additional ultra high precision coulometry channels.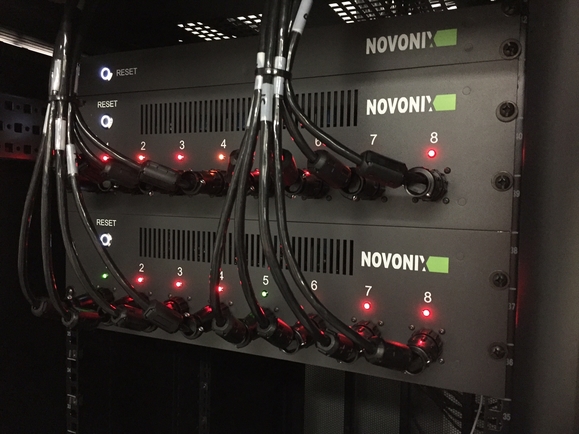 Storage System
80 Channel storage system is a new addition to the lab along with the Automotive Cell Testing Facility.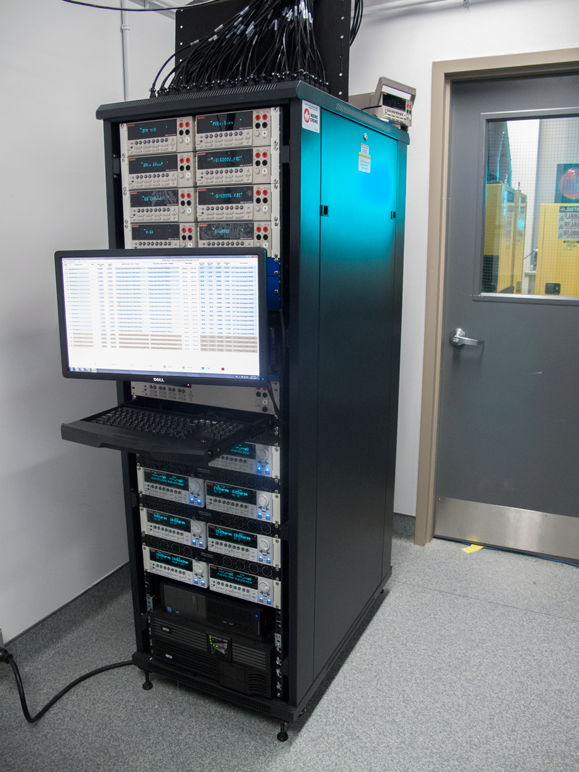 Automotive Cell Testing Facilty
Cell Chambers
3 temperature chambers are enclosed in every JustRite cabinet.

Cell Inventory & Safety Light
Cabinets are used to store automotive cells. Notice the 'stop lights' that alert users of the air temperature in the facility.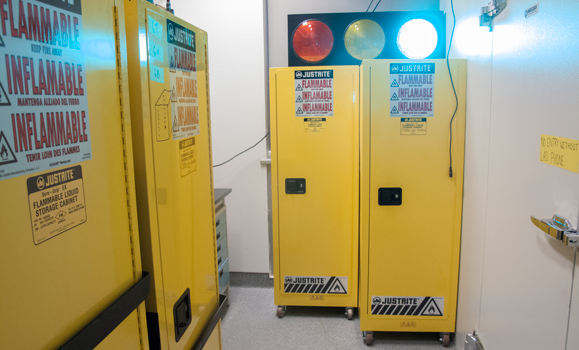 Room 312
Cell Testing Lab
High Precision Charger
Jessie preparing cells on the HPC software.

Temperature Controlled Chambers
Chris changing the temperature on one of the chamber controllers.

Maccor Cycler
Jian connecting cables on the Maccor System.

Microcalorimetry
Battery Microcalorimeter
Laura removing a cell from the microcalorimeter.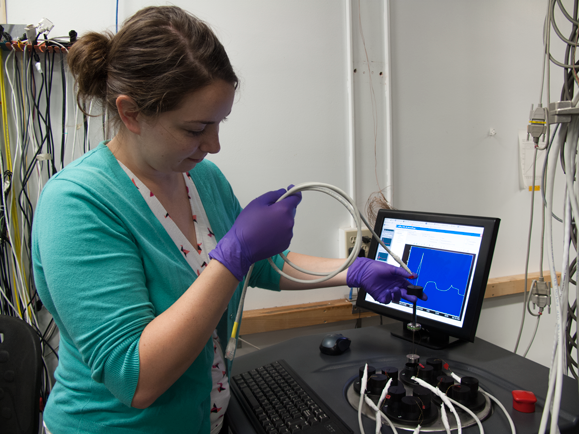 Sample
A pouch cell is enclosed in each capsule as shown to the right.

Dahn Headquarters
The Captain's Chair
Jeff helping lab members John and Dan.

Workspace
Minds at Work
Nupur, Jian and David discussing electrolyte additives.

Students
Colby and Chris managing their projects.

ARC
Room 313
313A - Electrolyte & Electrolyte Additive Lab
TGA Mass Spectrometer
Madeleine, summer student setting the TGA.

G20 Compact Titrator
C30 Coulometric Karl Fischer Titrator

GC-MS

In-situ Volume Measuring Systems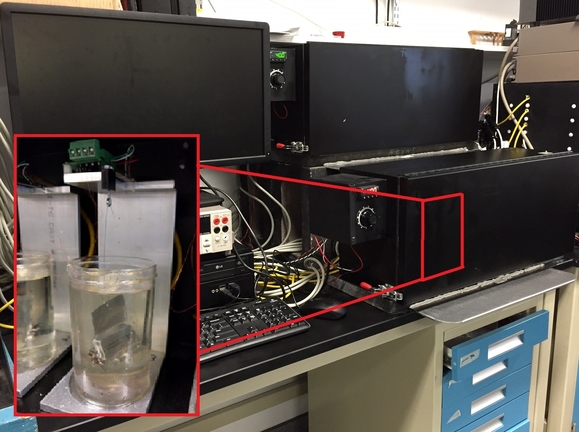 Furnace

Double Glove Box
Kathlyne preparing cells at the double glove box.

Lina, summer student, using the titrator

313B - X-ray Diffractometer Particle Size Analysis
X-ray Diffractometer

X-ray Sample

Dan setting up the XRD.

Particle Size Distribution Analyzer

Room 314
Pouch Cell Sealing & Specialized Glove Box
Pouch Sealer
Laura sealing a pouch, before picture.

Pouch Sealing
The chamber closes to vacuum seal the pouch cell.

Sealed Pouch Cell
The pouch cell once it has been sealed.

Room 316
Combinatorial Sputtering
Combinatorial Sputtering Device

Impedance Spectroscopy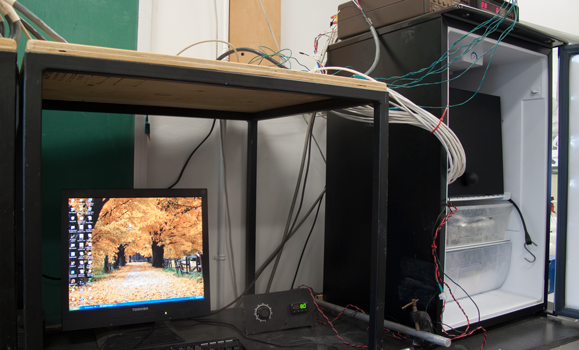 Lithium Ion Differential Thermal Analysis

Room 317B
Chicken Coop
The Chickens in their Coop
Activities are supervised by Eric McCalla, the Chicken Coop Supervisor.

Room 321
SAXS - Small Angle X-ray Scattering
Side View

Center View

Room 322
Combinatorial Solutions Handling Robot
Combinatorial Robot

Combinatorial Robot Pipette

Combinatorial Gradient Sample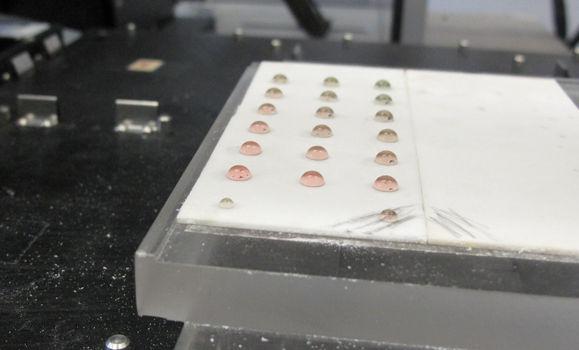 Room 323
Automated Charge-Discharge and Impedance Spectroscopy System
Positive Electrode Material Synthesis using CSTR
Continuous Stirred-tank Reactor

CSTR Tank

Room 217
Coin Cell and Electrode Fabrication
Coin Cell Crimper
Roller

Basement
Machine Shop
Simon Trussler provides us with machining services.

Student Machine Shop
Students may use the student shop for their projects.

Scanning Electron Microscope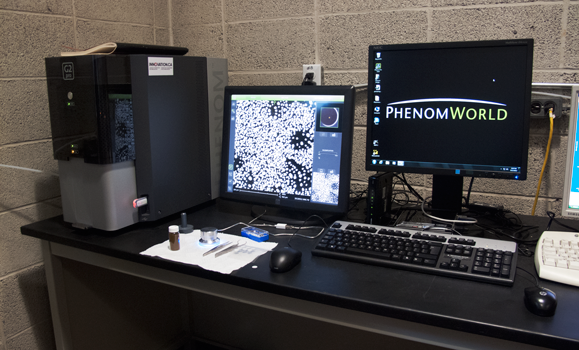 Furnace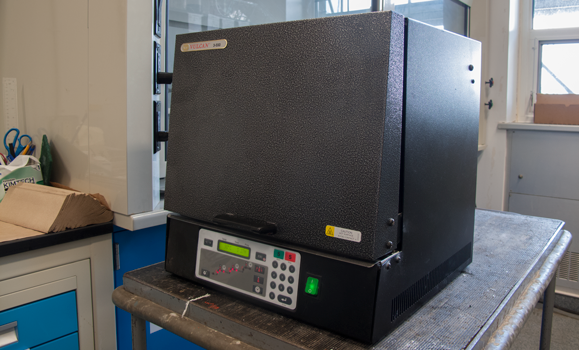 X-Ray Photoelectron Spectroscopy